A PRAIRIE HOME COMPANION
CONTINUING THE LEGACY OF OLD-TIME RADIO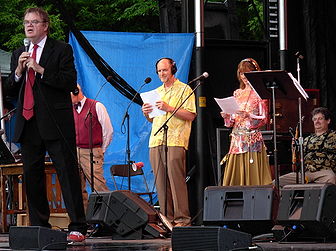 Garrison Keillor (foreground in dark suit) and his A Prairie Home Companion Players on stage at the Fitzgerald Theater in Saint Paul, Minnesota.

In the real Olden Days, before there was television (I can almost hear the approaching dinosaurs) people would gather around the living room and forget such problems as Prohibition, the Great Depression, and World War II by listening to the radio. Some of the shows you watch on television today actually got their start, at least as a concept, on the radio. There were Westerns like Gunsmoke, crime shows like Dragnet, and comedy-variety shows like Bob Hope's Pepsodent Hour, and musical-variety shows like Bing Crosby's Chesterfield Show. In 1974, radio host Garrison Keillor revived the radio variety show with A Prairie Home Companion, which he developed under the inspiration of the Grand Ole Opry, a hold-over from the old radio days. In the early days of A Prairie Home Companion, I would listen ocassionally, but not very often. I was, after all, in my twenties, and there were so many "other things" to do at that age, but would always look up the schedule in the Sunday Pittsburgh Press just to see who Garrison Keillor would have on that week, whether I listened or not. Then, in 1987, it left the air, but returned to Public Radio in 1992.
It is still hard to catch A Prairie Home Companion on Saturday nights at 6:00 PM, but it is re-broadcast on Sunday afternoons at 2:00 PM here. Frequently, I get to listen to Garrison Keillor and his group of players perform their comedy sketches, and Mr. Keillor let us know what is happening in "Lake Wobegone, my hometown," while on a long-distance drive across Pennsylvania to another job assignment. The show always makes the trip more tolerable, despite road work delays, aggressive drivers, and sometimes bad weather. A recent trip almost clear across the state was made easier with a funny sketch about an egotistic opera tenor (he even played the title role in Madame Butterfly) and the singing of Johnny Cash's daughter, Rosanne Cash and jazz singer Heather Masse. The singing was really outstanding, especially Garrison Keillor and Heather Masse singing What'll I do?, an old Big Band era standard.
Regular comedy bits include The Lives of the Cowboys, Guy Noir: Private Eye, and Garrison Keillor giving us the latest reports of the happenings around his old Minnesota hometown, Lake Wobegone. Keillor's Royal Academy of Players include Tim Russell, Sue Scott, and ace sound effects man Tom Keith, who does it the same way they made sound effects in the old days of radio, and in the MSM movie Radioland Murders. Guy's All-Star Shoe Band provides the music.
Whether on a summer Saturday evening, or Sunday afternoon after services, or in a warm living room in the winter, or driving across a state just to go to work on Monday, A Prairie Home Companion is good for what ails you. Maybe as good as "Bop-Bop-A-Re-Bop Rhubarb Pie!"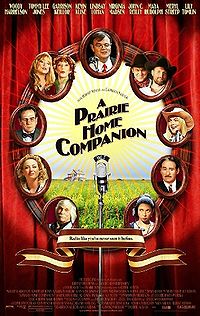 A poster from the movie version of the radio show.

TIMELINE FOR A PRAIRIE HOME COMPANION'S FIRST RUN 1974 -- 1987
YEAR

EVENTS

1974

Richard Nixon resigns as President over the Watergate Scandal and pending impeachment.

The nation falls into recession after the 1973 oil embargo. Unemployment rises.

The popular music form known as Disco gets its start.

1975

The fall of Saigon to North Vietnamese forces ends the Vietnam War.

President Ford struggles with inflation, recession, and survives bizarre assassination attempts.

Saturday Night Live debuts and The Stepford Wives premieres.

1976

America celebrates the Bi-Centennial of the Declaration of Independence.

Jimmy Carter is elected President.

1977

Elvis Presley dies. Saturday Night Fever and Star Wars premiere.

Son of Sam serial killer David Berkowitz is captured.

Menachem Begin is elected Prime Minister of Israel.

1978

Jimmy Carter brokers a Mid-East peace deal with Egypt's Anwar Sadat and Israel's Menachem Begin.

Mass Suicide at the Reverend Jim Jones' Peoples Temple in Guyana.

Military dictatorship ends in Spain with the passage of a Constitution.

1979

The Pittsburgh Pirates win the World Series over the Baltimore Orioles.

Margaret Thatcher is elected Prime Minister of the United Kingdom.

The Iranian Hostage Crisis begins.

1980

Ronald Reagan wins election to Presidency over Jimmy Carter.

A deep recession begins as Federal Reserve Chairman Paul Volcker raises interest rates drastically.

Unemployment rises.

1981

As Ronald Reagan assumes the Presidency, Iran's Ayatollah Khomeni releases the embassy hostages.

President Reagan responds to the air traffic controllers' strike by terminating them.

Sandra Day O'Connor becomes first woman on the Supreme Court.

1982

Argentina invades the Falkland Islands, prompting Great Britain to launch an invasion to retake them.

Israel invades Lebanon in retaliation for Palestine Liberation Organization rocket attacks .

Michael Jackson releases Thriller.

1983

The American Embassy in Beirut, Lebanon is bombed.

Korean Airlines Flight 007 is shot down by Soviet interceptors.

Flashdance and Return of the Jedi are hit movies.

1984

Ronald Reagan wins landslide re-election over former Vice President Walter Mondale.

The US Bell system is broken up.

The Apple Macintosh computer is released.

1985

The Band Aid movement of popular singers to raise money to aid famine victims in Ethiopia releases We Are the World. Heaven Help Us is released to theaters.

William J. Schroeder receives the first artificial heart.

US Route 66 is decommissioned.

1986

The "Hands Across America" celebration takes place in May.

The Statue of Liberty is re-opened after extensive restorations.

The Iran-Contra scandal erupts.

1987

The Fox Broadcasting network is launched with The Simpsons appearing in small segments on The Tracy Ullman Show.

The October 26th Black Monday Stock Market crash.

Microsoft releases Windows 2.0.