FYI PAGE
NEWS AND ANNOUNCEMENTS
MAY 23, 2009 TO AUGUST 2, 2009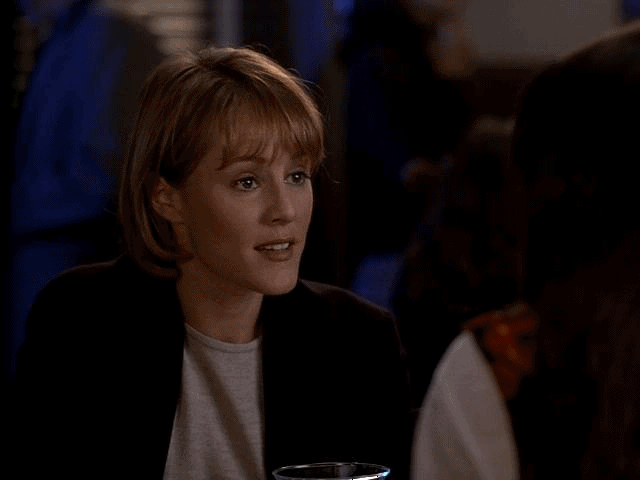 "Okay, you're Sidney Crosby of the Pittsburgh Penguins, but you can't demonstrate your slap shot in our dining room."

"HEY!"

THIRD AND FINAL REPORT: 2009 STONY BROOK FILM FESTIVAL
BARN DOOR PRODUCTIONS' TICKLING LEO WINS BEST FEATURE AWARD
Entry Date: 8/2/2009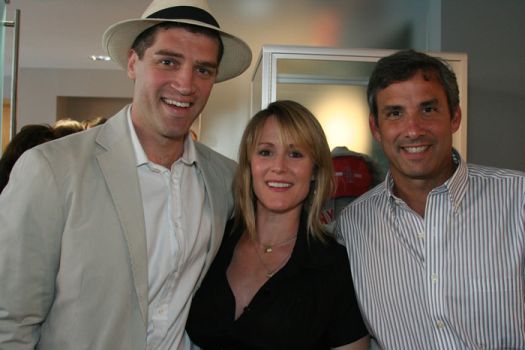 Jeremy Davidson, hubster of Mary Stuart Masterson, is on MSM's right. Alan Inkles, Stony Brook Film Festival Director, is on her left.
Mary Stuart Masterson, one of the producers of Tickling Leo, a film written and directed by Jeremy Davidson, took the Best Feature Jury Award at this year's Stony Brook Film Festival. I told you waving the "Barn Door Babushkas" would help, but it was the talent on screen and behind the camera that really carried the day, of course. Congratulations to Ms. Masterson and her talented partners. This is good news leading up to the more important "Big Game" this fall. Best wishes to the happy and successful couple on that next adventure!
The award was added to the "Mary Stu's Trophy Case" page along with this report.
I'm still looking for that funnel cake. That would really go good with The Apaloosa, which is playing on HBO as I type this report. Tell Alan Inkles to make sure there's some funnel cake, and maybe some cotton candy at the next festival. Maybe a few rides, too, like bumper cars and a ferris wheel. Don't forget the game booths, like ring toss and chuck-a-luck. Hey, is this supposed to be a festival, or what? If the priests at my local parish had driven up to Stony Brook they would have stood there among all those celebrities wondering where the festival was. "What's this, no bingo?"

SECOND REPORT: 2009 STONY BROOK FILM FESTIVAL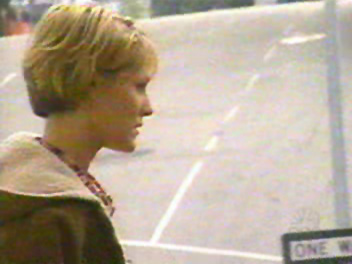 Entry Date: 7/28/2009
The Barn Door Productions entry in the Stony Brook Film Festival is Tickling Leo. As reported earlier, Tickling Leo was shown on Saturday, July 25th at 7:30 PM, right after the big opening night buffet. Tickling Leo was written and directed by Jeremy Davidson, Mary Stuart Masterson's husband. I had read earlier that Mr. Davidson wrote the screenplay, but did not know he had directed the film. One of the stars is Eli Wallach, a long-time Hollywood veteran (Baby Doll, The Good, the Bad, and the Ugly, The Magnificent Seven, The Victors). A description of the film is on the Stony Brook Web site, and there is a link to it on the post below this one. We have to wait until August 1st to find out if Barn Door Productions wins any of the awards. I feel pretty good about it as there is a track record from last year, but let's play it safe. Get out some old scarves, towels, or bandanas and start waving them around for Barn Door Productions. "The Terrible Towel" worked for the Pittsburgh Steelers. We'll wave "Barn Door Babushkas."

FIRST REPORT: 2009 STONY BROOK FILM FESTIVAL
OR
"WHERE'S THE FREE FUNNEL CAKE?"
Entry Date: 7/26/2009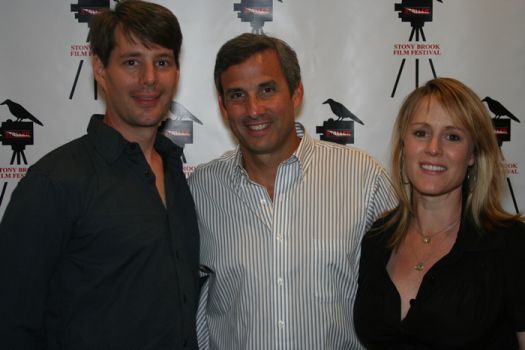 The Barn Door Productions Partners at the Stony Brook Film Festival, 2009.
First of all, Ms. Masterson is looking healthy and happy with three months, give or take, before "The Big Game." The photo above was taken at the Stony Brook Film Festival, at which we expect MSM and crew to take no less than one award away from this year's gathering. The awards night is August 1st. There was a big buffet dinner Saturday. It's a good thing some of my co-workers didn't go. They can clean out a buffet in ten minutes flat. Faster if its free. Coconut shrimp just disappear. Their wives probably had to pick the shrimp out of their pockets when they got home. I can still hear the Chinese cooks screaming in the kitchen about the crab legs. Sometimes, translation isn't necessary. If it was me, I'd be looking for the funnel cake. ALL festivals should serve funnel cake. I like it with blueberry topping.

THE 2009 STONY BROOK FILM FESTIVAL
Entry Date: 7/25/2009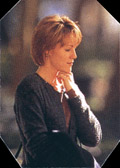 Last year, Mary Stuart Masterson racked up an award at the Stony Brook Film Festival for The Cake Eaters, her feature film directorial debut. This year, Barndoor Productions' Tickling Leo will be shown to those gathering at Stony Brook and it happens today. Hopefully, MSM will collect a few more plaudits for her work behind the camera, this time as producer.

COME ON, GUYS, LET'S GET USED TO GOING TO THE NEW PLACE ALREADY!
Entry Date: 7/17/2009
I've been checking the page views statistics over at Geocities and it looks as if most of you are still going to Geocities to access Mary Stu's Tavern. Now, come on everyone. It is old news out on the Web that Geocities is shutting down on October 26, 2009. Look, I didn't want to leave Geocities, but that's just the way things are. Let's start going to the address that is posted in the announcement at the start of this page. The real Tavern is now hosted by Angel Fire and has its own URL. Please click on the link right above the checkerboard divider at the top of this announcement. Save the address to your favorites as soon as the big picture of Mary Stuart Masterson loads along with the word ENTER in big letters below the picture. Save this page to your favorites, then click on ENTER and you are in the latest version of Mary Stu's Tavern. The statistics building at the Geocities site, which will be gone in a few months, should be building here. Besides, the Geocities address will be gone in a few months and we are not putting everything that is at Angel Fire at Geocities. The Webmaster's Back Office is only at Angel Fire. It was too big to load into both sites. All the Mary Stu's Tavern Museum pages are at Angel Fire for the same reason. So, start coming to the Angel Fire address that is in big blue letters right above you.
Thank you and good luck to us all.

MSM-ISM IS STILL OUT THERE IN CYBERSPACE
Entry Date: 7/17/2009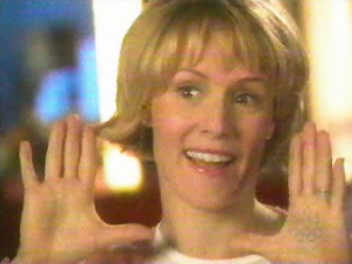 "Help! I'm trapped here in Australian cyberspace!"
I remember my conversation with the great Mary Stu's Tavern newshound, Claudia Kehl, at the showing of MSM's Cat on a Hot Tin Roof at the Kennedy Center in Washington, DC back in June 2004. Claudia was puzzled about what happened to Yun Leong's MSMism Web site. It appeared to be gone from the Web. It sort of was gone, but at the same time it wasn't, as I have recently discovered. Something happened to Yun's main navigation page. That is what is gone. I have rediscovered at least three pages of MSMism still out there, including the page of Yun's scans of an article about Ms. Masterson in a 2001 InStyle magazine I mailed to him in Sydney, Australia, and a page with an interview of MSM in Seventeen Magazine (Seventeen? Man, I thought I had some 'splainin' to do when I bought the InStyle! Poor Yun. What a Webmaster has to endure!). Anyway, MSMism is still out there, you just have to be lucky to get a hit with a particular one of Yun's pages in a search of Google or Alta Vista, or some other search engine. Without the main index, or navigation page, there is no one page you can access to find all of the others, but they are still out there in Yun's spaces on that server in Australia. The photo that accompanies this announcement is jacked right off Yun's old page, which is still floating "out there."

A PICNIC WITH ANTIQUE AUTOMOBILES
Entry Date: 7/14/2009
I had to add a page to the Webmaster's Back Office for the picnic my cousin and her husband threw for a large group of people who have restored and owned antique cars and trucks. When I say "antique," I'm not kidding, because most of the participants drove the antique automobiles to the picnic. My only regret was having only one roll of film. I missed taking a picture of an 1890s-early 1900s Flanders, an open air car like the one Tom Selleck jumped his horse over at the end of Monte Walsh. You just had to see them to believe they were in the near perfect shape the vehicles were all in this past Sunday (July 12, 2009). Anyway, there is an entire page with photos, and I'm hoping I can finnagle an electronic copy of a photo of the Flanders. I was standing right on top of it with a useless camera. The wife of the owner got it started again after it shut down at the entrance to the picnic. She adjusted a sparkplug and partially turned the crank. She wore a long duster and broad-brimmed hat like women would wear in those open-air cars. With a second roll of film, I could have gotten it all in close up. My cousin might come to my rescue, but, until then, there are many photos of antique cars and nice people. Hope you like them.
VINTAGE AUTOS

DEDICATION DAY:
THE WEBMASTER'S BACK OFFICE FEATURE
Entry Date: 7/7/2009
I tried to warn you in several postings here that I was going to add a different feature, a satellite site, to the Tavern. It is accessible on the main index page of the Tavern, Site Central, where all the main pages, and the Mary Stu's Tavern Museum, are accessed. This feature will show you a little about my life, and about some of my family members and friends through the years. You'll go to a wedding, a baby shower, enjoy to a little Benny Goodman, visit the place where I was "borned and raised," meet a pair of pedicab drivers in San Diego who are also married, and lots of funny stories from a life on the road. I hope you take some time while MSM news is slow and drop in for a visit.
BACK OFFICE

TRAFFIC PICKING UP AT NEW ADDRESS
Entry Date: 6/28/2009
A SECOND BIRTHDAY GREETING TO MSM!!
We are getting more visitors at the new address, thanks mostly to the emergency announcement that is now topping off this page. A lot of people are coming in through our old Geocities digs, which is still operating in parallel to this one. It will be operating in parallel until the end of July 2009. No matter what Yahoo does, the old place gets taken down at the end of next month. Those of you coming in from the FYI page link over at Geocities, I hope you saved this URL to your Favorites so you can come back again. There is a new Guestbook, HTML Gear, so I hope some of you will sign it. I already did just to show that reality as we know it will not dematerialize if someone signs the Guestbook. HTML Gear archives all entries, which Dreambook did not do.
Some more changes are coming. I threatened a feature that will be loosely related to the Tavern, but will emphasize some other aspects of life and that is now underway. That doesn't mean I am forgetting the main subject of this site, Mary Stuart Masterson's career. That will still be the front and center. Other features for MSM information have already been added, such as a page to list all of her awards in acting and filmmaking. Other improvements will follow, but a little diversion will still be a good thing. The new sub-site will be called "The Webmaster's Back Office," and will have lots of photos of different places I've visited, people I know, stupid pet tricks, places I've lived, where I was born and raised, and stuff I like a lot. When the news is slow here, there will be something different to explore, which is what real life should be all about anyway.

HAPPY INDEPENDENCE DAY, U.S. VISITORS!
Entry Date: 6/28/2009


Entry Date: 6/14/2009
ADDITIONAL ADVISORY REGARDING VISITS TO BARN DOOR PRODUCTIONS
I don't think the previous post about the address for MSM's production company, Barn Door Productions, was direct and explicit enough, so please read the following advisory about the sending of anything that can be defined as FAN E-MAIL at any address posted on the Barn Door Productions Site. I do not believe that the partners of Barn Door Productions want swamped with fan e-mail. That is a BUSINESS SITE, not a fan site like this one. It would be best if you DID NOT SEND ANY FAN-RELATED E-MAILS TO ANY ADDRESS THERE. Just stop in and see what is going on, what movies or TV shows they have in production, etc. If you have some kind of movie making skill or background, are a recent film school graduate and have some behind-the-camera skills, or have some other professional connection to the movie or television business, you might want to send an inquiry. If you are far enough along in film school to be in an intern program, you might want to send them something, but fan mail is probably not a good idea. Again, it is a BUSINESS WEB SITE, not a fan site. Use good judgment, consideration for others, and be CAREFUL out there.

Entry Date: 6/13/2009
PITTSBURGH PENGUINS----2
DETROIT RED WINGS----1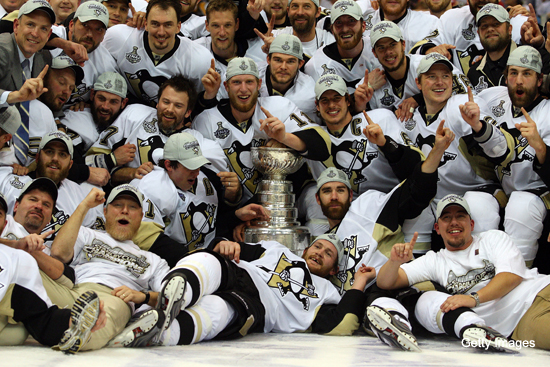 CONGRATULATIONS TO THE STANLEY CUP CHAMPIONS!!!
We know how the Penguins won. It was the caption under the photo of MSM at the top of this page that did it! That photo went up early in the playoffs. We put the "whammy" (as Bob Prince, late voice of the Pirates would say) on all the other teams in the playoffs. We never worried about it. HONEST! Maybe one of the Pens could take the Cup up to New York sometime this year. Those visitors who are Red Wings fans, your team played extremely well and have nothing to cause them to hang their heads. This site originates from Western Pennsylvania and I am a Penguins fan with no apologies. The Wings are a great hockey team, extremely well coached, and will be back in the hunt for the cup next year, I hope with Chris Osgood still in goal.

SPECIAL NOTICE
GEOCITIES TO CEASE OPERATIONS LATER IN 2009
MARY STU'S TAVERN MOVING TO ANGEL FIRE ADDRESS
As indicated in the previous FYI page, now archived as FYI Archives 16, Yahoo is going to close down Geocities in the later part of 2009. I HAVE moved a working copy of this site to Angel Fire. I tried to load the site to Yahoo, but they did not register the domain, and it appears as if Yahoo's Web service is geared to small business operators only. Unless Angel Fire and the few other services offering home pages to the amateur Webmasters out there can make that system profitable, the age of the home pages might be over some day, but not today. The Tavern works just fine in Angel Fire's service, and we will have a domain name. The Yahoo-originated domain I cited in an earlier announcement was never registered as active. Without an active domain, it was impossible to access the pages for testing or editing. I had waited weeks for activation, and Yahoo told me it was activated. The Whois site at Internic had no record, so there was no domain. With the clock runnning on Geocities, I had to do something. I went to Angel Fire. This entire operation, from TWO uploads of all images and pages, one at Yahoo and the other at Angel Fire, along with testing and debugging took from this Monday until right now, about 8:00 PM Thursday, June 11, 2009. I don't think I want to go through this again. The domain at Angel Fire is not yet active, but here it is:
http://www.marystustavern.net
Wait for at least another five business days before trying it. There is only site work access at Angel Fire right now on non-public pages. Until Yahoo eliminates Geocities, you can still come here, but be prepared to move because I think the end might be coming in the next six-to-eight weeks. It has been great here at Geocities, but we have reached a fork in the road. As that sage, Curly Howard, would put it, "A fork in the road beats a spoon! Nyuk!, nyuck, nyuck!!"

6/2/2009

INTRODUCING BARN DOOR PICTURES
I just love to flirt around something that would take a little search engine work to find, but somehow still miss it. You just miss the bullseye with the dart. On the Biography page, I described Barn Door Pictures without naming it, as the name was unknown to me. Basically, MSM is involved in a movie producing partnership with her brother Peter and Steve Weisman, one of the filmmakers behind THE FLORENTINE, a movie I enjoyed very much and defended on an earlier version of the FYI pages (see FYI Archives Number 16, "Don't Be a Supporting Role Whiner"). Barn Door Pictures is making "Tickling Leo," which is also mentioned on the Biography page. Barn Door is Ms. Masterson's production company, along with her brother and Mr. Weisman. It also has a website, which is accessed by the link below. This is going up on the Links Menu page, too. Wouldn't want any of you lost on the Internet. There are only so many Saint Bernards to go around, and I could use one of those little kegs they carry myself!
NOTE: There are e-mail addresses there. Let's be reasonable about sending unsolicited e-mails to people trying to run a business. Yes, people like to read nice things about themselves, but let's not spam anyone. It is more important to never "meet" anyone than to try and make a miserable impression doing it. Just take a look at the place, and see what Barn Door is up to. If you have a few comments, use good judgment before sending them! Thank you, and let's be careful out there.
BARNDOOR PICTURES

5/31/2008
REPEAT OF FUTURE YAHOO ADDRESS
Don't forget: Sometime over the next three months the address for this site will be: http://www.marystutavern.net. This is not a typo. There is no apostrophe s ('s) at the end of marystu. This announcement will be repeated as other postings take their place on top. The real important news, such as Ms. Masterson expecting her first child, her birthday, and the brief eulogy to the late author and Pulitzer Prize winner Horton Foote will be moved periodically to their rightful position near this one until this page is archived.

5/13/2009
FUTURE MOM
(This announcement held over from the 16th FYI page now in archives.)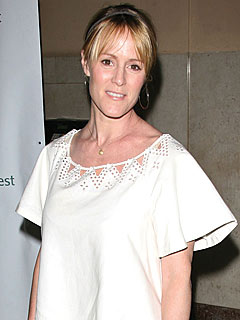 I dropped by the old Yahoo! MSM group to see if anything was being discussed there and there was a lone post from sometime yesterday that stated People.com was reporting that Mary Stuart Masterson is expecting her first baby sometime in October. Congratulations to Ms. Masterson and husband Jeremy Davidson. The article also jogged my memory. I got to see MSM act with Jeremy Davidson when Claudia Kehl and I saw them in "Cat on a Hot Tin Roof" five years ago at the Kennedy Center. Mark Harmon just gave me a whack on back of my head for not remembering. "Wake up, Probie!!"
I just thought of a link that might be helpful to our Future Mom. For her convenience, it is right below:
FUTURE MOM
Oh, I almost forgot--"Fair winds and following seas" to the Future Mom.

5/26/2009
HORTON FOOTE
AUTHOR, PLAYWRIGHT
PULITZER PRIZE WINNER
March 14, 1916 - March 4, 2009
My apologies for not discovering this much earlier. Horton Foote, author of such praised works as Two Kill a Mockingbird, The Trip to Bountiful, Lily Dale, 1918, and so many others passed away. I've experienced several of his works in both books and films, especially To Kill a Mockingbird, a personal favorite. There were several references to Mr. Foote on the FYI pages in past years, particularly after watching him being interviewed by Catherine Crier on Fox News back in 1999. It was the first lengthy interview of Mr. Foote I had watched, and couldn't leave my chair. In an era when it is more common for people to express hatred than love, Horton Foote's work stood as a contradiction to that modern affliction. We extend our deepest sympathies to his family and friends.

5/25/2009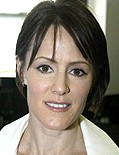 June 28th is Mary Stuart Masterson's birthday. I know it's early, but this idea was burning a hole in my cerebellum. We used to use the same "traditional" (lame) Web page greeting card year after year. Well, we're doing something different this year. No, it isn't a NEW (still lame) Web page greeting card. It is something a lot better. Anything has to be better than the equivalent of mailing MSM a birthday card, slipping into her place when she's gone, stealing the card back, then sending the same card NEXT birthday. This is one of the prettiest pieces of music ever recorded by the late Artie Shaw. It is called "I Cover the Waterfront." Like an earlier music link, this one will only be available for a short period, but this time it will be for two weeks, not one. Full length songs take up a lot of space in here. I'll have to delete it from the files, but will provide the source for where you can purchase the song on compact disc after the deletion. The new Yahoo address won't have this problem.
Note: the link to playing the music was eliminated on the wiser thinking of a lawyer friend of mine, as noted in a posting below. What appears below is a link to AMAZON's page of the recording where it can be purchased. My apologies for not thinking before linking.
REAL BIRTHDAY GIFT

5/30/2009
ASK THE WEBMASTER PART DEUX
Yeah, I got interviewed again, shortly after the news that Yahoo gave me a domain name. This time I hid the tape recorder in the hula dancer centerpiece on my kitchen table.
1. What was the first thing you said when you heard that Yahoo got you the domain name?
REPLY
2. Moving your Web site will take a lot of work. How does that make you feel?
REPLY
3. Would you like it if the government taxed every Web site?
REPLY
4. What impression do you have of my interviewing style?
REPLY
5. Would business casual Fridays make your regular job any better?
REPLY
6. Would you mind any more questions?
REPLY

5/29/2009
PLANS FOR THE NEW LOCATION
One thing that might be done is the addition of one or more sub-sites that are linked to this one. One will be of digitized photos of some of the locations where my job has taken me, such as San Diego, San Francisco in California; Philadelphia, Pittsburgh, Erie, Altoona; in Pennsylvania; Washington, DC and surrounding towns like Arlington, Manassas, Culpepper, and Winchester in Virginia, and many more. I have some nice pictures of the 1999 wedding of a close friend of mine that maybe some would like to see. So, the photos will be available through one small site. Oil City people and scenes might be in another site. We'll see what develops as I go through old photo collections and have them digitized.

5/28/2009
STILL ON CBS' E-MAIL LIST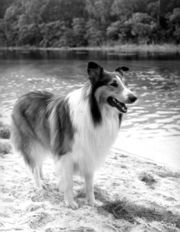 "Come on, girl, show us where you buried the seat you ripped out of the casting director's pants!"
"Woof! Woof!"
No, this isn't the Museum page, but it just hit me that back in 2001, I sent the CBS Television Network a Favorite Site Award from here. This was back in the days when "Kate Brasher" was on the air, and CBS set up a nice site to promote the show. This site was the only one with the cheek to do that. Eight years later, CBS is still sending me e-mails about their new shows. Hey, hire the right actresses, and we'll do it again, even though they didn't post the award image and link back to us. That wouldn't have happened if Walter Cronkite and Lassie had still been working there!

5/28/2009
SOME GOOD NEWS FROM YAHOO!
AND THE TAVERN IS NOW A STOP ON THE INTERNET RAILROAD!
The first news is that we not only have a large chunk of space at Yahoo, but they also got a domain name for us, so you won't have such a long address to bookmark. The new address is (I'll wait while you get something with which to write this down): http://www.marystutavern.net. No, I didn't spell it wrong. The apostrophe and s ('s) was left out as the domain name service would not accept a special character. Once again, for the few stragglers who have managed to find this place over the past six weeks or so, the new address of Mary Stu's Tavern will be:
http://www.marystutavern.net
Files will begin to get moved into the new location shortly. Since we will run in parallel for the next three months, you will be able to access this site at both Geocities and Yahoo when all the files are active in both locations.
Secondly, we were accepted as a site on the Internet Railroad. When I first started surfing the Internet, I found Erin B. Lillis' site, Fried Green Obsession, at AOL Hometown. The site is now in a new location as AOL whacked all of their sites with no prior warning to the owners. Back when she was on AOL, Erin had Fried Green Obsession on the Internet Railroad and I considered using the service for the Tavern, but never got around to it. Back then, we were swamped with visitors almost immediately. That is not true right now. Business is SLOW, but hopefully it will pick up. Anyway, the link to the Railroad is at the bottom of Site Central, right above the Counter image. There is a link to Erin Lillis' new Fried Green Obsession on the Links Menu page here. The front page of the older version of the site is in the Mary Stu's Tavern Museum. The page isn't exactly like it was then, but it is still a pretty page. Erin knows how to cook good pages.

5/26/2009
DON'T FLY UNDER THE RADAR, FLY RIGHT
Since I used to handle all of the finances for my mother as she was incapcitated with vascular dementia, I've been helping my sister, the Executrix of our mother's estate, by "marshaling the assets" of the Estate for my mom's old lawyer. I just met with him at 2:30 this afternoon on my way to my next job assignment. After concluding our business, he asked how my sister and I were doing. My sister is busy finishing up her academic year tasks as Chair of the English Department at a Pittsburgh area college, then going away for awhile with a couple of our female cousins. I was back at work, trying to catch up some personal things delayed over the past four years, and reviving an old Web site I let go during that period. The lawyer asked what had been updated on the site, and I told him how I set up my first music links, but could only have them up for brief periods because they take up too much storage space. That's when he asked, "Did you purchase a broadcasting license for the music?" Of course, I don't have such a thing, but he informed me that it would be necessary under copyright law as that is in essence what I am doing in here---BROADCASTING. The attorney went on to recite such legal principles as the "Walt Disney Rule" that copyrights materials up to, and not necessarily limited to, "seventy five years after the holder's death." He asked how much traffic I get here, and admitted not too much, as it was a "grave site" for four years. It was up, but not kept current since 2005. "Well, you might be all right to leave the link to the music there, as you are probably flying under the radar, but getting rid of it is best." To which I remarked, "I don't want to fly under the radar, I want to fly right." So, the music link under the announcement of MSM's birthday has been REMOVED. A link to where you can purchase the CD that includes the piece is in its place.
My apologies for not performing my due diligence. I have been more interested in being "more creative" than in being careful, and probably for reasons that have nothing to do with this Web site, but a lot more with wanting to keep busy and not do too much thinking about other things. At least that is what the lawyer thinks. I am not editing my screwup off of the page as there are some important legal and ethical concepts that we all need to learn on the Internet. Nothing drives the point home than someone saying, "Hey, I screwed up, and here's how." Just because something can be done doesn't mean you should do it. Make sure you are right first, then go ahead. I think Davey Crockett said that first, too, but it might be in the public domain by now!

5/25/2009
ASK THE WEBMASTER
Every once in awhile, people ask me questions about what I'm doing maintaining this Web site again after four years, among other things. I just happened to record one of these amateur interviews, and here are some of the replies to the more interesting inquiries.
1. What is the biggest inconvenience in maintaining a Web site?
REPLY
2. How do you feel about going back to work after a long weekend?
REPLY
3. What was the best advice other Webmasters have given you over the years?
REPLY
4. How did you react when you heard Geocities was going down?
REPLY
5. How did the Geocities censors first react to the appearance of your Website?
REPLY
6. A co-worker of yours named Dave has a friend at Yahoo. We heard that you had Dave ask his friend to give you 50 megs of free space at Yahoo. What was the answer?
REPLY
7. How would you respond if you answered your telephone and the voice on the other end said, "Hello, I'm Mary Stuart Masterson?"?
REPLY

5/23/2009
LINK TO 60 YOU TUBE VIDEOS OF MARY STUART MASTERSON
(Announcement Held Over From Previous FYI page now in archives.)

This link is going up on the Links Menu Page today, too. There are all kinds of video tributes made by MSM's fans at You Tube, along with the telecast of "The View" in which she was the guest co-hostess. All the videos will keep you busy for awhile, but we have to call the History Channel's Mega Movers and get the Tavern moving to its new address before Geocities turns into a pumpkin. You can stop in for a beer, or pie and coffee, after you are done viewing. Tip the waitress! Oh, and don't try this with dial-up. They will find your cobweb-encased skeleton still waiting for You Tube to buffer.
YOU TUBE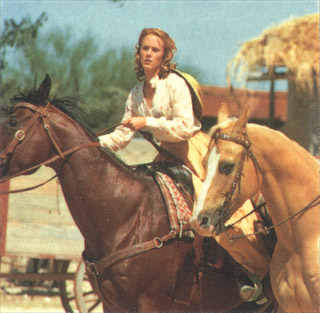 "Now I'm glad my Dad made me learn how to drive a stick!"