TAVERN REVIEW
THE FLORENTINE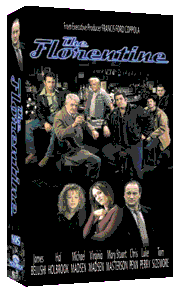 Video Cover for "The Florentine."

"We've come to learn life is not about holding good cards, its about playing well the ones you've got."
-----Michael Madsen's character, "Whitey," from "The Florentine."

The Florentine is a bar in a town in the Lehigh Valley, Pennsylvania, an old steel town in decline. Whitey inherited the bar from his father, who won it in a card game held over a bakery years before. His father gave a note on the bar to a loan shark, Joe McCollough, played by Burt Young. McCullough threatens to drive the bar out of business unless Whitey comes up with at least half of the remaining $12,000 on the debt.
Whitey has problems keeping the Florentine in operation. His sister is getting married in a few days to Jack Ryan, a plumber by trade, and has had to foot some of the bills for invitations, the reception hall, and the caterer. His customers are mostly down-on-their-luck types who constantly run tabs at the bar. Whitey is too big hearted to strong arm them for their money. As Hal Holbrooke's character, "Smitty," an old friend of Whitey's father tells him: "People can drink booze anywhere, but a bar is something that is theirs."
As Whitey struggles with the Florentine's finances, his close circle of friends, with whom he has had his whole life, are grappling with problems of their own. Truby (Jeremy Davies) is a softspoken man who is awkward around women. He has an unrequited crush on the waitress at the local diner, Claire. Frankie (Luke Perry of "90210" fame) is full of big ideas for getting rich quick. When James Belushi's con man, Billy Belasco, comes to town offering Frankie a chance to buy into his phony scheme to invest in crawfish ponds to market "Cajun popcorn," Whitey almost faces disaster. Bobby, a former boxer driven from the ring by a detached retina in one eye, is now a bookie and a passer of counterfeit money. His means of raising income become a strain on his relationship with Mary Stuart Masterson's character, V icki, the best friend of Whitey's sister Molly (Virginia Madsen). When Teddy, Molly's old flame, and once Whitey's best friend, returns to town, all of the group's problems eventually get resolved.
Teddy, who left town because he doubted his ability to make Molly happy in any kind of relationship, has returned to town after failing to become a success. He goes to his old parish church because he has no place to stay, and the priest who has known Teddy since he was a boy allows him to stay there. Teddy explains to Truby, the first of his old friends to discover him back in town, that he hoped to telephone Molly when something good happened to him while he was away. He never called. Teddy does help Truby through Claire's rejection of his efforts to date her, and also tries to repair Truby's damaged image with the waitress after Truby throws a tantrum in the diner.
Frankie meets conman Billy Belasco in a pool hall. Belasco immediately impresses Frankie with his scheme to market crawfish by building a pond at the old quarry outside of town. Belasco tells a story that he only needs a few thousand dollars to make the crawfish dream a reality. Frankie, always trying to get Whitey into a get-rich scheme, tries to recruit Joe McCullough into letting him show Belasco a few thousand in order to get taken in as an investor. The loan shark ridicules Frankie. Later, Whitey intrusts Frankie with the four thousand dollars to pay for the caterer and the hall for Molly's reception. Frankie takes the money to Belasco at a meeting in the diner, with Teddy watching from the counter. The con man tries to bolt with the money for Molly's wedding.
Vicki (Mary Stuart Masterson) tired of Bobby's way of making a living, decides to leave him and live with her sister for awhile. Bobby is now into passing counterfeit money through a young local boxer nicknamed "Pretty." When the boxer passes counterfeit money in Joe McCullough's gambling operation, he is severely beaten, which causes Bobby to reevaluate the way he is living his life.
All the problems of this circle of friends get resolved during the Molly's reception, with Hal Holbrooke's "Smitty" playing a surprise role in their resolution.
"The Florentine" is a good ensemble story with a fine cast that succeeds in bringing real depth to all of the characters. These are people who have taken some real hits in life, but as the parish priest points out to Frankie, they always know where the real answers are in the end.
The film was directed by Nick Stagliano and written by Tom Benson and Damien Gray. Francis Ford Coppola ("The Godfather Trilogy" and the MSM film "Gardens of Stone") was the producer. The casting of Michael and Virginia Madsen, real brother and sister, in the roles of Whitey and Molly is a typical Coppola touch. Coppola has always liked bringing actors who are members of the same family, into his productions. Coppola did this in the 1987 Mary Stuart Masterson movie "Gardens of Stone," in which Pete Masterson and Carlin Glynn portrayed the parents of Ms. Masterson's character. The film was shot in the Bethlehem and Easton areas of eastern Pennsylvania.
"The Florentine" will leave you wishing all of the characters well, and hoping their friendships will last throughout their lives.