FYI ARCHIVES
PAGE 8
Stories from 2/24/2001 to 4/14/2001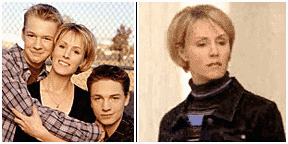 KATE BRASHER REVIEW LINK
Entry Date: 4/14/2001
A link to a good review of "Kate Brasher" was posted on the Tavern's Guestbook. The review can be accessed by clicking on the link below:
KATE REVIEW

MARI GARCIA FINDS A GOOD MSM INTERVIEW
Entry Date: 3/31/2001
Masterson's 'Kate Brasher' statements are well-thought out
By STAN URANKAR Special Projects Editor
March 15, 2001
It only takes a few minutes in conversation with Mary Stuart Masterson to
realize "Kate Brasher" is her series. "I've got a big mouth," she admits in
an afternoon call from Los Angeles. "If something doesn't sit right with
me, I'll kick and scream."
Then again, as star and producer of the new CBS drama that airs at 9 p.m.
Saturday on WOIO-TV (19) here, Masterson has more than hired-hand interest
in what hits the small screen. That's why she's sensitive to story lines
and plot devices which run too cute or sweet, "particularly," she adds,
"since Kate's life is anything but."
Masterson's Kate Brasher is a financially strapped single parent in her
mid-30s with two teen-age sons. She works long hours to pay the rent that
keeps them in a good L.A. suburban school district. She's devoted her young
life to providing her boys with the best.
In the debut episode, Kate sought help from Brothers Keepers, a
neighborhood advocacy center, in recovering wages from the sleazy owner of
a cleaning company. Her brief visit revealed her affinity for helping solve
people's problems and lands Kate an intriguing but lesser-paying job offer
as a case worker.
"There's no question it demands a leap of faith by Kate," Masterson says,
"one that I was leery of myself. I thought, 'Is she going to look too much
like a martyr?' But, she's also amassed this tremendous wealth of basic
life experiences. Suddenly, here's this woman who really hasn't done
anything for herself since she was 15 with a chance to do a job that is
likely to significantly change her life. It's kind of scary."
The role is a welcome challenge for Masterson, best known for her film
work, which includes a memorable performance in "Fried Green Tomatoes." She
emphasizes the acting of her Emmy-winning co-stars, Rhea Perlman ("Cheers")
and Hector Elizondo ("Chicago Hope"), pictured with Masterson on today's
cover. She savors Kate's spirit and determination, traits she has found
more lacking as action-oriented movies dominate theaters. "Plus, this is a
show about people helping people," she says, "Some of the characters who
walk into Brothers Keepers have problems that might appear small at first
when they actually don't have obvious, one-day solutions."
The workload for the initial six-episode order was exhausting, Masterson
concedes, with 15-hour days of locations throughout Los Angeles, from South
Central to downtown to Santa Monica. It also cut into newlywed time for
Masterson, 35, and director/writer Damon Santostefano, her husband of 10
months, though she says they hope to start a family in the near future.
In fact, her "family" ties to TV sons Gregory Smith and Mason Gamble carry
a natural bond that extends beyond an uncanny physical resemblance. You
sense a smile on Masterson's face at such mention. "Parenting and teaching
are the two greatest and most underappreciated jobs in our society," she
says. "Doing those scenes with the boys are when I'm happiest."
© 2001 Sun Newspapers

VARIETY REPORTS ON "KATE BRASHER" RATINGS POSITION:
SHOW "STRONG," BUT NOT A "BREAKOUT HIT"
Entry Date: 3/24/2001
HOLLYWOOD (Variety) - CBS and ABC topped the ratings leaderboard in a ho-hum week filled with awards shows, specials and repeats.
The networks tied for the lead in the coveted adults 18-49 demographic for the week of March 5-11, according to Nielsen, but their averages (4.0 rating, 11 share) were the lowest by any winner this season. CBS prevailed by a thin margin over ABC in total viewers and also won in its target demo of adults 25-54.
``Survivor'' and ``Who Wants to Be a Millionaire'' drove the top-rated networks, as CBS' reality adventure series was easily the No. 1 program of the week (28.72 million viewers, 12.1/31 in adults 18-49), while ABC was boosted by a season-high five airings of the quizzer. It's the first time ABC has been on top in the demo in nine weeks.
CBS, whose ``CSI: Crime Scene Investigation'' was No. 2 for the week (23.00 million, 8.9/22 in adults 18-49), won for the fifth time in seven weeks in total viewers and for the fourth time this season in adults 18-49 and 25-54. CBS has drawn only mediocre marks for its three midseason shows, though, with Saturday's ``Kate Brasher'' looking the strongest, but not a breakout hit.
Fox and NBC tied for third in adults 18-49 (3.8/10), each slipping to its lowest average since Christmas week. The former was dragged down by kudocasts (The TV Guide Awards on Wednesday, The NAACP Image Awards on Friday), the latter by repeats of its strongest shows and weak-performing miniseries.
Fox placed only three programs in the top 20 in adults 18-49 (all on Sunday), but ``The Simpsons'' ranked as the No. 1 comedy in both adults 18-49 (7.7/19) and 18-34 (9.2/25).
At UPN and the WB, a strong Wednesday boosted UPN past the WB in total viewers and adults 18-49 for the first time in nine weeks. The WB, though, joined CBS as the only networks up in key demos vs. the same week last season.

"KATE BRASHER" PRE-EMPTED AGAIN NEXT SATURDAY
Entry Date: 3/24/2001
CBS is going to pre-empt Kate Brasher again next week. The previews for the next episode show that Mackenzie Phillips, daughter of the recently deceased John Phillips of The Mamas and the Papas, is going to be the main guest star two weeks from tonight.

"KATE BRASHER" KEEPS GETTING BETTER
Entry Date: 3/24/2001
This week's episode, co-starring Carl Lumbly, formerly of the popular Cagney and Lacey series of the 1980s, shows that Kate Brasher gets better each week. Mary Stuart Masterson fans are urged to keep watching, spread the word about the series, and keep CBS informed about how you want the show to continue next season.

PROBLEM WITH DREAMBOOK GUESTBOOK UNCOVERED
Entry Date: 3/17/2001
The mystery of the small cross against the stained glass background that is appearing between the entries in the Tavern's Guestbook has been solved this evening. I right-clicked on one of the crosses and clicked on "Properties" on the dialog box. The Properties function informed me that the cross is actually being transmitted from a site at the URL "http://www.sharinghislove.net. Going to that site, I found that it also has a Dreambook Guestbook. Apparently when the site operators there customized their Dreambook Guestbook, their HTML instructions were interpreted by the server as being uniform for ALL Dreambook guestbooks, or at least some of them. Only Dreamhost can solve the problem, so we will have to be patient until they correct the code on their server. The "Sharing His Love" site is very well done, by the way.

NCAA "MARCH MADNESS" PREEMPTS "KATE BRASHER"
Entry Date: 3/17/2001
March is half-over already? Well, that means that college basketball playoffs, and the office pools they inspire, are in full swing. CBS is televising games tonight, and has pre-empted this week's episode of "Kate Brasher." The show should be on next week, but check the "Kate Brasher" web site on CBS Network's site to make sure. The link to the "Kate Brasher" site is on the "Kate Brasher Episode Guide" page and also on the "MSM Favorite Site Awards" page. We'll try to keep you posted here as well. I'll just take some quiet time tonight as all of the upsets I bet on came in yesterday, such as Penn State and Gonzaga.

DENNIS CHRISTOPHER AND PAUL DOOLEY ON "KATE BRASHER""
Entry Date: 3/10/2001
The man who believes he is Jesus, and turns to Abbie (Rhea Perlman) for help to keep a local church from having him prosecuted for preaching in front of the church on this week's Kate Brasher episode was Dennis Christopher. Dennis Christoper played the bicycle-racing and All-Things-Italian enthusiast in the surprise 1979 hit film, Breaking Away. A Catholic Monsignor works out a deal with Abbie Schaeffer, played by Rhea Perlman, to enable the man to portray Jesus without disturbing the parishoners. The monsignor was played by Paul Dooley, who was Dennis Christopher's exasperated father in Breaking Away. Just a little more interesting Hollywood trivia for all of you MSM and Kate Brasher fans out there.

"KATE BRASHER" DROPS OUT OF TOP FORTY IN NIELSEN RATINGS
STILL WINS TIME SLOT
Entry Date: 3/7/2001
The Nielsen ratings for this week show that Kate Brasher achieved a rating of 6.9 with 10.1 million viewers. This was good enough to win the time slot last Saturday night, but resulted in a decline of 16 positions in overall viewership. The first episode of Kate was the 38th most highly rated show, while it was the 54th last week. There are 53 shows that were watched by more people, and 56 watched by fewer. It improved CBS' viewership over the lead-in, That's Life, which was the 67th most watched show. It would be more certain for Kate Brasher to be picked up for next season if it stayed in the Top 40, but has a good chance if it remains the top show in its time slot.

"KATE BRASHER" INTERVIEW WITH MARY STUART MASTERSON
INTERVIEW FROM MARI GARCIA OF SAN FRANCISCO STATE UNIVERSITY
Entry Date: 3/7/2001
Character-Driven Stories Lure Another Star to TV
By SUSAN KING, Times Staff Writer
Mary Stuart Masterson is the latest movie actor to make the leap from the
big screen to the small one. The veteran of such films as "Fried Green
Tomatoes," "Benny & Joon," "Immediate Family" and "Heaven Help Us" stars in
the new CBS series "Kate Brasher," which begins a six-episode run Saturday.
The first series from Jersey Television--an offshoot of Danny DeVito,
Michael Shamberg and Stacey Sher's Jersey Films--"Kate Brasher" finds the
34-year-old Masterson playing a financially strapped single parent of two
teenage boys (Gregory Smith and Mason Gamble) who walks into a community
advocacy center called Brothers Keepers asking for legal advice. A feisty
attorney (Rhea Perlman) and the tough but fair-minded director (Hector
Elizondo) of Brothers Keepers show Kate that she can create a better life
for herself and her two sons. Masterson talked about her series earlier
this week from the cutting room of "Kate Brasher."
Question: Since you come from the theater and movie world, has it been
difficult adjusting to the long hours and rapid pace of doing TV?
Answer: The pace of a TV series like "Kate Brasher" is very similar to
doing low-budget independent movies. [Doing the series] sort of requires a
little bit more endurance. I like it. It's a great cast and crew, so it
makes it fun.
Q: You are also one of the producers of "Kate Brasher."
A: One of the many producers.
Q: Was being given a producer credit one of your criteria for doing a TV
series?
A: I was given a development deal by CBS, and that sort of implies wanting
to be involved in the development. I take it seriously. I don't think
[being a producer] is in order to be in control, as much as a collaborator.
Q: Have you been pursued over the years to do TV?
A: More or less. I think what I saw was a growing trend away from character
stories in film and that those stories were being told on television. And a
lot of the writers whose strength is character-driven stories were
gravitating toward television as well, and a lot of actors too. So,
suddenly, it seemed like the talent pool was pretty deep in television.
Q: How did "Kate Brasher" come to you? Was it already in development at CBS?
A: I was given the script by [talent agency CAA] which represents both
Jersey Television and me and also the creator, Stephen Tolkin. I read it
and thought it was refreshingly not generic. It had original voices and
original kinds of characters in it. It felt more like a film than a TV
show. It took about a year of development. We even did a presentation of
the pilot before we retooled it and rewrote it. It took a while to find
what was the sort of repeatable franchise--the thing you can come back to
every week.
It started out being somewhat similar to the pilot. I [Kate] had four jobs
just to keep my kids in a good school district. So what changed is that in
this incarnation the franchise is this community action center, Brothers
Keepers. What is wonderful about it is that it is a place people come to
who don't have resources for help and that ends up being the place I work
and where every main story emanates from.
Q: Kate didn't graduate from high school.
A: No, because I had two children by the time I was 17. I ran away in order
to get married to the guy who got me pregnant and then he turned out to be
not the most responsible guy, so I have been raising them on my own for 12
years. The whole point is that I had them real young and was never able to
pursue my own career or own life.
TAVERN NOTE: The Los Angeles Times does not allow total reproduction of one of its articles on another web site without permission. If you wish to read the rest of the interview with Mary Stuart Masterson, please use the link to the web site of the Los Angeles Times below:
Q & A

MARI GARCIA OF SAN FRANCISCO STATE UNIVERSITY SENDS "KATE BRASHER" ARTICLES
Entry Date: 3/7/2001
Mari Garcia of SFSU, a long-time correspondent to the Tavern, has sent a variety of articles about Kate Brasher via e-mail. The articles will appear under this one heading. Ms. Garcia sent a nice Q&A with Mary Stuart Masterson about the television series and a couple of reviews of the opening episode. I'm placing three of the reviews and one negative under this heading.
---

THE CHRISTIAN SCIENCE MONITOR
Single-mom show 'Kate Brasher' shines
By M.S. Mason Television critic of The Christian Science Monitor
CBS wants its share of the female audience, so the network is loading up
its Saturday night lineup (opposite the NBC's "XFL") with shows like
"That's Life," about a 30something woman going back to college. And now
Kate Brasher (Feb. 24, 9-10 p.m.) begins a new drama about a single mother
raising two teenage sons after her husband's desertion.
"Kate Brasher" is well-written, elegantly acted, and a pleasure to watch.
Best of all, its intelligence will appeal to both young and older viewers.
With only a high school education, Kate struggles as a waitress during the
day and a bowling alley charwoman at night. When the alley owner stiffs her
for $300 (her rent money), she turns to a legal-aid office for help.
Meanwhile, her young sons are flirting with disaster at school.
Her struggle for justice sets Kate off in a new direction. The fact that
she is a woman of faith (not, so far, defined by denomination) is indicated
with tender respect. And as she tries to find answers to her difficult
life, she is open to spiritual guidance.
Mary Stuart Masterson plays the title role with such nimble flair she makes
us forget that she's a movie star. Masterson is easy to love, and she plays
opposite an almost mystically sarcastic Rhea Perlman as a newly minted
lawyer who took 14 years getting through college and law school after
raising her family.
Hector Elizondo completes the threesome as the world-weary director of the
"Brother's Keeper" free legal center. His atheism will certainly become a
foil to Kate's religious outlook.
This unusual family fare is meant to uplift. And though there's a twinge or
two of sentimentality about it, the show strives for realism and an
authentic feeling that's rare on the tube these days. Its overall effect
is, in fact, heartening. Amid all the human suffering and injustice on the
mean streets of the city, there are still those doing their best to do well
by their neighbors.
---

PHILADELPHIA DAILY NEWS
Single parent? Here are a couple
GILMORE GIRLS. 8 p.m. tomorrow, Channel 17.
KATE BRASHER. 9 p.m. Saturday, Channel 3.
Everyone talks about sex on television, but no one does anything about it.
Oh, thanks to watchdog groups like the Kaiser Family Foundation, which
earlier this month reported that only about 10 percent of the shows
depicting sexual content dealt with the "risks and responsibilities," you
can be pretty sure that when a teen-ager has sex on TV these days, someone
brings a condom.
But does anyone really expect that message to drown out the roar from
tempest-tossed "Temptation Island"? Of course not.
And yet television is taking baby steps toward facing at least one of the
possible consequences of teen-age sex.
Both the WB's "Gilmore Girls" and CBS' new drama, "Kate Brasher," are about
single women in their early 30s who are raising teen-agers. As a character
on "Gilmore Girls" put it last week, "We've all done the math": Both
Lorelei Gilmore (Lauren Graham) and Kate Brasher (Mary Stuart Masterson)
were about the age their own children are now when they became mothers.
How's that been for them? Tough.
Tougher, probably, for Brasher, whose character's working as a waitress in
Saturday's premiere, and taking on any extra work she can find to pay the
rent that keeps her sons in a decent school district.
The boys' father, from whom she's divorced, isn't paying child support, and
when the guy who hired her off the books to clean his bowling alley fails
to pay her, she's at real risk of losing her apartment.
She has, we learn, already spent time in a homeless shelter.
This is grittier stuff than you'll find on "Gilmore Girls," where Lorelei's
money concerns seem minor by comparison. Sure, she never got to go to
college, but her job as manager of the quaint Connecticut inn where she
worked her way up from making beds now affords her an equally quaint home
in a small town full of quirky, caring neighbors. When she finally runs
into a problem she can't solve on her own - how to send her daughter, Rory
(Alexis Bledel) to private school - she needs only to agree to Friday night
dinners with her very wealthy parents in exchange for tuition.
She's a little bit scattered and all too aware of her occasional
inadequacies as a parent, but her 16-year-old daughter describes her as "my
best friend" and seems to be holding up well, maybe a little too well,
under the burden of a mother who occasionally needs mothering herself.
Thanks to lively writing and the exceptional chemistry between Graham and
Bledel, the fairy-tale aspects of "Gilmore Girls" tend to slide by easily,
but they're still fairy tales.
If teen-age pregnancies all resulted in kids as cool and
achievement-oriented as Rory Gilmore, chances are fewer people would worry
about children having children.
"Kate Brasher," which has a strong religious streak, also asks us to
swallow a few whoppers - including the possibility that a waitress with a
talent for charades could land a job as untrained social worker - but in
other ways, it feels more honest, though far less fun to watch, than
"Gilmore Girls."
Like Rory, Kate's sons are smart, but they're also showing signs of the
stress that living on the edge of poverty can create. In the premiere, the
older one turns to gambling to try to help his mother, while the younger
one reaches out to his absent father.
Anyone who tuned in to ABC's "The Practice" this week got an earful of
statistics about the potential consequences of raising a child without two
parents, thanks to a court case in which Ellenor Frutt (Camryn Manheim) was
forced to defend her choice to have a child on her own.
Ellenor is going ahead, as is the actress who plays her. Theirs is a choice
that wasn't available to Lorelei Gilmore or Kate Brasher, or indeed to many
of the estimated 26 percent of American parents who are currently going it
alone.
Until now, TV's interest in single parents has focused mostly on their
ability to date, with the widowed father a sitcom staple that predates even
"My Three Sons." And it's hard not to wonder if networks aren't just as
interested in finding ways to squeeze two generations into the under-35
demographic as they are in telling stories about people facing real
problems responsibly.
Masterson, who looks as if her own days as a teen icon ended five minutes
ago, noted last month that her character's having kids so old is "just sort
of a fun" idea.
But "it's not all nice to not have a man in the house or not have two
incomes or not have some relief," she said. And on "Kate Brasher," she
said, "it's not glamorized."
---
FROM TV GUIDE'S INSIDER COLUMN
Masterson Prays for a Hit
Friday, February 23, 2001
Playing a struggling single mom on the sentimental CBS drama Kate Brasher
(premiering Saturday at 9 pm/ET) means Mary Stuart Masterson (Fried Green
Tomatoes) will do her share of Bible-reading scenes. But does her faithful
character have a prayer of relating to viewers who shy away from religion?
"As an actress, playing a person who prays actively on television really
terrified me at first," she admitted to reporters while out promoting her
new series. "I don't want it to look like I'm proselytizing, [like] I'm
saying, 'Go be a Christian' or anything like that. But... it's a way to
show that here's a person who lives by her wits and by faith."
Hedging a bit after uttering the "F-word," Masterson qualifies: "[Not
faith] in a God with a capital 'G' or any tradition that [Kate] grew up
with. Just like, 'Help me out, man,' you know? And I think faith is what
drives her, and makes her believe the best in other people and that things
happen for a reason... That's a very positive motivating force in human
nature, and I think that is what we hope to say."
Kate Brasher comes from Danny DeVito's Jersey Films, which also made Erin
Brockovich. But the show -- which co-stars DeVito's wife, Rhea Perlman, and
Hector Elizondo as gristly social workers -- is drawing more comparisons to
CBS's other spiritual drama, Touched by an Angel.
"We're not trying to do anything like what they're doing," counters
Masterson, who also serves as a producer. "Our hope in being an
inspirational show, if you call it that, is [not to have] an angel or a
deity or... an authority figure looking down on people and telling them
what to do with their lives. Everybody is pretty much on the same playing
field."  — Daniel R. Coleridge

EPISODE TWO OF "KATE BRASHER" SHOWS MORE PROMISE
Entry Date: 3/3/2001
"Kate Brasher" is a show that demonstrated tonight it can get better each week. The actors work well together, the script for tonight's show was lively and thought-provoking on the subject of drugs being forcibly prescribed to students by school authorities. The characters at Brother's Keepers are likeable and there is a nice flow to the action. The previews of next week's episode reflect an even better hour next week, so be sure to tune in and let CBS know what you think. Don't tell that one critic that Kate Brasher prayed this week. He might have a stroke or something.

"KATE BRASHER" DOES WELL IN NIELSEN RATINGS
Entry Date: 2/28/2001
The numbers are in and Kate Brasher won its time slot with an 8.2 rating, representing 11.6 million viewers and a 14 share. Kate Brasher made the top 40 primetime shows with a rating position of 38th. The lowest rated show was 109th, so there were 37 shows ahead of Kate Brasher and 71 below it. This is a good solid rating, comparable to the series Kate Brasher is replacing, Walker, Texas Ranger, which finishes its run in April 2001.

NOTICE TO ALL OPERATORS OF OTHER MSM SITES
Entry Date: 2/25/2001
Geocities will no longer allow linking to pictures and graphics to servers off-site from Geocities. This was announced in an e-mail to some graphics hounds at a certain Internet forum who love to create their own graphics and link to them from their Geocities sites. The photos come up as boxes with an "x" in the upper lefthand corner. They will not download to your site from Geocities as it is blocked. This is an economy move, as Geocities gets bandwidth used to download the images to other servers, but no revenue from advertising. This is not a healthy sign for Internet communication. The days of free web sites and free forums, paid for by advertising on the sites, may be a thing of the past if the economy, especially in the Dot-Com world does not improve. In the meantime, if you want to use photos from the Photo Album page, just right click on them with your mouse and download them to your hard drive. Then, upload them to your sites.

MARY STUART MASTERSON AND FRIED GREEN TOMATOES FORUMS MAY CLOSE
Entry Date: 2/25/2001
Chris, the enterprising MSM fan who started two forums for posting messages and discussions may have to close down. The forums are presently housed at Inside the Web, a Dot-Com that is experiencing trouble with declining advertising revenues. There are other free forum and chatroom services, and we hope Chris finds a new home for both forums. When she does, she can count on the Tavern to promote them heavily and change all the links. In the meantime, if you posted, or just enjoyed reading those forums, you can reach them through the Links Menu Page here at the Tavern. Go to those threads you liked and copy each page to a hard drive or diskette. On your Explorer toolbar just hit "File" then "Save As Webpage" in the dialog box. If you save multiple pages, and Windows asks if you want to replace the previous saved page, just add a number to the title of the page in the dialog box. Everything will be saved that is on the page in its own folder, including graphics. When you want to reminisce about some of the discussions, just go to that page in Windows Explorer and click on it. Your browser will come up off-line, and you can view the pages as if you are on the Internet.
Chris, those directions above are for you as well as your regular guests. This way you can archive the forums you worked so hard to create and maintain and enjoy them in the future.

"KATE BRASHER" EPISODE GUIDE UP AND RUNNING
Entry Date: 2/24/2001
After watching the first episode of "Kate Brasher," the first entry in the new Episode Guide page was posted, and the page uploaded. Next week's episode is a timely one, as it deals with the compulsive medication of children in the public schools of the United States with the drug Ritalin. There is a growing controversy in America about the widespread use of this drug in the schools, along with Prozac and other psychotropic drugs. Some of the kids involved in recent school shootings were taking the drugs.
EPISODE GUIDE PAGE

MARY STUART MASTERSON INTEVIEWED ON KDKA RADIO'S MIKE PINTEK SHOW
Entry Date: 2/24/2001
As part of the effort to publicize the premiere of "Kate Brasher," Mary Stuart Masterson has been a guest on television and radio talk shows at both the national and local level. Friday morning, 2/23/2001, she was the guest on Mike Pintek's morning talk show on KDKA-AM radio, frequency 1020. I didn't get to hear it, as I was working at the time, but tuned in later while driving, and heard that she had been a guest that morning. KDKA is the first commercial radio station on Planet Earth, founded in 1920.