THE "KATE BRASHER" EPISODE GUIDE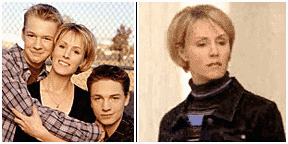 This page will reproduce a synopsis of each weekly episode of the Mary Stuart Masterson television drama, as well as providing the names of some of the guest stars and regular cast members who appear in the various episodes.

PILOT EPISODE: February 24, 2001
gs: Josh Hopkins, Andi Chapman, Robert Costanzo, K. Callan, Jeff Doucette, Roger Robinson.
rc: Kate Brasher: Mary Stuart Masterson; Abbie Schaeffer: Rhea Perlman; Joe Almeida: Hector Elizondo; Daniel Brasher: Gregory Smith; Elvis Brasher: Mason Gamble.
Kate Brasher, a 34-year-old mother raising two teenage boys on her own after her husband walks out, is holding down several low-paying jobs. A waitress in a diner in the morning, a cocktail waitress in the evening, and whatever odd jobs she picks up. One such job, cleaning a bowling alley, results in the cleaning crew being cheated out of $300 of the hourly wage promised by the owner. When Kate is turned down for an advance on her pay at the diner, a police officer who overhears while paying his diner check, gives her the card of Brothers Keepers, a local legal aid and social action organization. At first, attorneys Joe Almeida and Abbie Schaeffer tell Kate there is nothing they can do for her without a written contract, but when Kate helps an elderly mute woman, who has been seeking help at Brothers Keepers, communicate her problem through a game of charades, the attorneys decide to see if they can help Kate with the bowling alley manager. After the old woman is reunited with her family, Joe Almeida offers Kate a job as a social worker at Brothers Keepers.
A subplot has Kate's two sons, Daniel and Elvis, trying to help their mother make up for the money withheld by the bowling alley manager. Elvis tracks down the telephone number of his absent father, who weasels out again. Daniel places a bet on a football game through a high school classmate. If he loses, he has to throw a race in a school track meet.
writer(s): Stephen Tolkin / director: James Frawley

"SIMON": March 3, 2001
Guest Stars: Tony Pasqualini, EJ Callahan, Adam Wylie, Kecia Lewis, Nelson Mashita, Jaquita Tate
Special Guest Star: Mariette Hartley
Regular Cast: Mary Stuart Masterson, Rhea Perlman, Hector Elizondo, Gregory Smith, Mason Gamble, Josh Hopkins, Andi Chapman, Roger Robinson
At the Active Day Care Center of Brother's Keepers, Kate takes notice of a grade school boy named Simon, who displays artistic talent in painting a mural on the playground fence. He is a hyper-active child, but in a few days Kate sees that Simon has lost interest in painting and appears depressed. Kate decides to visit the parents, discovering Simon's father is blind. Simon is not depressed because of problems at home, but has been put on the drug Ritalin by the school authorities for being hyperactive in school. Simon's mother is opposed to giving the drug to her son, and Kate tries to convince the school authorities to get Simon into a special school under a state program. In an interesting conversation during a one-on-one basketball game, Joe and Kate discuss the pros and cons of schools compelling students to take Ritalin. Kate is concerned about the fact that the drug is in the same class as cocaine and other dangerous drugs, while Joe understands the problem of the school in trying to control disruptive students.
On the homefront, Kate is faced with a school/student problem of her own as her younger son, Elvis, is protesting having to write a limerick in English class by using profane language in the assignment. Kate's eldest son, Daniel, announces that he has gotten a part-time job to help out with family finances.
At Brother's Keepers, Abbie (Rhea Perlman) is terrified at facing her first day arguing a case before a court. An eccentric older woman, who is obviously affluent, is assigned by the court to perform community service at Brother's Keepers. Played by Mariette Hartley, she is soon turning the office upside down with her opinionated approach to everything.
Special Note: Having Mariette Hartley's character come back from time-to-time wouldn't be a bad touch for the show. A lot of people who saw this episode are certain to have met real people who are just like her.

"JEFF": March 10, 2001
Guest Stars: Paul Dooley (The Monsignor) and Dennis Christopher ("Jesus"), with Algie Kirkland, Michelle Ongkingko, Josh Cruze, Thomas S. Tallarino, and David Felty.
Regular Cast: Kate Brasher: Mary Stuart Masterson; Abbie Schaeffer: Rhea Perlman; Joe Almeida: Hector Elizondo; Daniel Brasher: Gregory Smith; Elvis Brasher: Mason Gamble.
Conner, a black youth in the day care program at Brother's Keepers, shoots and wounds Joe and Hannah, a youth worker who was just accepted to graduate school at the University of Chicago. When Hannah dies from complications, Joe tries to keep Conner from being tried as an adult and getting life in prison.
Kate tries to convince the adopted father of a boy in the day care program to leave his abusive gay partner and eventually succeeds in reconciling the adopted father with his parents.
Abbie tries to help a man who believes he is Jesus from being prosecuted by a local church for preaching to parishoners outside of a church.
Daniel wrecks Kate's ancient car when he tries to adjust the radio for his girlfriend. Daniel and Elvis locate their wayward father, Al Brasher, in a local town and "repossess" his car for some of the $108,000 in back child support he owes. The car appears to be a 1971 Chevrolet Chevelle Convertible, dark blue. Although 30 years old, the vintage auto is a step up for Kate, if Joe, recovering from his gunshot wound, can find a legal loophole for the boys.
Director: Steve Robman Writers: Joel Fields and Stephen Tolkin (series creator).

"JACKSON": March 24, 2001
Guest Stars: Diana Maria Riva, William Converse Roberts, Al Ruscio, Fay Hauser, Toy Connor, Alexandra Picatto, Jacqueline Obradors, Frank Ertl, Darlene Kardon, Sloan Robinson, Frank Ruotolo, Ariel, Sweet, Calvin Jung, and Carl Lumbly as "Jackson."
Regular Cast: Kate Brasher: Mary Stuart Masterson; Abbie Schaeffer: Rhea Perlman; Joe Almeida: Hector Elizondo; Daniel Brasher: Gregory Smith; Elvis Brasher: Mason Gamble, Josh Hopkins, Andi Chapman, Roger Robinson.
Kate is assigned to help a man released from death row for a murder he did not commit, Carl Lumbly's "Jackson." Jackson is embittered for spending sixteen years in prison when he was not only innocent, but the prosecutor intimidated a key witness who could have supplied him with a verifiable alibi. Kate is to get Jackson reintegrated into everyday life by helping him get a job as an electrician, so he can complete the apprenticeship his false conviction stopped, and also to reunite Jackson with his daughter.
Joe is recruited to run for the Los Angeles City Council by the same party that has endorsed the prosecutor who falsely convicted Jackson for murder.
Abbie is caught in the middle in a dispute between senior citizen landlords and a tenants' rights activist who is seeking to pressure the landlords into selling their property cheap.
Elvis has his head turned by a senior girl with a bad reputation, despite the warnings of older brother Daniel.

"TRACY": April 7, 2001
Guest Stars: Mackenzie Phillips (Tracy Delray), David Naughton, Niccy Nash, Lee Weaver, Jeff Doucett, David Spielberg.
Regular Cast: Kate Brasher: Mary Stuart Masterson; Abbie Schaeffer: Rhea Perlman; Joe Almeida: Hector Elizondo; Daniel Brasher: Gregory Smith; Elvis Brasher: Mason Gamble, Josh Hopkins, Andi Chapman, Roger Robinson.
Written by Stephen Tolkin, series creator. Directed by: Arvin Brown.
Tracy Delray, an aspiring professional singer, is trying to get Social Services to return custody of her two young daughters to her. The girls are in a foster home because Tracy was once addicted to crack. With her addiction under control, and now starting to get singing jobs in local clubs, Tracy applies to get her daughters back, but is turned down for lack of regular full-time employment. Joe assigns Kate to help Tracy get a job, but Tracy is more interested in hitting it big as a singer than working a regular job. Kate finds her own past, which included homelessness while trying to find work to support her sons, is getting her too personally involved with Tracy's problems.
On top of trying to help Tracy, Kate must battle the Veteran's Administration and Medical to try to get a new prosthetic leg for a Gulf War veteran who lost his leg to a mine during the war.
The adult daughter of an old friend of Joe's seeks his help in preventing the marriage of her elderly father, who stands to leave a $500,000 estate when he dies, from a much younger woman with a previous criminal record. Joe hands off the hot potato to Abbie, who finds a unique solution to the problem.
On the homefront, Daniel is failing Algebra and finds the only tutor Kate can afford is his younger brother, math-whiz Elvis.
NOTE: This episode was postponed from an earlier date. Because of the NCAA Basketball playoffs in the United States, episodes of the series have been broadcast out of sequence, which is why Kate was driving her old car, which Daniel totalled the week before. Next week's episode, "Georgia," was supposed to be the second episode, and "Tracy" was supposed to be the third.

"GEORGIA": April 14, 2001
Guest Stars: Shawn Sachs, Dennis Christopher, Allison Mack.
Regular Cast: Kate Brasher: Mary Stuart Masterson; Abbie Schaeffer: Rhea Perlman; Joe Almeida: Hector Elizondo; Daniel Brasher: Gregory Smith; Elvis Brasher: Mason Gamble, Josh Hopkins, Andi Chapman, Roger Robinson.
Kate is assigned to go out into the mean streets of Los Angeles to inform runaway teenagers about the free counseling service of Brothers Keepers and a shelter for runaways called Grove House. On her rounds, Kate encounters Georgia, who has run away from a town in Ohio. Georgia plans to camp out illegally on the beach, but Kate talks her into going to Grove House. Late that night, Georgia appears on Kate's front porch asking to spend the night at Kate's house because she just couldn't stay that night at the shelter. Kate lets her stay that night, with Joe Almeida's permission, provided Grove House be informed about the arrangement. When Kate telephones Georgia's parents, her stepfather is unconcerned. Kate then gets Georgia permission to attend classes at Daniel's and Elvis' high school. At school, she persuades Daniel to blow off afternoon classes to go to the beach. Daniel and Georgia stay into the evening, upsetting Kate, and even kiss. The next morning, at Brothers Keepers, Kate tells Georgia that there is a scholarship to a boarding school that Georgia may be qualified to receive. This leads Georgia to confess that she is pregnant, and that her stepfather is responsible. She runs away again, making her last contact with Kate by a pay phone from the beach.
Abbie has to use ruthless tactics to help an overweight woman get a job as a receptionist at a health club, while Kate also has to help "Jesus," played again by Dennis Christopher, move back into his halfway house.
Writer: Dana Baratta Director: Steve Miner.
NOTE: This is the best episode of the series and enabled Mary Stuart Masterson to display her talents to the fullest, particularly emotional range.