FYI ARCHIVES
PAGE 4
ARTICLES FROM 3/16/2000 TO 4/26/2000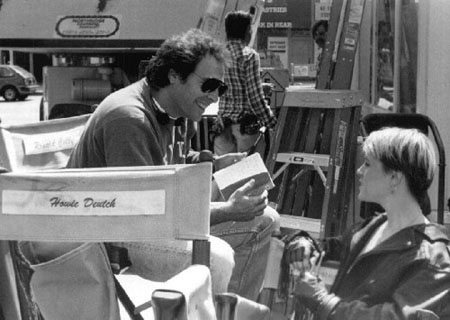 Mary Stuart Masterson with Director Howard Deutch during filming of "Some Kind of Wonderful," 1987

FRIED GREEN TOMATOES CO-STAR IN ANOTHER HALLMARK HALL OF FAME PRODUCTION
Entry Date: 4/26/2000
Chris, from the Mary Stuart Masterson Forum, and the Fried Green Tomatoes Forum, sent me an e-mail of interest to all fans of Mary Stuart's beloved film, "Fried Green Tomatoes." Mary Louise Parker, the one-and-only Ruth Jamieson, is going to be starring in another Hallmark Hall of Fame production on CBS. The film is titled "Cupid and Cate," and also stars Peter Gallagher, who portrayed the evil pimp Kai in Mary Stuart's starring vehicle "My Little Girl" in 1986. I earlier mistook Peter Gallagher for the actor who played MSM's deceased father in the comedy "Chances Are," but Chris e-mailed a warning to me that Mr. Gallagher did not play that role! I knew he had been a co-star of Mary Stuart's at one time or another, and sure enough, he was!

PEOPLE MAGAZINE REPORTS ON MOVIE PERFORMERS ENTERING TELEVISION
Entry Date: 4/26/2000
PEOPLE Magazine recently reported about performers most known for their work on the big screen are planning to try their hand at television. One is Geena Davis, the statuesque star of "A League of Their Own," "Earth Girls are Easy," and "Angie" is working on a new series, for example. PEOPLE included the news that Mary Stuart Masterson has signed a deal with CBS and is now working on the production of the 2000-2001 series "The Further Adventures" for that network.

RADIOLAND MURDERS: GEORGE LUCAS' "PHANTOM MENACE" TEST ENGINE
Entry Date: 4/16/2000
The film, directed by Mel Smith, stars Mary Stuart Masterson, David Benben, Stephen
Toblowsky and Christopher Lloyd. The film is based on an idea by George Lucas
and Willard Huyuck and Gloria Katz created over twenty years ago during the
production of "American Graffiti." In some ways, Radioland is a test-run for
the new Star Wars films, since it is the first time that the new digital
effects that Lucasfilm created for the Emmy Award winning TV-show "The Young
Indiana Jones Chronicles" are being used in a feature film. These processes
are crucial, according to Lucas, to make the new Star Wars films financially feasible.

MARY STUART MASTERSON FORUM WON 13TH MSM FAVORITE SITE AWARD
Entry Date: 4/7/2000
Speaking of awards, I gave one and forgot to post the notice here! Chris' Mary Stuart Masterson Forum, the future site of discussion for MSM's upcoming CBS drama, "The Further Adventures," and all other subjects concerning Ms. Masterson's career, is the winner of the Tavern's award for the best MSM sites on the internet.
MARY STUART MASTERSON FORUM

CLAUDIA KEHL REPORTS ON DEVELOPMENTS OF "THE FURTHER ADVENTURES"
Entry Date: 4/7/2000
Subj: The Further Adventures
Date: Wed, 5 Apr 2000 2:30:43 PM Eastern Daylight Time
From: "Claudia Kehl" <ckehl@bluewin.ch>
To: "Guy Jordan" <gjordan741@aol.com>
There are other casting news of "The Further Adventures"
Mason Gamble ("Rushmore") will join Mary Stuart Masterson and Rhea Perlman in
the Jersey Television pilot "The Further Adventures" for CBS. Gamble is
repped by John S. Kelley of Bresler Kelly & Associates.

THE TAVERN WINS THE "CRITICAL MASS" WEB SITE AWARD
Entry Date: 4/7/2000
Mary Stu's Tavern has just won Bill Darling's "Critical Mass" Award. I want to thank all the visitors to the Tavern for helping to make the site worthy of yet another internet award! Here are some of Mr. Darling's remarks in the e-mail he sent announcing the award:
Hello Guy,
Congratulations!!......Your site definitely qualifies
for the "Critical Mass Award". A very nice site, good
design, clever graphics, great photos, and your content
is informative, entertaining, presented well and easy to
access. A worthy enterprise and a positive contribution
to the Web.
Thanks for helping make the Web a more interesting,
fun and attractive place to visit. I really enjoyed my
visit to your site and will return again when time permits :)
The Award logo is being sent as an attachment to this note
and your site should be posted on the "Winners List" today.
See below for the code.
Cheers,...Bill Darling

TAVERN REVIEW OF "THE FLORENTINE" IS AVAILABLE
Entry Date: 4/1/2000
For a review of the video version of this movie, please click on the link below. The hockey scores were not good news today, but seeing "The Florentine" helped make up for the disappointment.
THE FLORENTINE

"THE FLORENTINE" VIDEO IS AVAILABLE TO RENT
Entry Date: 4/1/2000
I just happened to stop by the Giant Eagle supermarket between Franklin and Oil City, Pennsylvania just this afternoon. On a whim, I dropped into their "Iggle Video" store. They use the term "iggle," because that is how many Western Pennsylvanians pronounce the word "eagle." I took a browse of the new releases, and there it was: "The Florentine," available for rent. In a few minutes, after I check the on-line hockey scores, I'll view the film and post a review later tonight.

SPECIAL THANKS TO LENNON PARKER OF THE "I LOVE MAUREEN" SITE
Entry Date: 3/31/2000
The photos from the movie "Dogtown," found on the Photo Album just reinstituted at the Tavern, were all supplied by Lennon Parker of the "I Love Maureen" site, dedicated to actress and singer, Maureen McCormick. Lennon also e-mailed a nice scanned photo from "Bad Girls," that is also available for viewing in the Tavern's re-established photo gallery. For more information on Maureen McCormick's co-starring role in the movie "Dogtown," drop by the I Love Maureen site at the link set below:
I LOVE MAUREEN MCCORMICK

MARY STU'S PHOTO ALBUM RETURNS
Entry Date: 3/31/2000
A page indexing several photos from Mary Stuart Masterson's movies and television productions has been restored to Mary Stu's Tavern. All visitors can feel free to download the photos for their own use in screensavers, wallpaper, and slide shows. Anyone designing yet another MSM website can also feel free to download these photos and use them on their sites. The Tavern doesn't care if there are 1,000 more sites promoting Ms. Masterson's career. The more the better!

LATEST ADDITIONS TO CO-STARS' CORNER PAGES
Entry Date: 3/26/2000
The Co-Stars' Corner pages have been updated to include brief biographies and links to sites for MAUREEN MCCORMICK, Ms. Masterson's co-star in "Dogtown," and BRIAN BENBEN from "The Radioland Murders." Links set with the biographies include the I LOVE MAUREEN website, which is a terrific site for Maureen's fans and anyone who just appreciates a fine website. There is also a link to the cast biographies for the cast of Brian Benben's "Dream On" series from HBO.
CO-STARS' CORNER

FIFTEEN YEARS OF ACTING EXCELLENCE
Entry Date: 3/24/2000
Somehow I missed the fact that fifteen years ago, Mary Stuart Masterson debuted in her first major movie, "Heaven Help Us," a comedy about a Catholic Boys' high school in Brooklyn circa 1965. While Ms. Masterson did have a role in "The Stepford Wives," she was only about nine years old at the time. "Heaven Help Us" was her first major billing, and even though she was still a teen, the role she played was much closer to an adult. There is a page up in the Tavern celebrating the Fifteenth Anniversary of MSM's debut as a serious film actress. You can access it through the link below:
FIFTEENTH ANNIVERSARY

MAUREEN MCCORMICK'S PARENTS E-MAIL THE TAVERN
Entry Date: 3/24/2000
The parents of Mary Stuart Masterson's "Dogtown" co-star, Maureen McCormick, sent me an e-mail in response to my request for a photo from "Dogtown" that could be displayed here at the site. Unfortunately, Ms. McCormick did not have any still photos to send, but her parents, who help maintain Maureen's official website, said that Maureen enjoyed working with MSM, Harold Russell, and the entire cast of "Dogtown." We at the Tavern wish Maureen all the success with her acting and singing careers and thank her parents for all their kind words.

CLAUDIA KEHL FINDS GREAT LINKS TO MSM INDEPENDENT FILMS
Entry Date: 3/19/2000
I just got an e-mail from the Tavern's effective Swiss correspondent, Claudia Kehl, about Showcase Entertainment, which turns out to be a marketing firm for distributing movies. Posted at the Showcase Entertainment site are some nice GIF posters of MSM's films "The Book of the Stars" and "Dogtown." Along with the posters are some nice comments about both movies. Below are links to the pages covering "Dogtown" and "The Book of the Stars."
BOOK OF THE STARS
DOGTOWN

NEW MSM FORUM SET UP BY CHRIS OF THE FRIED GREEN TOMATOES FORUM
Entry Date: 3/19/2000
Chris, aka "Towandajo," the successful founder of the Fried Green Tomatoes Forum, has set up a new forum specifically for discussing Mary Stuart Masterson and her acting career. The Fried Green Tomatoes Forum will continue to provide a site for conversation about that favorite movie of so many of Ms. Masterson's fans.
MSM FORUM

"DOGTOWN" REVIEW POSTED
Entry Date: 3/17/2000
This one is another fine example of the emotional range of Mary Stuart Masterson as an actress. If you liked "The Last Picture Show" and Mary Stuart's "Digging to China," you'll like "Dogtown." The video is available at Blockbuster. A review is posted here at the Tavern.
DOGTOWN

CLAUDIA KEHL REPORTS ABOUT "THE FURTHER ADVENTURES"
Entry Date: 3/16/2000
I just received an e-mail from Swiss MSM correspondent Claudia Kehl about the latest on the casting of Mary Stuart Masterson's upcoming CBS series "The Further Adventures:"
There's news about another cast member of "The Further Adventures". I don't know who she is. Soap star Tammy Blanchard ("Guiding Light") will join Mary Stuart Masterson in the Jersey Films/Twentieth Television pilot "Further Adventures" for CBS. Blanchard is repped by UTA.
Recently I saw the TV film "Love Lives On" for the first time. It was not bad. Mary Stu showed really a moving performance.
Claudia

"DOGTOWN" RELEASED ON VIDEO CASSETTE
Entry Date: 3/16/2000
The Mary Stuart Masterson independent film "Dogtown" has been released on video cassette this month. I stumbled into it while "window shopping" in a Blockbusters in Pittsburgh's North Hills. I plan to rent the cassette for the weekend, screen the movie, and put up a review of it here on the Tavern. Basically, from what I read on the cassette cover, the story is about Phillip, who left his small town 13 years earlier to pursue an acting career. He gets a few movie jobs, but decides to return home to get some perspective about whether or not the struggle for a movie career was worth it. He discovers his old girlfriend, Dorothy, portrayed by Mary Stuart Masterson, is now involved with a former school athletic star. As Dorothy and Phillip begin drawing closer, the romantic triangle threatens to bring out explosive emotions. George Hickenlooper, long time veteran of Hollywood, directed the film.