FYI ARCHIVES PAGE 18
LATEST NEWS AND ANNOUNCEMENTS
AUGUST 7, 2009 TO NOVEMBER 16, 2009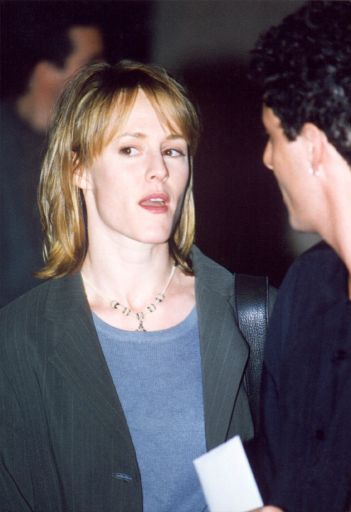 "I'm not really sure when the Pittsburgh Pirates will win another World Series. Looking ahead to old age is just not a priority for me right now."

YAHOO CROSSES ME UP AGAIN
NEW WEBHOSTING SERVICE KEPT OLD TAVERN SITE UP FOR WEEKS AFTER OCTOBER DEADLINE
Entry Date: November 16, 2009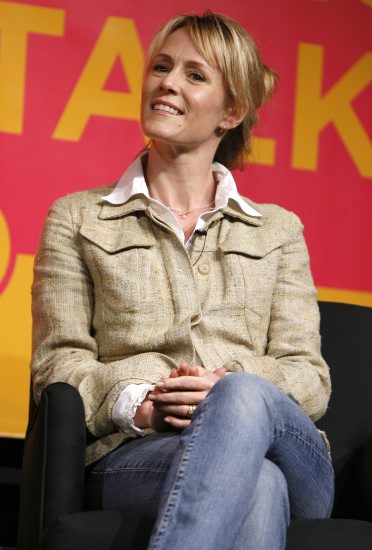 "Put them all together they spell M-O-T-H-E-R...A word that means the world to m-e-e-e-e..."
I kept seeing how some visitors were linking to this site from the old Geocities address after Yahoo supposedly took down all of the old sites there. After all, Yahoo had been warning us since this past March that they were going to dissolve Geocities for good. At first, I tried to stay with Yahoo, since the Geocities affiliate had taken such good care of the site while I was tied up with a family crisis. When I tried to move into a new location on the Yahoo Webhosting feature, the domain got messed up and I couldn't work on the files after uploading them. Frustrated, I moved here. After all, Yahoo was gearing the new service to small business use, and this is not a commercial site. So, we started counting down to the day the old site would be gone forever, but AT&T got involved in the whole Yahoo Webhosting effort and must have come up with a brainstorm: Why not keep all the Geocities sites that were already paying every month for their space? So, about three months after we moved here, Yahoo decides to leave the old Tavern up. Yeah, they sent an e-mail, but I didn't check that mail box for months. After telephoning Yahoo, and having the representative there explain Yahoo's change of plans, I had to tell him that the site already moved. He checked and saw no FTP service for me, so he thought the site was gone. It wasn't. People were still referring in here from the old place. Finally, I found the radio button on Yahoo that killed it. Yahoo made me do it with my own hands after all.

FLASH: MARY STUART MASTERSON, FIRST-TIME BIO-ENGINEER, SUCCESSFULLY COMPLETES INFANT SON
NEW MOM WINS "THE BIG GAME!"
Entry Date: November 3, 2009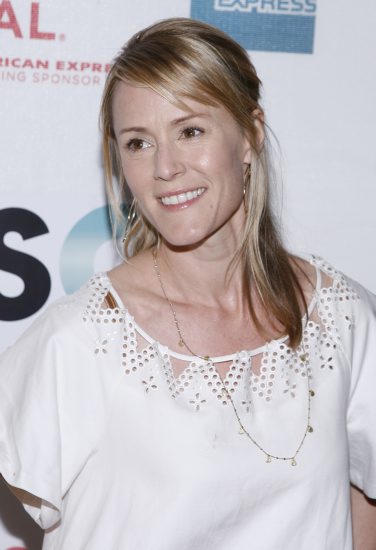 "Nothing to it!"
She still has not released the name of the New Guy, but we have something to be extra thankful for this Thanksgiving. It is a risky proposition going through a pregnancy and child birth when the mother is over 40. In fact, it is an heroic accomplishment. Every mother is a heroine, an expression of courage, endurance, and faith in the future. Our heartfelt congratulations to the happy couple. The little guy was born on October 11th, giving family and friends time to enjoy the event for a few weeks before making the public announcement, which is as it should be.
Just one thing: now that I know Ms. Masterson has another talent, namely construction, I wonder if she makes kitchen cabinets, because I could use some nice oak cabinetry, and....

HAPPY THANKSGIVING TO ALL TAVERN VISITORS!
Entry Date: November 2, 2009

Thanksgiving 2009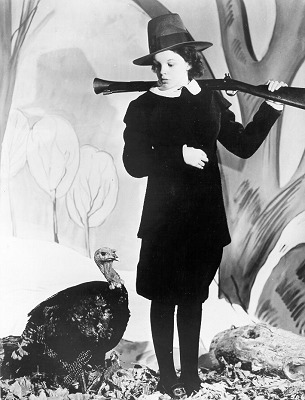 "What kind of double agent are you?"

SIGNING THE GUESTBOOK
Entry Date: October 30, 2009
Signing the Guestbook here is so easy...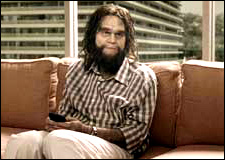 ...well, you know.
Just go to this page: THANKS
Scroll down until you see the links under the pretty Bed of Roses picture that says HTML Gear and "Sign My Guestbook." Just like at Geocities!

GEOCITIES: COUNTDOWN TO THE END
Date of Dissolution: October 26, 2009
Tomorrow is it, everyone! Our old home ceases to exist on Sunday, October 26, 2009. Anyone interested in the way things were when this site was at Geocities can take a look in the Mary Stu's Tavern Museum, which has navigation links all over this site. It is only a matter of hours as I type this announcement.

TRAFFIC PICKING UP SLOWLY AT THE TAVERN'S NEW ADDRESS
Entry Date: October 21, 2009
It sure is different in 2009 than it was in 1999. This place could get a couple of hundred hits in a single day ten years ago. Well, just like in a neighborhood movie theater when they screen a new movie even if only one patron shows up, we'll keep going. When you run the Mad Magazine of "fan sites," you have nothing to lose by hanging around. Even if one person at a Starbucks on a Friday night, trying to sober up with a triple espresso before trying to go home, shows up, there will be a site here for that one person to visit.

THE FIRST ZOMBIELAND
Entry Date: October 13, 2009
A new page is up in The Webmaster's Back Office. As the movie Zombieland is meeting success at the box office, it was high time people were reminded just where the whole zombie movie genre started: in Western Pennsylvania, my home country. Take a look at a piece of cult Hollywood history.
ZOMBIETIME

ASK THE WEBMASTER: INTERVIEW 3
Entry Date: October 12, 2009

The interviewer for the local paper, Homer's Feed and Grain Newsletter, came back to ask more questions. I hid the microphone in my Hilary Swank bobblehead this time.
Question 1: Why are you still working on this Web site when traffic has been so low compared to the earlier years at Geocities?
REPLY
Question 2: How do you react to criticism of your site?
REPLY
Question 3: What did you tell your visitors about going to Washington, DC in 2004 to see Cat on a Hot Tin Roof with Claudia Kehl?
REPLY
Question 4: What would you say if President Obama visited your Web site?
REPLY
Question 5: What would be your position about strict government regulation of the Internet?
REPLY
Question 6: Does having a Web site make you happy?
REPLY
Question 7: What came over you to bring this site back to life again?
REPLY
Question 8: This is our last interview. Have you enjoyed our conversations?
REPLY

HAPPY HALLOWEEN TO ALL VISITORS TO THE TAVERN!
Entry Date: October 3, 2009

Halloween is the start of the Holiday Season, in case the store displays have failed to remind anyone!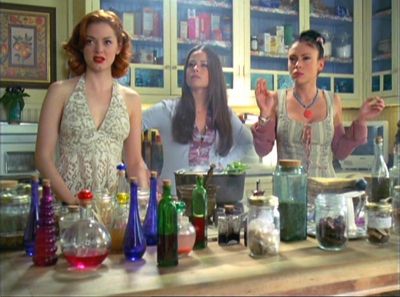 "We'll be finished with the love potion in a few minutes, Mary! Thanks for letting us use the Tavern kitchen! Want a free sample?"

MSM'S STONY BROOK FESTIVAL PAL, DANA DELANY, ON CELEBRITY JEOPARDY
WHIPS CNN ANCHOR WOLF BLITZER!
Entry Date: September 19, 2009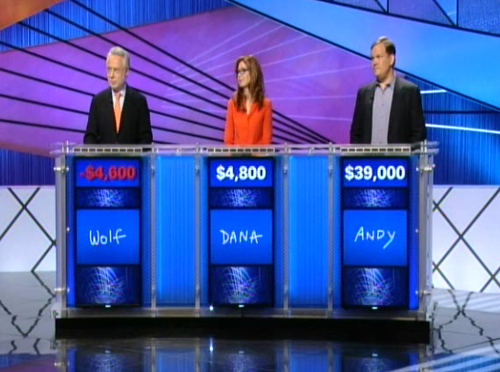 The Brainy Ms. Delany beats Blitzer by whopping $9,400. Comedian Andy Richter wins $39,000 for St. Jude's Childrens Research Hospital.
Actress Dana Delany, photographed with Mary Stuart Masterson at the Stony Brook Film Festival (see photo below), cleaned CNN anchor Wolf Blitzer's clock to come in second on a Celebrity Jeopardy telecast. Mr. Blitzer shouldn't feel too bad. After all, he got to lose bigtime while standing next to Dana Delany. There are worse fates in life, Wolf. This, too, shall pass. It did for Dan Quayle.

FIRST REVIEWS START TO COME IN FOR TICKLING LEO
NEW YORK DAILY NEWS INTERVIEWS MSM ABOUT MOVIEMAKING, GROWING UP IN NEW YORK, AND MOTHERHOOD
Entry Date: September 6, 2009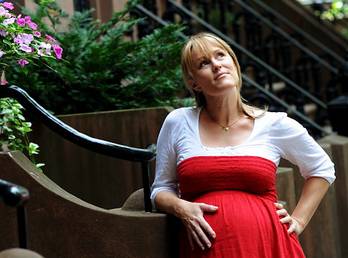 Mary Stuart Masterson: Ready for the "Big Game."
Reviews are starting to come in on Tickling Leo as the film plays in specialty theaters and art houses in the New York City area. There is a good review in the Examiner Herald, which is linked below, and an interview with the actress and co-producer in the New York Daily News. The reviews are excellent of the ones I have read so far. This is a great start for Barn Door Productions, and especially for Jeremy Davidson who wrote, as well as directed, the film. I would like to directly link everyone to the New York Daily News review, but the URL is too long to reproduce. There will be an indirect link, and you can access the article through using the paper's search engine. Eli Wallach, one of the actors in the film, is 93 years old! I remember him from The Good, the Bad, and the Ugly and The Magnificent Seven.
Okay, the reference to "Big Game" has to do with, well, childbirth. That is what I call it when asking an expectant mother when she is due. "When's the big game?" Funny, but they always know to what I am referring and typically give their due dates without hesitating. Basically, the reference to "Big Game" has to do with the observation that giving birth is a lot tougher, and requires more courage, than playing in the Super Bowl. As much as I like sports, it sometimes occurs to me that playing all of those sports has to do with compensating. "Hey, you can suffer through birth, but I can run back a punt for a touchdown, and take all kinds of hits! Impressed NOW?" (She yawns).
EXAMINER-HERALD REVIEW
NY DAILY NEWS MOVIE SECTION

ON SIDEWAYS AND MARY STUART MASTERSON
Entry Date: August 22, 2009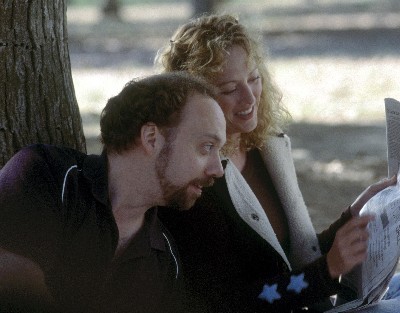 Paul Giamatti and Virginia Madsen in Sideways.
No, Mary Stuart Masterson was not in Sideways. I already knew that when I found myself watching the 2004 Comedy/Drama, produced by 20th Century Fox's independent film affiliate Fox Searchlight early this morning on a commercial cable channel. Sideways is the kind of movie I would not have watched many years ago. Historically-based movies, like Westerns and war movies, action-adventure movies, detective movies, slapstick comedies, and suspense films were what I usually liked to watch. The only other time this preference changed was in 1978 when I started to watch old 1930s and 40s musicals with Big Band musical numbers in them. Now, I found myself watching a movie about two middle-aged men with mostly disappointments to show for their lives, out on a week-long roadtrip to the Santa Ynez Valley Wine country north of San Diego for wine tasting and golf before one of them (Thomas Hayden Church) gets married. Sideways was a movie about ordinary people dealing with major changes and regrets in their lives. Why in the world would I watch it? Because this is the kind of movie I learned to like by watching nearly all of Mary Stuart Masterson's movies. This is the kind of film she would act in, direct, or both. By watching The Book of Stars, The Florentine, and Dogtown I learned to appreciate movies about real people, facing real challenges in their lives, and trying to figure out what life is really all about. Affecting a major change in someone's preferences like that can be called a LEGACY.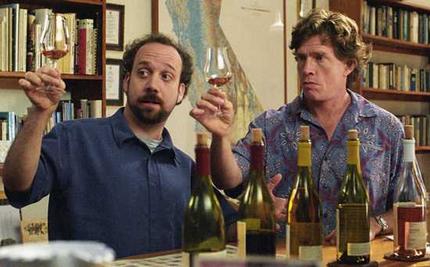 Paul Giamatti and Thomas Hayden Church wine tasting in Sideways.

ANOTHER PHOTO FROM THE STONY BROOK FILM FESTIVAL
Entry Date: August 16, 2009
Two of my favorite actresses together: Mary Stuart Masterson and Dana Delany (China Beach's Colleen McMurphy)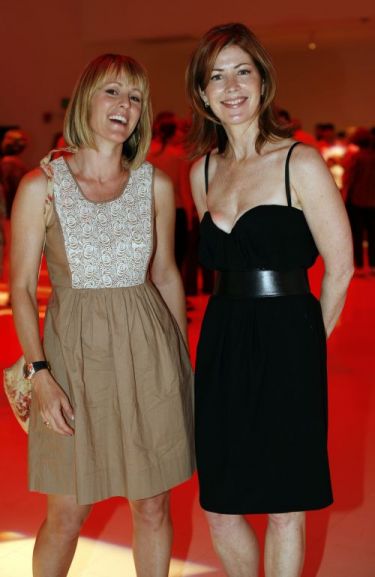 Photographers have all the fun!

FARRAH FAWCETT: THE TIME SHE WAS ONE OF MARY STUART MASTERSON'S CO-STARS
FUNNY ABOUT LOVE ROLE LEFT ON CUTTING ROOM FLOOR
Entry Date: August 16, 2009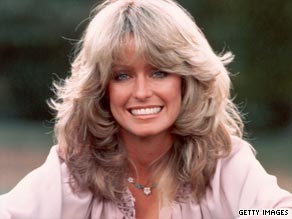 At the time of Farrah Fawcett's tragic death in June, Bob Greene of CNN recalled on the network's Website about the time he was assigned to visit the set of Leonard Nimoy's comedy Funny About Love, starring Gene Wilder and Mary Stuart Masterson. He remembered meeting Farrah Fawcett during the filming, and joining her and the cast at outdoor breakfasts before shooting would begin. Mr. Greene remembered fondly the friendly and approachable personality of the late Ms. Fawcett, and was surprised when one of the movie's producers telephoned him just before the movie opened to inform him that Farrah's character was cut from the movie.
"Even when you're golden, it seems, life can blindside you and try to make you feel small. Even when, to those on the outside, it appears that you have everything, it can vanish. Somewhere, in metal film cans on some shelf or other, there are colorful motion images of a beautiful woman doing her job, images the world has never seen. "Morning!" she would call on her way to breakfast. She carried the sunrise with her."--Bob Greene, "Farrah in the Morning," CNN.com.

JOHN HUGHES, CREATOR OF SOME KIND OF WONDERFUL, DIES OF SUDDEN HEART FAILURE
LEAVES LEGACY OF A PROLIFIC MOVIE MAKER
Entry Date: 8/7/2009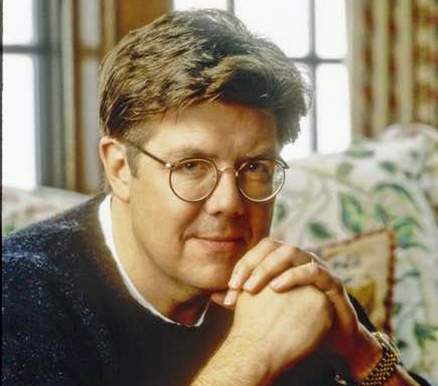 Director, Producer, and Screenwriter John Hughes
It has been 22 years since the John Hughes movie Some Kind of Wonderful made so many past and present visitors to this site fans of Mary Stuart Masterson and the character she portrayed in the movie, Watts. Mr. Hughes passed away suddenly while taking a walk in Manhattan, where he was visiting relatives. He leaves behind his wife, Nancy, two sons and four grandchildren. Born in 1950, Hughes started his career as a copywriter for an advertising firm, working on such campaigns as Johnson's Floor Wax and other high-profile brands. He started in film as a screenwriter for the National Lampoon movies, and then began making his own mainstream movies, concentrating, at first, on the trials of adolescence and the social caste systems in public high schools. For a fine retrospective of John Hughes' movie making career, visit The John Hughes Files, a huge database of information about all of Hughes' work. The site was started in 1996 by a college coed who was inspired while down with the flu and unable to attend classes. She spent an entire day watching John Hughes movies on video and decided to start the site. The John Hughes Files has been on-line for nearly 13 years, originating in Minneapolis, Minnesota.
THE JOHN HUGHES FILES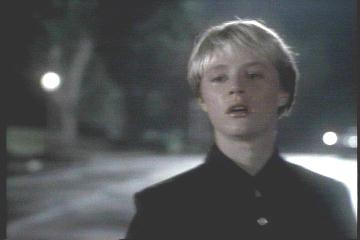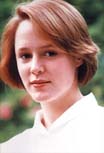 I'm not a successful actress and filmmaker yet, but I made the honor roll this semester!"