CO-STARS CORNER: ACTORS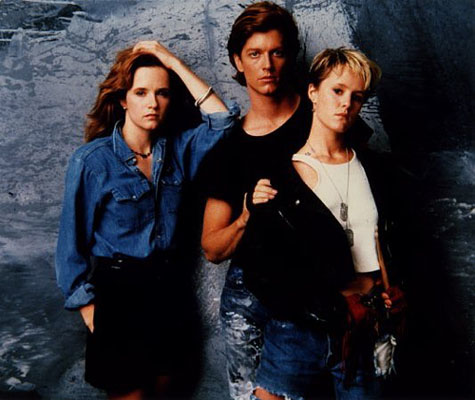 Mary Stuart Masterson with co-stars Lea Thompson and Eric Stoltz, "Some Kind Of Wonderful," 1987.

ROBERT SEAN LEONARD
DOCTOR HOUSE'S BEST FRIEND ONCE PLAYED MSM'S HUSBAND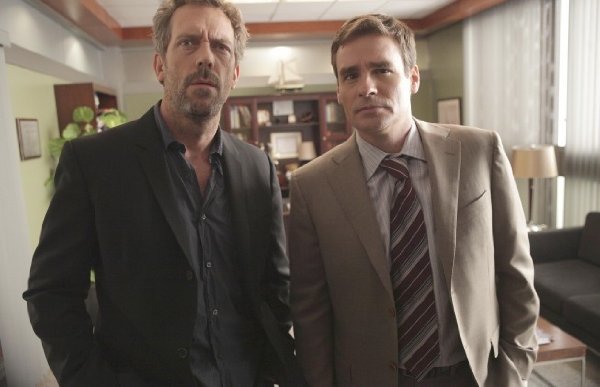 Robert Sean Leonard (right) with Hugh Laurie of House, MD.
Robert Sean Leonard is mostly known today as Doctor James Wilson, the oncologist at Princeton-Plainsboro Hospital and the best friend of Diagnostician Doctor Gregory House. Each week on the Fox Network's House, MD, Doctor Wilson jousts verbally with his quick-witted, albeit sardonic, friend, House. In one episode, House seemed to be making a judgment about some patient employing prostitutes, to which Wilson retorted, "House, you're a drug addict. You go to prostitutes. You can't be judgmental!"
Prior to becoming House's straight man, Mr. Leonard appeared in a number of main stream and independent films, including the ensemble domestic comedy, Married to It, in which he portrayed MSM's husband, Chuck Bishop. That was in 1993. Robert Sean Leonard was in another ensemble movie, Swing Kids, about German youths in the 1930s who identified strongly with the Big Band music of the United States to the point that they resisted Nazi Party suppression of the music because only American Jews and blacks produced it. Earlier, he played one of the students of Robin Williams in Dead Poets Society, and a terminal HIV patient in In the Gloaming. In A Glimpse of Hell, his character was an earnest Navy officer trying to penetrate an apparent cover-up in the actual explosion in a gun turret on the battleship Iowa in a movie made for the FX network.
Robert Sean Leonard has had an extensive and successful acting career as any review of his filmography on the Internet Movie Database reveals. His performances are always right on target. One of his strengths is in fitting his characters into an ensemble cast, such as Married to It, House, MD, and Swing Kids.

TOM SIZEMORE
CO-STAR OF "SAVING PRIVATE RYAN" CO-STARRED IN "THE FLORENTINE"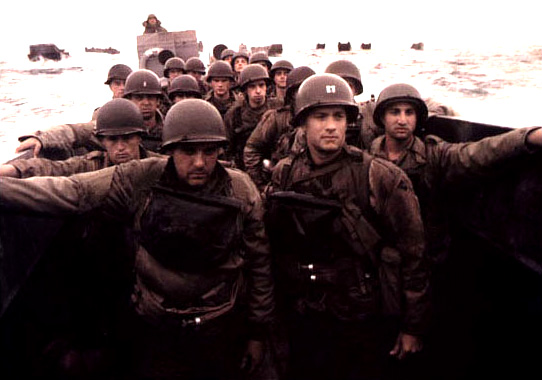 Tom Sizemore, left, and Tom Hanks prepare to land at Omaha Beach in "Saving Private Ryan"
Tom Sizemore, who plays the reliable Sergeant Horvath in Steven Spielberg's unforgettable SAVING PRIVATE RYAN, was interviewed in the June issue of USA TODAY covering the premiere of the film. In the interview, Mr. Sizemore was asked about other film projects on which he had worked, and he spoke at length about working on the Mary Stuart Masterson independent film "The Florentine." Tom Sizemore told USA TODAY that he enjoyed working on "The Florentine," and hopes to work on other such projects in the future. Sizemore, an actor growing in stature in his profession, has also been seen in THE RELIC, STRANGE DAYS, NATURAL BORN KILLERS, and FLIGHT OF THE INTRUDER. One of his first breaks was on the acclaimed television drama CHINA BEACH, portraying a Military Policeman in love with Dana Delany's Vietnam War nurse, Lieutenant Colleen McMurphy. In 1994, Sizemore played a man named Masterson--Bat Masterson--in the Kevin Costner western, WYATT EARP.

JEREMY DAVIES: ANOTHER LINK BETWEEN "SAVING PRIVATE RYAN" AND "THE FLORENTINE"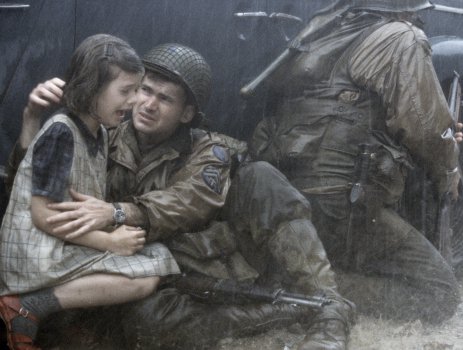 Jeremy Davies, playing Corporal Upham, consoles a frightened French girl in "Saving Private Ryan"
Yet another link between Mary Stuart Masterson's movie, THE FLORENTINE, and the most prominent film of 1998, SAVING PRIVATE RYAN, is Jeremy Davies. Davies, who acted in the film "The Locusts" with Steven Spielberg's wife, Kate Capshaw, was remembered by Spielberg for his work, and chosen as the best actor to portray the clerk typist and interpreter who gets "volunteered," by a U.S. Army Ranger Captain, played by Tom Hanks, to go behind enemy lines. Davies was praised for his work as the newcomer to World War II combat who has to overcome his fear while under enemy fire.

SEAN PENN: A HOLLYWOOD RUGGED INDIVIDUAL
CO-STARRING FILM: "AT CLOSE RANGE," 1986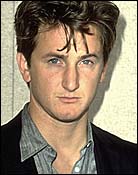 Sean Penn in a publicity portrait, 1999.
Sean Penn, Mary Stuart Masterson's co-star in the 1986 film AT CLOSE RANGE, is a rugged individual in a profession not known to breed them. He freely speaks his mind, as he did when he was interviewed last year by Charlie Rose on Public Television. Penn spoke openly about his own life, including his mistakes, and when asked about the state of the nation's affairs Penn replied flatly: "If the average man really knew what was going on, he might just join a militia." Sean's father, Leo Penn, a director, was a victim of the Hollywood blacklisting in the 1950s.
Mr. Penn rebounded from a stormy marriage with Madonna to find true happiness with actress ROBIN WRIGHT, who played the life-long girl friend to Tom Hanks' Forrest Gump. Between his break-up with Madonna, and his marriage to Ms. Wright, Penn entertained Hollywood friends at the trailer he lived in during those days, treating the likes of JACK NICHOLSON to barbeque and brews. His brother, CHRIS PENN, was also a frequent guest at Sean's temporary digs.
Among my favorite movies is Sean Penn's RACING WITH THE MOON, a 1984 romance based in 1944 Northern California. ELIZABETH MCGOVERN played his love interest, and NICHOLAS CAGE was his luckless best friend. The Penn and Cage characters were waiting for their call-up to the Marines in WWII. He recently starred in the World War II drama THE THIN RED LINE.

MICHAEL MADSEN: ONE TOUGH HOMBRE
CO-STARRING FILM: "THE FLORENTINE," 1999

Michael Madsen, the brother of actress Virginia Madsen, is well-known for both his starring and supporting roles as a tough, silent hero, or menacing villain. A good friend of actor Tom Sizemore, they have acted together in Mary Stuart Masterson's "The Florentine," and Kevin Costner's "Wyatt Earp." "The Florentine" is the first picture in which Michael and his sister, Virginia, have been able to act together. They portray a brother and sister in the film. If "The Florentine" is any indication, there is a "gang" of performers in which MSM is a member. The members of this group of acting friends, and frequent co-stars, would include Michael and Virginia Madsen, Tom Sizemore, Sean and Chris Penn, and Mary Stuart Masterson. In addition, Michael has starred in "Species" and its sequel, "Species II," "Mulholland Falls," and the critically praised "Donnie Brasco."

BRIAN BENBEN: HBO'S "DREAM ON" STAR NOW A TEXAS RANCHER
CO-STARRING FILM: "The Radioland Murders"--1994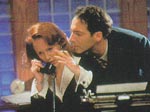 Mary Stuart Masterson and Brian Benben in "The Radioland Murders."
Brian Benben co-starred with Mary Stuart Masterson in the wacky "The Radioland Murders" in 1994. Directed by George Lucas, of "Star Wars" fame, Benben portrayed Ms. Masterson's ex-husband. Both characters were writers for a 1939 radio station in Chicago, and got tangled in a series of murders that take place at the station. Born in Winchester, Virginia, at the edge of the Shenandoah Valley, Benben's family moved to New York's Hudson Valley, where he was raised. Benben started acting in local and regional theaters after starring in some plays at the Ulster County Community College. He got his first big break in 1980, landing a role in the NBC series "The Gangster Chronicles." After doing some more series and TV movies, Benben went on to his Cable Ace Award-winning HBO series "Dream On." He has also starred in movies like "I Come in Peace," and "Clean and Sober." Brian Benben is now married to Mary Stuart Masterson's "Bad Girls" co-star Madeline Stowe. Ms. Stowe fell in love with the area around Brackettville, Texas where "Bad Girls" was shot, so when she and Brian married, they purchased a cattle ranch in the area and are presently residing there.
VISIT THE BRIAN BENBEN PAGE ON THE "DREAM ON" CAST PAGE

JON FAVREAU: HE WEARS CHARACTERS LIKE CLOTHES
CO-STARRING FILM: "DOGTOWN"--1999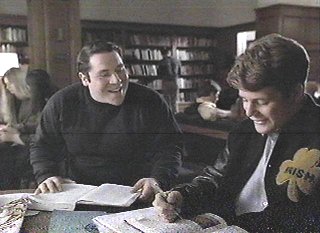 Jon Favreau (left) with Sean Astin in "Rudy"--1993
Anyone who saw Jon Favreau in "Dogtown" playing the former high school basketball star, Ezra, the boyfriend of Mary Stuart Masterson's Dorothy, would never believe that he was "D-Bob," the tutor and best friend of Sean Astin's "Rudy." This ability to portray radically different characters and make them believable is Jon Favreau's great strength as an actor. Where Ezra was aggressive, violent, and anti-social, D-Bob was shy with girls while being like a big brother to Rudy. You probably don't think of Jon Favreau as the medical officer in "Deep Impact," while also playing a football player in "The Replacements," but that is because Favreau is like a chameleon when he acts. You notice and remember the character, but don't necessarily associate the character with the actor. Jon Favreau also had a part in HBO's "The Sopranos," but Tony's boys already got rid of his character. Jon was born in Queens, New York, and for those who remember Kevin Dillon's last speech in "Heaven Help Us," attended Queens College before starting out in stand-up comedy at the Improv in Chicago. Those MSM fans who loved "Dogtown" will now know just who that big guy with Mary Stuart was.

MARK RUFFALO: MAKING HIS MARK AT LAST
CO-STARRING FILM: "ON THE SECOND DAY OF CHRISTMAS" (LIFETIME TELEVISION: 12/8/1997)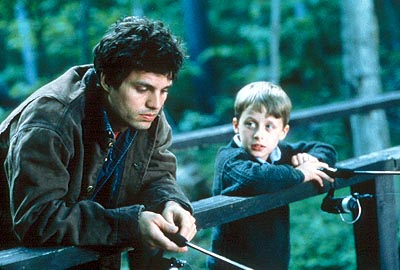 Mark Ruffalo (left) with Rory Culkin in "You Can Count On Me" (2000)
Mark Ruffalo nearly quit acting when his best friend committed suicide shortly after Ruffalo turned 24 years old. He telephoned his father back in his hometown of Kenosha, Wisconsin and asked his father to find a job for him. The acting jobs were only bit parts and he was struggling to make a living. The death of his best friend only worsened Mark's feelings of defeat. It was Mark's mother who persuaded him to stick it out just a little longer, and finally he got a break landing one of the primary roles in the UPN television network's "The Beat." Shortly after finishing the first season of that series, Ruffalo got tapped for the main role in "You Can Count On Me," a movie released in November 2000. The movie has gotten high praise from most critics, with its story about a woman's (Laura Linney) brother who returns from a long absence to the home in which their parents raised them until they died. The sister seems to be in complete control of her life as a working wife and mother, while the brother is dysfunctional and recently released from jail. Of course MSM fans will remember Mark as the security guard for Limber's Department Store in Manhattan, the target for Mary Stuart Masterson's pickpocket, Trish, and her little niece, Patsy, in Lifetime's "On the Second Day of Christmas." That role preceded Mark landing the role in "The Beat," so I like to think that it was really that MSM movie-for-cable television for Christmas 1997 that helped give Mark Ruffalo his big break.

ERIC STOLTZ
CO-STARRING FILM: "SOME KIND OF WONDERFUL" (1987)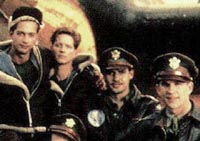 Eric Stoltz, second from left, with cast members of "Memphis Belle": 1990
To Mary Stuart Masterson fans, Eric Stoltz is best remembered as Keith in "Some Kind of Wonderful." Eric Stoltz is actually part of the "Fast Times at Ridgemont High" alumni of young actors who first debuted in that 1983 movie. Stoltz was one of surfer dude Spicoli's buddies. Others who first appeared in "Fast Times" include Nicholas Cage, Sean Penn, Judge Reinhold, Phoebe Cates, and Jennifer Jason Leigh. Eric Stoltz has appeared in a wide range of comedies, dramas, and even an action movie or two. Typically, Eric Stoltz is a player in an ensemble movie. Among these are "Memphis Belle," "Two Days in the Valley," "Pulp Fiction," and "Singles." One of this writer's personal favorites in Eric's ensemble films is the independent film "Kicking and Screaming," in which he plays the bartender and professional college student, Chet, who dispenses wisdom to a group of post-graduate slackers still sharing the same rented house in their college's town long after graduating, wondering what to do with their lives.