FRIED GREEN TOMATOES:
TENTH ANNIVERSARY CELEBRATION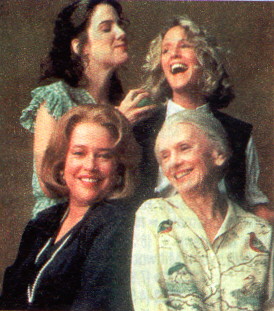 The Actresses of Fried Green Tomatoes

Ten years ago in December of this year, FRIED GREEN TOMATOES premiered. This story of friendships over the passage of time is one of the most beloved of all her movies by the fans of Mary Stuart Masterson. Only SOME KIND OF WONDERFUL is a close rival among Ms. Masterson's fans. This film had some of the richest characterizations ever created by a collaboration of actors, actresses, writers and directors. Those who love the movie remember all of the characters: Idgie Threadgoode, Ruth Jamieson, Smokey Lonesome, Grady Kilgore, Sipsey, Big George, and the Reverend Scroggins. User Groups, bulletin boards, Internet Forums, and E-mail exchange services have discussed all the characters in depth over the decade since the film was released.
FRIED GREEN TOMATOES is considered one of the great films made in the 1990s. After ten years, it is being treated as the classic it always has been. Just as THE WIZARD OF OZ is shown on television by one network each year, FRIED GREEN TOMATOES is run during holiday seasons annually on the USA Network under exclusive arrangement.
The site of the Whistle Stop Cafe, in Juliette, Georgia, is open for the general public and links to its Web site are available on the HAPPY HOUR IN WHISTLE STOP page and the LINKS MENU page of this site.

FRIED GREEN TOMATOES FACTS
CAST
Idgie Threadgoode..............Mary Stuart Masterson
Ruth Jamieson..........Mary Louise Parker
Evelyn Crouch..........Kathy Bates
Ninny Threadgoode..........Jessica Tandy
Grady Kilgore...........Gary Basaraba
Big George............Stan Shaw
Sipsey............Cicely Tyson
Eva Bates............Grace Zabriskie
Reverend Scroggins...........Richard Riehle
Frank Bennett............Nick Searcy
Buddy Threadgoode..........Chris O'Donnell
Smokey Lonesome...........Tim Scott
Ed Couch...........Gailard Sartain
r
Curis Smoote...........Raynor Sheine
DIRECTOR
Jon Avnet
MUSIC
Thomas Newman
SCREENPLAY
Fannie Flagg
Carol Sobieski
AWARDS AND NOMINATIONS
ARTIOS Award of the Casting Society of America: Best Casting in a Motion Picture Drama
OSCAR NOMINATIONS:
Jessica Tandy: Best Supporting Actress
Fannie Flagg and Carol Sobieski: Best Writers of a Screenplay Based on Other Media
GOLDEN GLOBE NOMINATIONS
Best Picture
Best Actress: Kathy Bates
Best Supporting Actress: Jessica Tandy

IN THE NEWS: 1991
The Persian Gulf War against Iraq ends.
The bearting of Rodney King is captured on video tape.
The Clarence Thomas Hearings are televised nationally.
The Bank of Credit and Commerce International Scandal erupts.
Cannibal Jeffrey Dahmer is arrested in Wisconsin.
Earvin "Magic" Johnson is diagnosed as HIV positive.
Biosphere II is launched.
Princess Diana and Prince Charles split.
The Cold War is considered over as Boris Yeltsin takes over in Moscow after stopping a coup.
The United States Senate commences hearings into the matter of Prisoners of War and Missing in Action.
Doctor Seuss, and actors Michael Landon and Robert Reed die.

POPULAR MUSIC--1991
The BILLBOARD Top Ten--1991
"Baby Baby"............Amy Grant
"Gonna Make You Sweat"..........C&C Music Factory
"I Like the Way"...........Hi Five
"More Than Words"..........Extreme
"Unbelievable"..........EMF
"3 AM Eternal"...........The KLF
"High Enough"..........Damn Yankees
"Right Here, Right Now"..........Jesus Jones
"Hold You Tight"............Tara Kemp
"I Adore Mi Amor"..........Color Me Bad

TOP TEN TELEVISON SHOWS--1991
60 Minutes
Roseanne
Murphy Brown
Cheers
Home Improvement
Designing Women
Coach
Full House
Murder She Wrote
Unsolved Mysteries