TAVERN REVIEW
"DIGGING TO CHINA"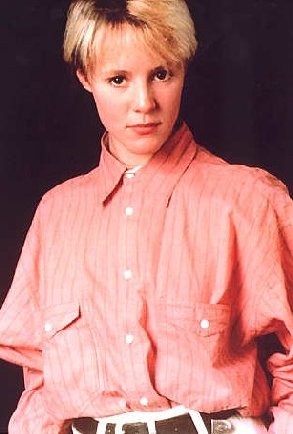 Mary Stuart Masterson in a publicity photo taken circa 1987-88.

A selection of the 1998 Sundance Film Festival, "Digging to China" is a gem of an independent film. Set in the late 1960s, in the Cherokee, North Carolina area, the story revolves around talkative and imaginative 10-year-old Harriet Frankovitch. Harriet spends her days longing to live in a place other than the home she shares with her kindly, but alcoholic, mother, and her boy-chasing older sister, Gwen. The Frankovitch women run Mac's Indian Village Motel, a collection of cabins to rent which were in vogue back in the late 1940s and 1950s.
Two events will profoundly change Harriet's life. One is the arrival of Ricky, a mentally retarded young man, and his mother. The pair are stranded at the Frankovitch's motel (Cabin Number 14) when their car breaks down. Harriet, considered "too weird" according to Sonia, the verbal bully who dominates Harriet's grade school class, so Harriet turns to Ricky for friendship. The two bond into best friends very quickly, as Harriet shares her desire for a life in a place where she feels needed, and Ricky knows he is on his way to a home for the retarded. Ricky's mother, dying of cancer, wants him in a place where he will receive proper care.
As Harriet's friendship with Ricky grows, Harriet's mother is killed in an automobile accident. Harriet soon learns a truth that will drive her to run away from home, following Ricky who has run off to try to escape being taken to the home. This time Harriet, with Ricky, manages to stay away from home for a few days, an episode that will lead to a final resolution of Harriet's relationship with Gwen.
Newcomer EVAN RACHEL WOOD, who is in nearly every scene of "Digging to China," delivers as fine a debut performance as Allison Elliott in 1996's independent film, "The Spitfire Grill." Ms. Wood is totally convincing as the 10-year-old Harriet, and easily wins over the viewer. Get ready to spend 103 minutes in Harriet's world. You will thoroughly enjoy yourself.
MARY STUART MASTERSON's performance as Gwen Frankovitch, who MAY be Harriet's sister, is one of her finest ever. Ms. Masterson's strong suit is projecting the right emotion into a scene, and this strength of talent is showcased perfectly in the scene where she goes to Harriet's grade school to tell her about their mother's death. Mary Stuart also must use her range of emotion to get her character through what could have been a wrenching transition. After the death of her mother, Gwen must go from being a bickering older sister of Harriet to accepting the role of Harriet's mother. Ms. Masterson is able to carry this transition off very well, moving from self-centered sister to concerned parent, and making it believeable. Mary Stuart hits every emotional note perfectly.
KEVIN BACON is also convincing as the mentally handicapped Ricky Troth. One critic tried to make the case that Bacon copied DUSTIN HOFFMAN's "Rain Man" performance, but that critic couldn't have seen both movies. The Ricky and "Rain Man" characters are completely unalike, and the experiences they have are just as different. "Rain Man" would not have gone off on so many adventures with Harriet. He would have been too concerned about missing "The Peoples Court," or one of the other rituals that gave "Rain Man" a semblance of reality. Ricky was ready for a friendship with someone who did not care that he was handicapped.
TIMOTHY HUTTON's first film as a director shows he has a definite future behind the camera. "Digging to China" is visually appealing, the performances Mr. Hutton brings out of his players are outstanding, and he makes the camera tell his story very well. He is also subtle in conveying the time period of the story, with the vintage cars, clothing, and the old 60s television shows, flickering on the Frankovitch's television, let you know the era in which the story takes place. It is circa 1969-1970, with the soundtrack's "Crimson and Clover," by Tommy James and the Shondell's, nailing it down to one of those two years.
"Digging to China" has a bittersweet ending, but the ending is followed by a beginning for Harriet and Gwen. Those who want to see Mary Stuart Masterson at the top of her game had better rent "Digging to China."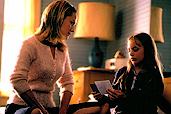 Mary Stuart Masterson with Evan Rachel Wood, "Digging to China," 1998