MARY STUART MASTERSON'S TALKING BOOKS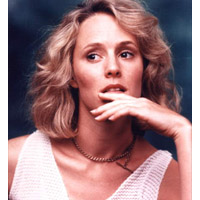 Mary Stuart Masterson During Filming of "Fried Green Tomatoes," 1991

Mary Stuart Masterson has lent her voice to the narration of at least two talking books, or books on cassette tapes, for the blind, or people just too busy to read. The titles below provide links to Amazon.com where these talking books can be purchased on-line. Reviews of the books are also available on the Amazon.com site. In addition, Ms. Masterson has lent her voice to a special "audio play," recorded on tape, that reproduces the way plays were performed on radio early in the Twentieth Century.

THE TALKING BOOKS

WHEN VENUS FELL

WALK TWO MOONS

OUR SACRED HONOR

LOOK AGAIN

THE QUICKIE

I SEE YOU EVERYWHERE

BOOK OF THE DEAD

SCARPETTA

PREDATOR

NEVER HOME

HEART MATTERS

SHORT STORY READINGS FOR NATIONAL PUBLIC RADIO

AUDIO PLAYS
The Los Angeles Theater Works has a project to keep alive the old-time radio plays of the 1930s and 1940s. Mary Stuart Masterson performed in MERRY-GO-ROUND, an audio play that is available on cassette tape.

MERRY-GO-ROUND

MORE TO COME AS THEY ARE DISCOVERED!