A TAVERN REVIEW
THE BOOK OF STARS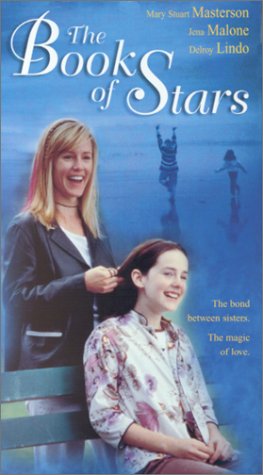 Ozzy Smith was one of the best shortstops to ever play the game of baseball. He had soft hands, quick reactions, and incredible range in the field. No ground ball hit anywhere near his position was likely to get through the infield. Why start off a review of a Mary Stuart Masterson movie by referring to the now retired great St. Louis Cardinal shortstop? Because range is something I will always associate with Ms. Masterson: Range of Emotion in a performance. She has few peers in emotional range, but in The Book of Stars, Jena Malone seemed to be taking on some of that talent from her older colleague.
Mary Stuart Masterson and Jena Malone play sisters who lost their parents when they were younger. At one point in her life, Mary Stuart's character, Penny, had written a book of poetry centered around the theme of the sun's rising and setting. The book was published, and was quite popular for awhile. After the death of their parents, Penny and Mary (Jena Malone's character) were placed briefly in foster homes, but lived on their own with the money from Penny's book and their parent's estate. With their family shattered, Penny then learns that her younger sister has cystic fibrosis, a progressive disease of the lungs that is always fatal. Soon the money from the book and the parents' estate runs out, so Penny secretly turns to prostitution to help support her sister. Medicare helps pay for Mary's care at a clinic.
Penny has given up on both the present and the future. She has only her past, with her parents and Mary in a house built on stilts near the beach, where they lived all year. When she is especially sick, Mary likes to have Penny tell her about the days when they lived on the beach. Mary collects clippings of photos, and makes her own drawings, which she keeps in a scrapbook she calls "The Book of Stars." She includes drawings and photographs of her and Penny, their friends, and about an astronaut who is struggling to repair his craft in space to avoid spinning off and crashing into the sun.
The cystic fibrosis has stunted Mary's growth. She is within days of being sixteen, but looks much younger. She likes to tend plants for an older man who has befriended the two sisters, whom they refer to only as "The Professor" (Delroy Lindo). One morning, Mary is watering some of the plants on the windowsill of their modest apartment, when she spills water on a young man who is in the process of moving into their building. His reaction makes him memorable to Mary, and when she finds that he has a job in the pharmacy where Penny gets her prescriptions from the clinic filled, Mary invites him to dinner. It is the beginning of a warm friendship between Mary and the young man, named Christian, who is from one of the Balkan countries ravaged by civil war. His village was destroyed and his family gone missing. He was wounded and walks with a limp. Though he struggles with English, he seems to understand the tragedy of the two sisters through his own past suffering. Penny avoids him at first, and is suspicious of him at first.
Yet another person with a tragic past comes into Mary's world when she finds a letter addressed to Penny with a return address of a prison. Penny refuses to read the letter, but Mary does. It is from a convict who has found solace in Penny's old book of poetry. Since Penny will not write back, Mary does, signing her sister's name. A correspondence developes between them.
Mary's condition worsens throughout the film. This is not the nameless "Hollywood disease" that killed Ali McGraw in "Love Story." This is a real fatal disease, and Jena Malone does an excellent job in portraying the debilitating effects and conveying the sense of loss the character feels. Mary Stuart Masterson gives the audience a clear vision of a young woman who has lost all hope in the wake of losing her parents, and now having to watch her sister die. The hopelessness has destroyed her talent for poetry, and has caused Penny to use drugs to ease her emotional pain.
Penny promised Mary a trip to their former home on the beach for her birthday. The two sisters will not get there together, but Mary's "Book of Stars," the friendship of Christian, and an encounter with the convict, who finally wins his parole, make the seeds of hope that Mary planted in her sister finally take root and grow. I emphasize the word "seeds" as there is a scene in a park where Penny encounters Mary and Christian having a picnic where something about seeds comes into the conversation. It doesn't seem important when you first watch it.
Keep a box of Kleenex handy when you watch this one. I had a little trouble getting through it, but you better see it if you want to see Mary Stuart Masterson at the TOP OF HER GAME. Someday these smaller independent films will get a serious look from the judges at the Academy Awards. There was more real acting on display in this movie than in just about any of the big blockbusters I saw this summer. Oh, well, they're going to do a sequel of Silence of the Lambs. I suppose they prefer another romp with a cannibal to something uplifting.

SOME NOTES ABOUT THE BOOK OF STARS
Mary Stuart Masterson provides the voice-over narration at the beginning and end of the movie.
D.B. Sweeney plays the convict who corresponds with Mary, believing she is Penny. D.B. Sweeney was Mary Stuart Masterson's husband in the 1987 film Gardens of Stone.
The movie was filmed on location in the Seattle, Washington area, with the beach scenes shot at Ocean City National Park in Washington.
Jena Malone was first known as a great new talent by television reviewers who saw her in the TNT Original production of "Hope," a film about the early days of the Civil Rights movement in the South. The television movie was the directorial debut of actress Goldie Hawn. So far, everything Jena Malone has been in has been a "keeper."