TAVERN REVIEW
BLACK AND BLUE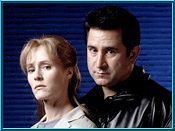 Mary Stuart Masterson and Anthony LaPaglia

"But he's nice on your birthday, so you stay. Your kid starts a new school, so you stay. And then it's summer, and it's the holidays, and twelve years go by."
--Mary Stuart Masterson as Fran Benedetto in BLACK AND BLUE

The CBS movie-for-television, BLACK AND BLUE, starring Mary Stuart Masterson and Anthony LaPaglia, was televised on November 17, 1999 on CBS-affiliated stations. This marks the first major network movie-for-television for Mary Stuart Masterson since LOVE LIVES ON about fifteen years ago. Ms. Masterson also did ON THE SECOND DAY OF CHRISTMAS for the cable network Lifetime in 1997, but Lifetime is not one of the original three US television networks.
BLACK AND BLUE is based on the Anna Quindlen novel of the same title, which was a selection of Oprah Winfrey's book club. The story revolves around the dysfunctional marriage of Fran Benedetto (Mary Stuart Masterson) and her New York City Police detective husband, Bobby Benedetto (Anthony LaPaglia). Bobby has a schizoid, love-hate relationship with Fran. We first witness one of the triggers of Bobby's violent temper when he takes exception to Fran paying attention to his partner at the partner's retirement party. Bobby drives the car at a reckless speed through New York streets, shoving Fran violently away when she tries to get him to slow down. When he gets out of a ticket by flashing his detective's badge at a patrolman, we see that Bobby's position in the police department puts Fran at a disadvantage.
Two things convince Fran she must flee her husband, taking their 10-year-old son, Robert, with her. An emergency room nurse, Fran is involved in trying to save the life of a woman beaten and stabbed by her husband. Fran has had to treat the woman for past beatings. After the woman dies, a TV news crew interviews a counselor of battered women as Fran looks on. The counselor gives Fran her business card. A violent beating, that leaves bruises on her face, after Bobby sees a couple of dirty dishes in the sink, causes Fran to call the counselor. The counselor instructs Fran to change her looks and take a series of buses to Florida. As Bobby is busy receiving a commendation at a police department function, Fran packs some bags for her and Robert, and they escape to a dingy motel in Florida.
The rest of the movie involves Fran and Robert settling into a new life in Florida as Beth and Bobby Crenshaw. Fran meets and becomes involved with a counselor from Robert's school. played by Sam Robards. In Brooklyn, New York, Bobby Benedetto conducts a ruthless campaign to find Fran, involving his former partner, now a private detective. A street hoodlum is hired to terrorize Fran's older sister, and steal her purse and cellular phone. This leads to a particularly suspenseful final confrontation between Bobby and Fran, one which allows Mary Stuart Masterson to use her strong range of emotion to as great an extent as she did in major movies like FRIED GREEN TOMATOES and IMMEDIATE FAMILY.
Mari Garcia, of San Francisco State University, e-mailed a US TODAY review that rated BLACK AND BLUE three out of four stars. Summing up, the reviewer writes: "With skill and nuance, Masterson and LaPaglia bring fresh depth to familiar characters and Shapiro (the director) complements their performances with interesting angles that give BLACK the look of a feature film. Their talents aren't enough to overcome all the limitations of the TV-movie genre (the plot sometimes seems too compressed and rushed) but they do make BLACK a rewarding journey."

SOME NOTES ON THE CO-STARS OF BLACK AND BLUE
Anthony LaPaglia has been seen in many feature films and network television shows. I most remember him as the owner of EMPIRE RECORDS, in the movie with the same name.
Sam Robards, Mary Stuart Masterson's love interest in BLACK AND BLUE, is also a veteran of movies and television. I most remember him as the confused graduate of the University of Texas facing life in 1971, and scared about getting married, in the early Kevin Costner movie FANDANGO.
Will Rothhman, who plays Robert Benedetto, showed excellent talents for a young actor playing the son of Fran and Bobby Benedetto.