FYI ARCHIVES
PAGE 5
ARTICLES FROM 4/28/2000 TO 7/27/2000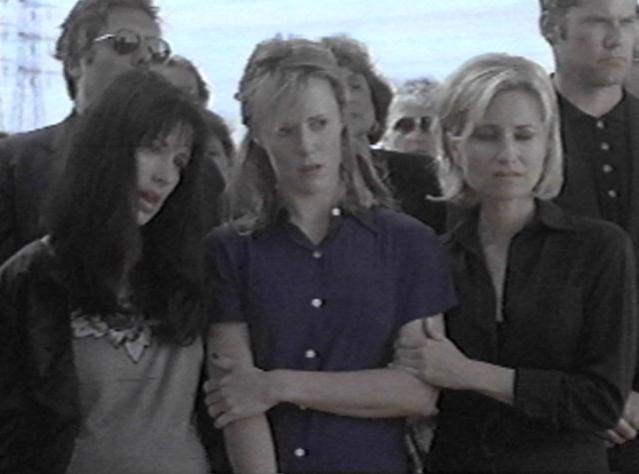 FOUND A GREAT TORONTO INTERVIEW OF MSM FROM JANUARY 1996
Entry Date: 7/27/2000
I was roaming around Google after checking the TV schedule for August, and found this nice Canadian interview of Mary Stuart Masterson from the time period when "Bed of Roses" was released, and "Heaven's Prisoners" was nearing its release. It is a fine read, and should bring back some memories of the winter when "Bed of Roses" premiered.
BED OF ROSES

MARY LOUISE PARKER TALKS ABOUT BEING ANONYMOUS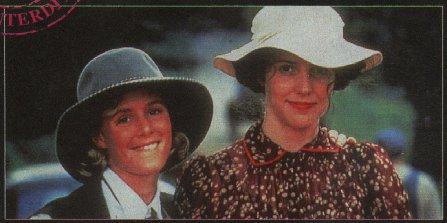 Mary Stuart Masterson with Mary Louise Parker: Fried Green Tomatoes, 1991
Entry Date: 7/22/2000
In the US WEEKLY magazine for July 24, 2000, Mary Louise Parker, the beloved Ruth Jamieson in Mary Stuart Masterson's hit film "Fried Green Tomatoes," discussed her stage career and her boyfriend, Billy Crudup, among other things. When asked if she is constantly being recognized in public, Ms. Parker responded: "I don't feel like people recognize me, really. If I wanted to be recognized--at the emergency room or something--I'd probably have to take a video of Fried Green Tomatoes." Mary Louise Parker was quizzed by US for their Faces & Places Spotlight pages.

WALTER MATTHAU: DIES OF HEART ATTACK AT 1:35 AM 7/1/2000
Entry Date: 7/1/2000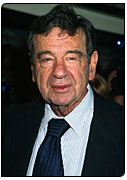 I know this is a Mary Stuart Masterson site, but I think she would appreciate a rememberance on this site of a fine actor who achieved so much during a long and distinguished career. This morning, we lost the actor who gave us our first impression of Oscar Madison in "The Odd Couple," and capped his career with the moving "The Grass Harp." From comedies like "Plaza Suite" to suspense movies like "The Taking of Pelham: 1-2-3," to television movies like "Incident in a Small Town" that showed off his tremendous range of emotion and characterization, Walter Matthau has carved a place for himself in film history that will live on in the memories of those he has entertained. A veteran of World War II, the Tavern also takes time to thank Walter Matthau for his service to his country and to the world.

MARI GARCIA REPORT ON MSM DIRECTORIAL PROJECT ON SHOWTIME
Entry Date: 6/30/2000
LOS ANGELES
Actress Mary Stuart Masterson is making her directorial debut in Showtime's
Academy Award-winning film series, "Directed By."
The series showcases the directional talent of Hollywood's stars.
Masterson's short film, which she wrote, is called "The Other Side" and
stars Anthony LaPaglia ("Sweet and Lowdown" ), Karen Sillas ("Sour Grapes"
) and Bruce Davison. The story follows a terminally ill scientist who
secretly creates a human clone of himself, which he hopes will live for him
after he dies. Of course, the experiment goes awry when a love triangle
ensues with his scientific colleague, Anna.
"The Other Side" is scheduled to air early next year.
Other movies in the series include the Anne Heche-directed "Reaching
Normal," starring Andie MacDowell ("Four Weddings and a Funeral" ) and
Paul Rudd based on a script by Heche; and Helen Mirren's "Happy
Birthday" with Syndney Tamaii Poitier ("True Crime" ), former
"Rosanne" hubbie John Goodman, Beverly D'Angelo ("Vegas Vacation'), "
Frasier's" David Hyde Pierce and Christopher Lloyd (" My Favorite Martian")."

MARY STUART MASTERSON: MUSIC EDITOR?
Entry Date: 6/23/2000
A website for Rhino records had this paragraph about a song chosen by Mary Stuart Masterson as the signature song for the movie "Benny and Joon." The folks at Rhino had a lot of nice things to say about Ms. Masterson, her acting ability, and her taste in music.
"While the Scottish group The Proclaimers had a devoted following in the U.K. in the early '90s, they hadn't made a big splash in the States until one of their songs was prominently featured in the film Benny & Joon. "I'm Gonna Be (500 Miles)" kicks off the movie, playing over the opening credit sequence as Johnny Depp's character bikes along, the music setting the tone of the quirky, eccentric film to follow. As what you might call a date movie, Benny & Joon was a sleeper hit, as was this song. When it was released as a single it reached #3 on the Billboard Hot 100, spending 20 weeks on the chart and selling a million copies. "I'm Gonna Be (500 Miles)" was originally released on The Proclaimers' album Sunshine On Leith in 1989, a favorite album of actress Mary Stuart Masterson. While preparing to play the mentally ill Joon, Masterson listened to this album for inspiration and brought the song to the attention of director Jeremiah Chechik. A wonderful job, Mary Stuart!"

CLAUDIA KEHL REPORTS ABOUT "THE BOOK OF STARS"
Entry Date: 6/18/2000
Hi Guy!!
I'm back from my vacation. I still have this week of. It was absolutely great
and very interesting that tour I did. I really have to say Pennsylvania is a
very nice state. I also liked Washington very much. As I said I was at the
Off-Broadway play "Proof" with Mary-Louise Parker and enjoyed it a lot. She
showed a great performance. It was just terrific to see her in a play! I
think Broadway and Off-Broadway plays are a very good opportunity to see
talented actors and actresses live. I wish Mary Stu will one day come back
and do a play again.
By the way according to amazon.com "The Book of Stars" is going to be
released on September 5, 2000. It's already listed there and you can even
preorder it. The DVD is $ 20.99 at the moment but the VHS is still very
expensive as usual at the beginning
(priced by the studio for the rental market).
Greetings from Switzerland
Claudia

"MERMAID" ON SHOWTIME
Entry Date: 5/27/2000

Ellen Burstyn and Main Female Cast Members of "Mermaid"
Pete Masterson, father of Mary Stuart Masterson, directed "Mermaid," a Showtime Network movie shot in the Vancouver area in Canada. It is the story of a kindergarten-aged girl, Desiree, or "Desi," as her mother and grandparents call her, who loses her father to an accident. Desi and her mother move in with her mother's parents (the grandmother is played by Ellen Burstyn) and try to start over. The big worry on everyone's mind is Desi, who is now referring to herself in the third person and refuses to attend day school. When mother and grandmother take Desi to the cemetery, and explain that her father is now in heaven, Desi wants to send him a letter. A kindly man who is always in thebackground, and always working different jobs (mailman, cemetery attendant, Good Humor man, etc.) seems to always be watching out for Desi and her family, but his true nature is a mystery. Desi's mother takes Desi out flagging for the biplanes dropping seed on nearby farm fields, which is the business of the grandfather. One of the pilots takes an interest in Desi's mother, but she is still in mouring for her husband. At a county fair, Desi is given a balloon by a vendor (that man with all the jobs). The balloon has a mermaid on it, and Desi's favorite doll is the mermaid her father gave her. She launches the balloon with a letter to her father hanging from it. The balloon drifts from California to Prince Edward Island, where a duck hunter finds it and takes it home. Reading the letter aloud to his wife and two daughters at the dinner table that night, the family is at first undecided about whether to write to Desi. Something happens that night to inspire the mother to write to Desi, and send her a Mermaid book as a birthday gift. The mother writes that she is certain Desi's father made sure they got the balloon so someone could help him celebrate Desi's birthday. The Prince Edward Island town where the balloon was recovered was named Mermaid.
This is a fine family film, rated TV-G, suitable for all ages. The performances are fine, and Mr. Masterson's work with the camera was up to his usual high standards. The movie was based on a true story, and the real Desi, her family, and the Prince Edward Island family are shown visiting the location during the closing credits. Desi even yells "Action!" and "Cut!" for Pete Masterson as she sits beside him as he directs a scene. Mr. Masterson remarked, chuckling, "She did that pretty good."

CBS DOES NOT LIST "THE FURTHER ADVENTURES" ON IT'S 2000 FALL SCHEDULE
Entry Date: 5/19/2000
As soon as the television season dies in the United States, sometime in early May, the networks start publishing their tentative schedules for the next year. The executives at the networks especially like to brag if they snagged some big name star. CBS brags about Bette Midler doing a sitcom on their network next year, while ABC has bragging rights to Geena Davis, long-time film actress and candidate for the US Olympic Archery Team last summer. On the CBS site, there are seven new shows listed for fall, and "The Further Adventures" is not one of them. At first, when I first saw the schedule in USA TODAY, I thought CBS had retitled the show to "That's Life," a new one-hour show set for Saturdays at 8:00 PM EST. When I checked the CBS website for the new fall shows, "That's Life" was not the same show as "The Further Adventures," and Mary Stuart Masterson was not mentioned as part of the show. To check the CBS Fall Schedule, click on the link to the CBS website below:
CBS 2000-2001 SHOWS

CONAN TAPES REQUESTS TAKEN HERE
Entry Date: 5/19/2000
As promised, I have searched the internet for sources of Conan O'Brien tapes, so that those who would like to see Mary Stuart Masterson's interview by Conan O'Brien on NBC's "Late Night with Conan O'Brien" can do so. I found what looks like a very popular Conan site at the link posted below. The site operator will post your tape request, and someone with a copy will e-mail you with the arrangements. Funny thing is, the operator of this site also believes Chuck Dowling was offering Conan tapes at his site, but Chuck Dowling informed me by e-mail that the page offering Conan tapes was not his. There is even a link to the "Chuck Dowling" page on the site, and it is a handy page for locating the date of the Conan interviews you want.
CONAN TAPES FOUND

ON THOSE CONAN TAPES
Entry Date:: 5/13/2000
Chuck Dowling of the Jacksonville, Florida Film Journal website sent me an e-mail explaining that there was some kind of mix-up of his screenname on his old ISP with someone else's website which caused me to conclude he was the one who had the Conan O'Brien video tapes for sale. Mr. Dowling informed me that he has no such tapes for sale, and does not know whose website it was that advertised them. Whoever it is, they used Mr. Dowling's screenname, ~chuckd21, to create the page that lists the Conan O'Brien tapes for sale. This is one of the strangest things that has happened in my search of the internet for news of interest for Mary Stuart Masterson fans. I will continue to research sources for the Conan O'Brien tapes and report anything I find on this page.

"IMMEDIATE FAMILY" REVIEW BY CHRISTIAN ANSWERS ON-LINE MAGAZINE
Entry Date: 5/5/2000
While exploring the net for news items and links about Mary Stuart Masterson, I found an interesting review of "Immediate Family" by the on-line version of the Christian magazine, "Christian Answers." The magazine gave the movie an very positive review, rating both the artistic merits and also the message underlying the story. MSM fans should find the review interesting because of the high values rating the magazine gives "Immediate Family," and for a point of view so different from the average film critic. The link to the review is below.
CHRISTIAN ANSWERS REVIEW

MAUREEN MCCORMICK CALLS MSM "A DOLL."
Entry Date: 4/29/2000
While exploring the I Love Maureen website, I found a page with an interview with Maureen McCormick, Mary Stuart Masterson's co-star in "Dogtown" in the July 1998 issue of CHILDREN magazine. Maureen was interviewed about her relationship with her daughter, Natalie, as well as her work as an actress and singer. Maureen mentioned her work on "Dogtown," referring to Mary Stuart Masterson as "a doll." There are photos of Maureen with Natalie, and it must be said that Natalie looks very much like her pretty mother. For a look at the article, click the link below:
MAUREEN AND NATALIE

MARY STUART MASTERSON'S LA THEATER WORKS "VOICE THEATER" VEHICLE
Entry Date: 4/28/2000
It pays to troll the web a few Fridays every month during the regular weekly site update. We never find out about everything Mary Stuart Masterson is doing, probably because she does a lot of her acting just because she loves her craft and not for publicity. Well, there is a whole industry out there of "audio plays," or plays done strictly for tape recording, sort of like the radio plays MSM's character wrote and produced in "Radioland Murders." Mary Stuart has done at least ONE of these for LA Theater Works. The audio play is titled "Merry Go Round," and her co-star is Stephen Weber. MSM and Mr. Weber portray childhood best friends who rediscover each other later in life. The cassette of this play is available for sale through the LA Theater Works. A link is provided below:
MERRY GO ROUND

SOME HOUSTON CHRONICLE NOTES ON MASTERSON FAMILY PROJECTS
Entry Date: 4/28/2000
"Peter Masterson is off to Vancouver to start directing chores on his new project, Mermaid, a two-hour TV movie for Showtime starring Ellen Burstyn. The rest of the cast is being worked out now. Meanwhile, Pete and wife Carlin's daughter Mary Stuart Masterson heads to New York this month to start filming her starring role in the new feature flick, Black and Blue, adapted from former New York Times writer Anna Quindlen's novel of the same title. Pete and Carlin are plotting a trip to Houston ere long to visit family here, including jewelry designer Mariquita and Stewart Masterson."

HELEN HUNT DID A PLAY WITH MARY STUART MASTERSON
Entry Date: 4/28/2000
After shooting "Project X," Hunt left Los Angeles for New York, determined to break into theater. She was cast in the Ensemble Studio Theater's production of "Been Taken" with Mary Stuart Masterson and then performed on Broadway in Thornton Wilder's classic "Our Town"at the Lyceum Theater, co-starring with Eric Stoltz and Spalding Gray.

NEW LINKS ON THE LINKS MENU PAGE
Entry Date: 4/28/2000
We found the MovieWeb review and photos from "Heaven's Prisoners," and it is now on the Links Menu page, right near the link to the MovieWeb link for "Bed of Roses." We also have a link to Bob Rose's website. Bob Rose was MSM's voice coach a few years ago, and there is an endorsement by Ms. Masterson of Mr. Rose's work on the site. I also found an ancient interview of MSM and Johnny Depp for "Benny and Joon." There are too many to post them all here, so the reader will have to peruse the Links Menu page and check them out.

LONESTAR WEBSITE DISCUSSES "THE BOOK OF STARS"
Entry Date: 4/28/2000
An Austin, Texas website has a short review of "The Book of Stars," along with some more background on this MSM movie that also stars the polished teen actress Jena Malone, and Ms. Masterson's co-star from "Gardens of Stone," D. B. Sweeney. Mary Stuart plays Jena's sister in the film, and her character is a published poet. Jena's character is suffering from cystic fibrosis. Michael Miner directed the film, with his best known work in cinema being the writer of the action movie "Robocop!" Tasca Shadix, a resident of Austin, Texas, wrote the screenplay. To access this site, use the link provided below:
LONESTAR

THE MARY STUART MASTERSON FAN CLUB
Entry Date: 4/28/2000
The English have beaten us to it. There is a Mary Stuart Masterson Fan Club, and it is based in the town of Chingford, England. The contact information is available on the updated Contacts page on this site. You can go directly there by clicking the link below:
MSM FAN CLUB

WEBSITE HOSTED BY MSU LISTS "FRIED GREEN TOMATOES" ONE OF FIFTY BEST OF 90S
Entry Date: 4/28/2000
The website "Mark's Best of the 90s," hosted by the Mississippi State University domain server, has named "Fried Green Tomatoes" as the Seventeenth of the Fifty Best movies of the 1990s. To visit Mark's site, and read his reviews, click the link below:
THE 90S