FYI ARCHIVES PAGE 25
DECEMBER 31, 2012 -- MARCH 23, 2014

STEVE STARK SENDS TWO REPORTS THAT WERE STUCK IN THE EMAIL
Entry Date: March 23, 2014
Stephan Stark sent me two emails after the first of the year that got involved in the near loss of the entire Web site when a corrupted file kept me from opening the operating system on the Dell Latittude D830 laptop computer that presently produces the site's pages. I could enter my password to open Windows 7, and the system could tell if it was a good password or not, but could not open any of Desktop or the applications. I needed professional help to get out of that mess, but email problems remained after all the applications were reloaded and the Tavern's files recovered. I only got 150 (+) email messages downloaded that had been waiting for delivery since early February on March 22, 2014, or yesterday. Steve Start's two emails were involved in that jam, but here they are along with some links for follow up.
First, everyone has probably heard of Monuments Men, the most recent George Clooney film with stars like Matt Damon, Bill Murray, and John Goodman playing art experts serving in World War II who are trying to track down all the art that was stolen by the Nazis. Here is what was Steve's first report:
Jeremy Davidson is the narrator of the audio version of "The Monuments Men"
Hope things are well for you this new year!
Steve Stark
Things are better now in the new year now that the email backlog is resolved. I have family members' messages stuck in there, too.
The next report was from the Web site of the magazine Playbill from earlier in March. Mary Stuart Masterson and husband Jeremy Davidson attended a performance of Sarah Ruhl's Stage Kiss, directed by Rebecca Taichman and starring Dominic Fumusa and Jessica Hecht. Playbill included this photo which has an embedded link back to the Playbill article.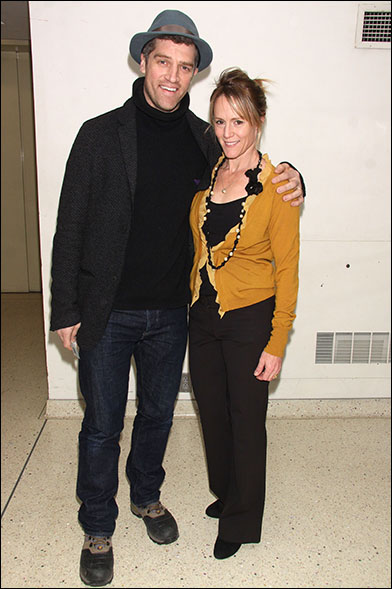 HAPPY 2014!


MERRY CHRISTMAS AND HAPPY HANUKKAH TO ALL VISITORS!
Entry Date: December 5, 2013

MSM'S GUEST STINT ON THE GOOD WIFE AVAILABLE ON STREAMING VIDEO!
Entry Date: December 5, 2013
Ms. Masterson's recent appearance on CBS' hit drama series The Good Wife is now available for video streaming on-line through the CBS Web site, Hulu, and Amazon.com. With Amazon.com you can open your own section of the Amazon site to store the videos you have purchased and access them whenever you want. CBS makes them available free-of-charge to all guests of the CBS Web site.
CBS--THE GOOD WIFE

MARY STUART MASTERSON BACK IN THE SADDLE AGAIN!
TO GUEST STAR ON CRITICALLY ACCLAIMED CBS LEGAL DRAMA THE GOOD WIFE
Entry Date: November 20, 2013
As reported on the Cable Television Schedule page, Ms. Masterson will be guest starring this coming Sunday, November 24th, on an episode of The Good Wife, an episode in which series star Julianna Margulies (ER) has to defend a client accused of domestic terrorism. Ms. Margulies portrays Attorney Alicia Florrick, who pursued a career as a lawyer after discovering that her politician husband could not be trusted by her anymore than any politician should be trusted by the general public. It is good to see MSM back doing what she does best, so be sure to tune in! We went through a drought o Ms. Masterson on cable television recently, and her last new project was an episode of NBC's Touch in 2012. Enjoy The Good Wife as a Thanksgiving treat.

HAPPY THANKSGIVING TO ALL VISITORS!
TRAVEL SAFELY
Entry Date: November 20, 2013


HAPPY HALLOWEEN 2013


HAPPY FOURTH OF JULY, AMERICA, FROM MARY STU'S TAVERN!
Entry Date: June 30, 2013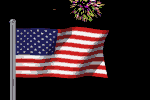 SALUTE YOUR SHORTS II
MARY STUART MASTERSON RETURNS TO NATIONAL PUBLIC RADIO TO READ SHORT STORIES
Entry Date: June 12, 2013
Below is the Guestbook posting by Steve Stark with the news that Mary Stuart Masterson has once again performed a public reading on National Public Radio's Selected Shorts. The details are found in Steve's Post. MSM's previous reading was posted to the FYI about two years ago and is still in the FYI Archives. You can access the show by clicking on the LISTEN TO THE SHOW link below. Thanks for the post, Steve! Let us know how things are going with the Voy Forums project.
Name: Steve
E-mail address: stephan.stark@insightbb.com
Homepage URL: http://
Comments: http://www.selectedshorts.org/2013/05/convergence-with-guest-host-david-sedaris/
The above website dated May 28, 2013 contains:
"Jesus Is Waiting" has only oblique religious implications, in this characteristically serio-comic tale of failed love and self-discovery by Amy Hempel. It's the title of a recording by the Reverend Al Green, given to the narrator by "the man who won't speak to me." She's taken to the road to get away from herself, but, as she observes ruefully: "The geographic cure, these bouts of driving, with the age-old bit built in: 'Wherever you go, there you are.'"
The reader of "Jesus Is Waiting" is Mary Stuart Masterson. LISTEN TO THE SHOW
As always your servant. Best reqards.
Sunday, June 2nd 2013 - 10:21:05 AM

JUNE IS MSM'S BIRTHDAY MONTH!
Entry Date: June 1, 2013
In the olden days here at the Tavern, we always put up a birthday link to a lame "birthday card" page when June would come around. For the past few years, a link to something interesting and/or entertaining was left here with "Happy Birthday" greetings to Ms. Masterson. One link was to the blog of actress and poet Amber Tamblyn. Another year was a link to the snarky comments of expectant mothers. Another year was a link to a broadcast of A Prairie Home Companion with some great music. This year, the link is again to a broadcast of A Prairie Home Companion, the first broadcast of the 2012-2013 season for the National Public Radio classic. This broadcast includes a fine duet of Holly Jones and Garrison Keillor singing Bob Dylan's Duquesne Whistle and a second duet of Too Far Gone. Pat Donohue sings the complete recipe for Meat Loaf, Guy Noir solves yet another case, and the Life of the Cowboys continues in the modern era. Garrison Keillor also reports from Lake Woebegone. Maybe MSM might be on the stage for A Prairie Home Companion someday.
DUQUESNE WHISTLE

MOTHER'S DAY GREETINGS FROM THE TAVERN
Entry Date: April 25, 2013
The Tavern wishes all visitors a happy and memorable Mother's Day.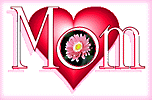 THE OLD GUESTBOOK COMES BACK TO LIFE. MSM FAN STEVE STARK FINDS THAT MSM GAVE BIRTH TO NUMBER 4 IN OCTOBER 2012.
Entry Date: April 11, 2013
The last I heard was MSM's fourth baby was due sometime early this year, but that was based on the estimate in the Entertainment Weekly article in which MSM and Eric Stolz shared their Some Kind of Wonderful memories. It would all depend on when that article was developed, the photographs shot, etc. Ms. Masterson is sort of cagey in protecting her privacy in such things, which doesn't affect things here much. We sort of wait until the news comes out the way she wants it to come out, and then we put it here. Steve Stark posted this on the Guestbook page, which is now a continuation of the old Dreambook Guestbook from the founding of this place, or as MSM probably calls it, "WhatDidTheyDoThisTime?"
Name: Steve
E-mail address: stephan.stark@insightbb.com
Homepage URL: http://
Comments: I love your website! I check almost everyday to see if Mary has surfaced (or delivered) again. I recently found this http://fc01.deviantart.net/fs51/f/2009/299/9/3/Batman_the_Series_GCPD_by_Ciro1984.jpg
Batman new adventures on the AMC channel, I checked there but did not find her listed on the show, though her likeness and my web search located her. I'm not sure the show is even going to be made from what I have read.
On another note... The IMDB lists she had her 4 child in 10/2012. She didn't appear that far along in the 9/2012 EW photos with Eric Stoltz. When was the "Touch" episode filmed? In the spring?
There is a site called voyforums for Mary Stuart. It has not been kept up and has a lot of ads in it. I've made 2 entries since December. I'm thinking of requesting to take it over.
Please keep up with your information on Mary Stuart. I appreciate your diligence! Please email me if you can't locate the above picture!
MSM is SKoW!
Steve Stark
Thursday, March 21st 2013 - 09:07:58 AM

HAPPY EASTER AND PASSOVER TO ALL OUR VISITORS!
Entry Date: March 22, 2013

A NEW MOVIE RECORDED IN THE UNDERAPPRECIATED MOVIE PAGE IN THE BACKOFFICE SITE
Entry Date: March 16, 2013
The latest entry on the Underappreciated Movie page is Pieces of April, a 2003 independent film starring Katie Holmes, Oliver Platt, Patricia Clarkson, and Allison Pill. This is a fine film that focuses in on the strained relationships among family members as Thanksgiving approaches. You won't mind the ending, so please find out how Katie's April works out her first Thanksgiving as the hostess of her dysfunctional family and her apartment building's extended family.

HOW RETIREMENT WILL AFFECT THE TAVERN
Entry Date: March 3, 2013
Well, I had the opportunity to retire this year, so I took advantage. As of now, I should do as well, overall, as I did driving all over the place and typing into a computer like a man insane until I got this severe tendinitis in my left shoulder. I might be able to get that cleared up now that I am getting to know the place where I am supposed to be living. Retirement is weird. I have already cleaned out three cupboards and two chests of drawers with a bag full of stuff for Goodwill and everything else arranged so all are easy to find. With my travel schedule, I had to put that off for years. As I would comb through a cabinet, I would blurt out, "What is that?" then stop and examine it to see what it was, or also blurt, "So, THAT is where that (whatever) was!" I have many projects planned, but a lot of them depend on my typing on this refurbished Dell Latitutde D830 I ordered as it runs on Windows 7, 32-bit. With 32-bit, I can run my Homepage generator program on it and I am typing this on that laptop now. There was a struggle figuring out how to make the program save. I have to right-click the icon and then click "Run As Administrator" or the program will not save. Everytime I save, I have to leave the program and log back on as Administrator. The Registry scanner I have accuses the Homepage program's Registry key as being "obsolete." After 18 years, it probably is. As far as this site is concerned, I have many plans for it as soon as I get the shoulder problem resolved as the pain spreads up to the neck and causes migraine-like headaches. When that is resolved, I will be able to type more on a keyboard, which is what is required to work on this Web site. Right now, I have to stop for rest and stretching frequently.
The weird thing is that I quit smoking in April of 2012 and that caused the shoulder injury. After I quit, I took fewer work and driving breaks. I would type for longer periods, and drive for longer distances without stopping. With fewer breaks to smoke, I was locked in driving and typing positions for longer periods and got some kind of ergonomic injury which has dogged me for about six months. Rest and stretching seems to help. The muscle spasms are gone, for the most part, which should help the medical experts better determine what is causing the problem. Once the injury is healed I will be able to type more, as long as I take the time to rest and stretch. I have had two requests to come visit former "clients" as a consultant, so I should be going into small business for myself as well as doing a bunch of other things that I will document in the Backoffice Section.

HAPPY VALENTINE'S DAY!
Entry Date: February 6, 2013


HAPPY 2013 TO ALL VISITORS TO MARY STU'S TAVERN!
Entry Date: December 31, 2012