FYI ARCHIVES PAGE 22
FROM JANUARY 7, 2011 TO DECEMBER 11, 2011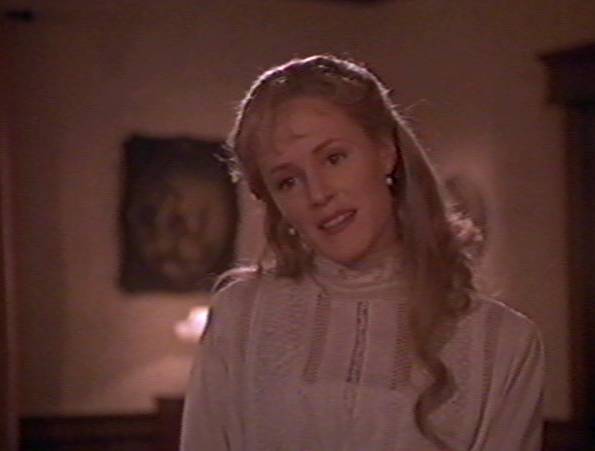 Mary Stuart Masterson as Lily Dale.

THE LATEST SCHEDULING "CONTROVERSY" FOR ON THE 2ND DAY OF CHRISTMAS LIFETIME MOVIE
Entry Date: December 11, 2011
"We're glad you liked the movie!"
Remembering past problems with the published air dates for MSM's 1997 movie for Lifetime Television, On the 2nd Day of Christmas, I checked the Lifetime Website and found that the movie would not be shown during the 2011 holiday season. There was a space at the bottom of the page for visitor comments. Basically, the posters were outraged. Most were women who didn't write much more than a short sentence with one demanding, "If you aren't going to show the movie, make it available on DVD." After years of showing On the 2nd Day of Christmas more than once, and all of the positive entries from viewers on Lifetime forums, the network dropped a holiday tradition that goes back 13 years. Lifetime makes DVDs out of a lot of movies with less of a following than this one, but the movie's fans still have to wait.

MERRY CHRISTMAS AND HAPPY HANUKKAH TO ALL OF OUR VISITORS!
Entry Date: November 30, 2011

HAPPY THANKSGIVING TO ALL OF OUR VISITORS!
Entry Date: November 15, 2011


WATCHING A LAW AND ORDER EPISODE DIRECTED BY ERIC STOLTZ
Entry Date: October 22, 2011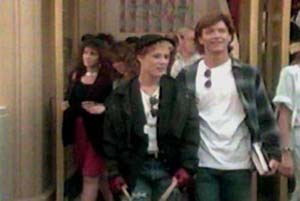 Eric Stoltz with Mary Stuart Masterson in 1987's Some Kind of Wonderful.
The actor who played Keith, the love interest and best friend of MSM's famous Watts in Some Kind of Wonderful directed at least on episode of the long-running police and legal drama Law and Order. This particular episode starred Dennis Farina as NYPD Homicide Detective Fontana and Jesse L. Martin as NYPD Homicide Detective Ed Green. The murder case involved the slaying of a female attorney in a top New York law firm who was jockeying to be made full partner. I had no idea that Mr. Stoltz had directed any of the episodes of that show. I've been enjoying all of the episodes I did not see when the show was run on NBC by watching them on TNT. This was the first of a two-part episode, but TNT did not run the second part. TNT should really run two-parters together.

HAPPY HALLOWEEN TO OUR VISITORS!
Entry Date: October 13, 2011


THE PEOPLE MAGAZINE ARCHIVES
Entry Date: September 30, 2011
Surfing through the Web for the latest news for this page I found the MSM archives at People magazine. There are about 47 articles over there about many of MSM's films, her Tony Award nominated performance in Nine, and some personal subjects. To find all of the articles about MSM in the archives, just click on the link to People below and enter the name Mary Stuart Masterson in the search engine. There's a lot to read over there, although there are no images to go with the older articles.
PEOPLE'S MSM ARCHIVES

MSM'S CO-STAR IN DOGTOWN, JON FAVREAU, DIRECTS COWBOYS AND ALIENS, A SURE HIT WITH SCI FI "FANBOYS" AND COMIC-CON ATTENDEES
Entry Date: July 23, 2011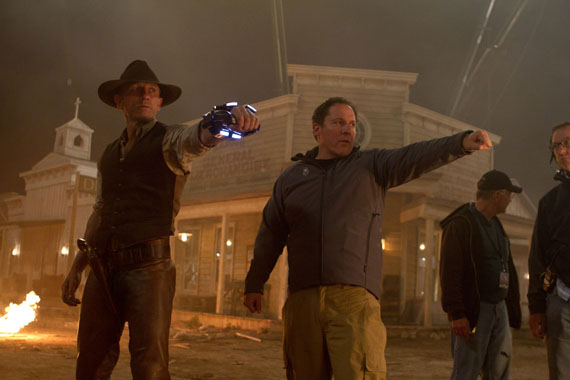 Jon Favreau directs Daniel Craig in the use of an alien weapon.
Jon Favreau, who co-starred with Mary Stuart Masterson in Dogtown, which is the subject of one of the movie reviews on this site from 1998, has built a reputation as a talented director, especially of big-budget special effects blockbusters like Iron Man. Favreau has branched off from that Marvel Comics franchise to direct the imaginative and action-charged Cowboys and Aliens. Most of the fans at Comic-Con, after viewing the trailers, can't wait to see it, with "Awesome" the most frequenly used adjective to describe what Favreau made. The movie is going to be like space aliens attacking a frontier town like Dodge City or Tombstone, only to be challenged by the local lawman (Harrison Ford) and a gunfighter (Daniel Craig, the latest James Bond). Olivia Wilde ("13" on House, MD) is cast as Craig's love interest. Cowboys and Aliens looks to be another blockbuster for MSM's multi-talented Dogtown co-star. This week's Entertainment Weekly has a multiple page interview with Harrison Ford, Daniel Craig, and Jon Favreau. Ford talks about how he always wants his heroes to die in his movies. Daniel Craig reveals his early rejection of playing 007. Jon Favreau describes his first role in a Tom Selleck movie, Folks, which helped Selleck decide he could not play Indiana Jones which left the role open for Harrison Ford to claim as one of his most iconic characters.

THE LATE JERRY GOLDSMITH'S SCORE FOR BAD GIRLS RE-RELEASED BY LA LA LAND RECORDS
Entry Date: July 13, 2011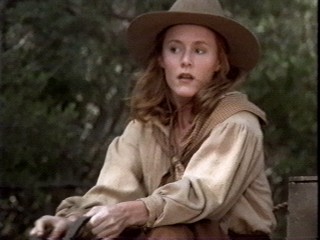 MSM in the 1994 20th Century Fox Western, Bad Girls.
Danny Gonzalez, a music critic for the New York Examiner published a column today announcing that the fine Jerry Goldsmith score for the MSM film Bad Girls, which Gonzalez states was very underrated, has been re-released by La La Land Records in an expanded version. Mr. Gonzalez wrote the column after viewing the film again for the first time in a long time, describing Bad Girls as not a great film, but not a bad film. Bad Girls was, as I have described it several times on these pages, was an entertaining Western, well photographed and cast. Gonzalez thought the casting of Madeline Stowe as the leader of the Bad Girls was especially fitting. Visitors to this site most likely think another of the stars of the movie was the best of the Bad Girls, and I still say none of them were "bad." Andie MacDowell baked pies in the film! How bad is that? The expanded Goldsmith score is a limited edition which I intend to buy since all I have is the cassette tape. Jerry Goldsmith wrote some of the best film scores. Just Google his name and you'll see just how prolific and diverse Jerry Goldsmith' s portfolio is. A link to Danny Gonzalez's column follows at the end of this posting. It was good to see that a professional critic found the movie a good piece of entertainment, which is what most movies are made to be. I liked it, and Bad Girls had more to do with this site being made than any of MSM's other movies. I had seen her in a couple of other movies and liked her work, but just happened to see Bad Girls when ready to pay attention. That was in February 1996, when socked in at a motel in Somerset, Pennsylvania during a howling ice storm. A lot of time has gone by since then.
DANNY GONZALEZ ON BAD GIRLS

HAPPY INDEPENDENCE DAY!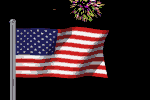 Entry Date: July 4, 2011
7 Is it not to share your food with the hungry and to provide the poor wanderer with shelter-- when you see the naked, to clothe him, and not to turn away from your own flesh and blood?
8 Then your light will break forth like the dawn, and your healing will quickly appear; then your righteousness will go before you, and the glory of the LORD will be your rear guard.
9 Then you will call, and the LORD will answer; you will cry for help, and he will say: Here am I. "If you do away with the yoke of oppression, with the pointing finger and malicious talk,
10 and if you spend yourselves in behalf of the hungry and satisfy the needs of the oppressed, then your light will rise in the darkness, and your night will become like the noonday.
Isaiah 58:7-10

JUNE IS MSM'S BIRTHDAY MONTH
Entry Date: June 1, 2011
We are approaching another birthday for MSM later this month. Back in the old days on the site, we always linked to the same old Web page birthday card, but last year we linked to what looked like an interesting blog from an average woman living in the Pittsburgh area, just in case MSM wandered in here. This year, we are linking to a younger woman in Ms. Masterson's own profession who is just starting to get established as an actress, and also publishes her own volumes of poetry, with the latest entitled Bang, Ditto. This year's birthday link to MSM is the blog of Ms. Amber Tamblyn, a.k.a. "AmTam." The blog is very attractive and entertaining. Ms. Tamblyn just finished a guest starring run on my favorite show, House, MD, and there are pictures of her farewell party with the cast. Ms Tamblyn likes to say that her site is "full of bloggy goodness." It is, too. I have it bookmarked.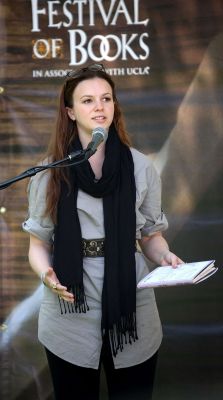 Amber Tamblyn provides poetry, fun photos, and "bloggy goodness."
AMTAM'S PLACE

MEMORIAL DAY 2011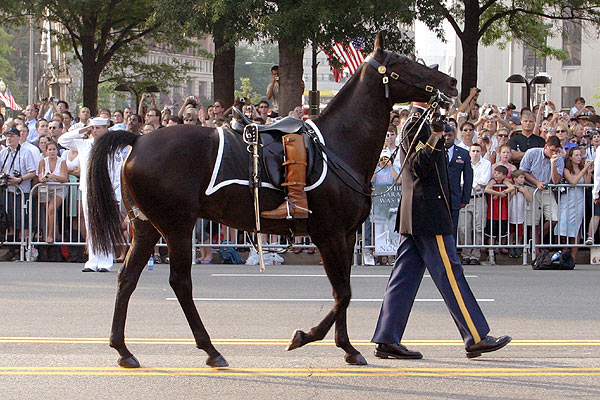 RAINFOREST ALLIANCE COFFEE: SMOOTH TO THE LAST DROP!
Entry Date: May 20, 2011

On the way back home from the Harrisburg/Halifax, Pennsylvania area, I stopped at Tom's place at the Milroy exit of US 322. A little coffee sounded like a good idea, but I was interrupted at the Dark Roast urn when I saw a label for "Rainforest Alliance" coffee. I had forgotten that MSM sold coffee as part of her Rainforest Alliance commitment, so I decided to switch from Dark Roast to Rainforest. I was not disappointed by the change. I hadn't had the coffee since early last fall in the Montgomery County area at a Holiday Inn. Rainforest Alliance certified coffee is also certified smooth and bracing. Bracing is important to me with coffee, which is why I first went for the dark roast, but it can be bitter at that same time. There is no bitterness to Rainforest Alliance certified coffee. I recommend it to all dedicated caffeine lovers out there. It is better than the fancy coffee house brews. Get some!

SALUTE YOUR SHORTS (SHORT STORIES)!
MARY STUART MASTERSON WAS A GUEST READER ON SELECTED SHORTS, A PUBLIC RADIO BROADCAST ON WNYC, NEW YORK
Entry Date: May 15, 2011
If you missed it, like I did, on May 8, 2011, you get a few more weeks to hear MSM reading Amy Hemple's story about a woman's extended road trip, Jesus is Waiting on the WNYC show Selected Shorts. The protagonist of the story is working out a personal crisis by "driving endlessly on America's Interstate highways and turnpikes." Sounds familiar to me! Everyone has four more weeks to listen to MSM's reading of this short story on WNYC's podcast of the show by clicking on the link below.
SELECTED SHORTS

HAPPY MOTHER'S DAY!
Entry Date: May 1, 2011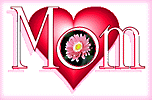 A NEW UNDERAPPRECIATED MOVIE IN THE BACKOFFICE
Entry Date: April 30, 2011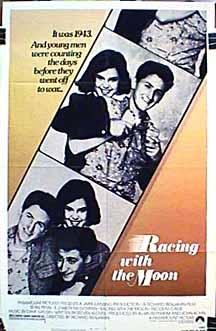 The latest movie added to the Underappreciated Movie page over in the satellite site is Racing With the Moon. I lucked out during my latest working trip away from home to find a Widescreen Collectors Edition at a good price. This early performance by a young Sean Penn, Nicolas Cage, and Elizabeth McGovern was overlooked by millions of unlucky people. No cars crash, and nothing gets blown up, but it is an outstanding story.
RACING WITH THE MOON

HAPPY EASTER AND PASSOVER TO ALL OUR VISITORS!
Entry Date: April 21, 2011

VISITORS WORRIED ABOUT LITTLE NEWS OF MSM'S LATEST "PROJECT"
Entry Date: April 3, 2011
Some of you out there want more news about what is going on with Ms. Masterson as she prepares for her next foray into Motherhood. Well, it really isn't the public's business. You'll have to wait until there is an annoucement of some kind, which by my calculator should be sometime shortly before, or after, Labor Day. Until then, just practice the reliable old saying, "No news is good news," and it is now just as it was in 2009 when everyone went through it the last time. To those who thought, after seeing the recent movie, that something like the following happened to MSM, I don't think it is time to call Mulder and Scully quite yet: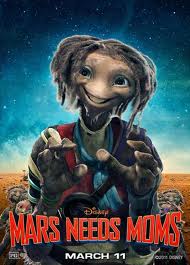 A "VIRTUAL BABYSHOWER GIFT" FOR MS. MASTERSON
Entry Date: March 14, 2011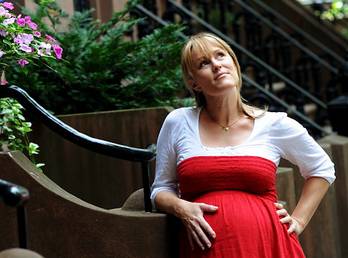 The last time MSM was preparing for a "Big Game," in 2009, we put a link on this page to the Vlasic Pickles Web site. This time, since Ms. Masterson is not only getting into shape for the "Big Game," but for a Doubleheader, I thought this link to a site that seemed like a good choice for moms working on the next one, or two, newcomers. This site depends on contributions from expectant moms dealing with the usual questions, observations, and opinions of those reacting to the news that they are expecting...AGAIN. If she is feeling particularly in the mood to let loose with something snarky, she can get it out of her system here:
MOMS CONTRIBUTE QUOTES AND SAYINGS

MARY STUART MASTERSON MAKES TOTAL COMMITMENT TO BEING A MOM
SHE REVEALS THAT SHE AND HUSBAND JEREMY DAVIDSON ARE EXPECTING TWINS!
Entry Date: March 10, 2011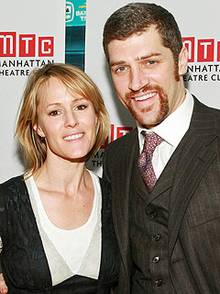 By the way the article read, Ms. Masterson has known about this for some time, but has waited until now for the announcement. I just picked this up a few minutes ago, and the Topix site article was posted 13 hours before that. At first I thought it was a holdover from her first back in 2009, but then the word "Twins" came into focus. It was a total accident that I found out, but as the late PBS painting instructor, Bob Ross, used to say, "It is a happy accident." I have one friend who had eight kids and another who had five, or is that six? I no sooner make a joke about fans complaining that she isn't in the headlines as much as they would like, and this happens.
Take care of yourself and the new ones. We'll be standing by....

FOOD FOR THOUGHT
Entry Date: March 9, 2011
To all those Mary Stuart Masterson fans still tempted to whine that Ms. Masterson isn't constantly "in the news."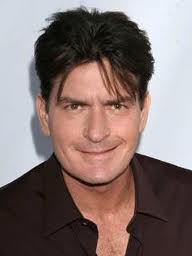 Be careful what you wish for.

CHINA FINALLY ARRIVES WITH FIFTEEN VISITORS FROM BEIJING!
Entry Date: March 1, 2011
I knew there were people from China coming in here but somehow were not being picked up by the counters I've had on the site. In the month of February, fifteen visitors were recorded from China's capital, the once "Forbidden City" of Beijing. They had to show up sooner or later, given the techno-savvy exhibited more every year. It was a puzzlement, and a disappointment, not to have China in the Hall of Flags, but that is no longer the case. Welcome aboard, Web surfers of China!

YOU TUBE AND THE COPYRIGHT LAWS
Entry Date: March 1, 2011
I have had to remove five embedded You Tube videos because multiple complaints of copyright violations led to You Tube removing the videos. As the recession continues to reduce revenues, particularly in the music recording industry, there will be less and less tolerance for the posting of videos without paying for a license for showing the video. This is especially true for videos containing popular music that would typically be sold in stores or by downloads for pay on-line. Eventually, if you want to post content on places like You Tube, you will have to be able to document that you have paid a license to present that kind of copyrighted material. I think the rapid development of high-speed Internet, that made viewing of such material so easy, and the easy money/high profit era of the early 2000s, led to complacency among the holders of the copyrights. You Tube and other free services got a "pass" because the music and movie industries were both rolling in the money, and some may have looked on the You Tube activity as just another publicity venue for their music, movies, and TV shows, and a free one. Now, it represents lost licensing fees, and some of them are very expensive. The go-go approach to video creation on-line, using copyrighted works, might eventually lead to Federal Communications Commission regulation of the Web. The FCC regulates broadcasting, and that is what we are doing here. This page is a broadcast, but nowhere do I lay claim to a copyright. I don't want to see too much regulation of the Web. I look on the Web as potentially a way of people getting together the way troops of adversarial countries did in "No Man's Land" during Christmas seasons in World War I. You add broadcasting fees, and there will be less broadcasting by regular citizens of the nations of the world. Therefore, as You Tube drops the videos in the Video Room page of the site, they will be deleted and NOT replaced. This is one way of slowing down the need for heavy regulation of the Web.

HAPPY VALENTINE'S DAY!
Entry Date: February 11, 2011


MARY STUART MASTERSON FAN JIM FENTON LINKS HIS PERSONAL WEB SITE TO THE TAVERN
MSM IS HIS FAVORITE ACTRESS
Entry Date: February 2, 2011
Checking the hit totals by countries on the Tavern's latest counter service, I also checked the referring Internet source for each visitor. The CGI files caught a visitor referred into the Tavern from a URL identified as "http://www.jimfenton.com./index.html". Mr. Fenton has as friendly looking personal site, and includes the information that Mary Stuart Masterson is his favorite actress and he especially likes Some Kind of Wonderful. When a fan links to this site, I like to link right back to them. Who knows? Maybe Jim Fenton's favorite actress might click on the link!
JIM FENTON'S WEB PAGES

MERCY DVD NOW AVAILABLE
Entry Date: January 7, 2011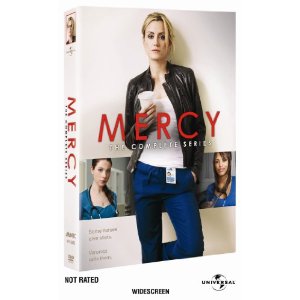 The DVD of the only season of the NBC medical drama Mercy is available nationwide at most video outlets such as FYE, Walmart, and Best Buy. On-line, the DVD set is sold by Amazon, CD Now, and other on-line sources. Mary Stuart Masterson appeared in three episodes of Mercy, portraying the psychotherpist Doctor Denise Cabe. Mercy also starred James LeGros, a co-star of MSM's on the movie Bad Girls, Michelle Trachtenberg, and James Van Der Beek, formerly the star of Dawson's Creek. If you prefer to revisit Mercy on-line, go the the NBC Web site and streaming videos of entire episodes are available there, including the three in which MSM guest starred.