FYI ARCHIVES 14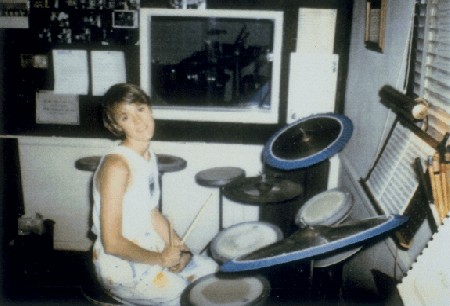 JULY 13, 2003 TO FEBRUARY 28, 2004

CLAUDIA KEHL SENDS REPORT ABOUT MSM BACK ON STAGE
Entry Date: 2/28/2004
Mary Stuart Masterson will play Maggie in the Center's revival of "Cat on a
Hot Tin Roof," which runs June 12 - July 4 at the Eisenhower Theater.
"Cat" is one of the major attractions in "Tennessee Williams Explored," the
Center's celebration of the playwright, which begins in April.
Masterson joins Patrick Wilson as Brick, George Grizzard as Big Daddy and
Dana Ivey as Big Mama in the production, which Mark Lamos will
direct.
YAHOO LINK
PLAYBILL ARTICLE
BROADWAY DOT COM
Claudia

HAPPY VALENTINE'S DAY TO ALL VISITORS TO THE TAVERN
Entry Date: 1/31/2004


HBO BRIEF ON MSM'S LATEST PROJECT
Entry Date: 1/31/2004
Mary Stuart Masterson, Gabrielle Union, Kyra Sedgwick, Charles S. Dutton join cast of HBO Films' "Something the Lord Made"
By JILL FEIWELL (Daily Variety)
Mary Stuart Masterson, Gabrielle Union, Kyra Sedgwick and Charles S. Dutton have been added to the cast of HBO telepic "Something the Lord Made." Production is under way in and around Baltimore on the drama, which stars Alan Rickman and Mos Def.
Directed by Joseph Sargent, pic revolves around Dr. Alfred Blalock (Rickman) and medical technician Vivien Thomas (Def), who partnered to pioneer the process of open-heart surgery at Johns Hopkins U. in the early 1940s.

ALTO ENTERTAINMENT: GOOD SITE WITH DIRECT VIEWING OF MSM ITEMS FOR AUCTION ON E-BAY
OTHER MARY STUART MASTERSON INFORMATION LINKED ON THE PAGE
Entry Date: 1/31/2004
A site called Alto Entertainment has a nice page with various links to information about Mary Stuart Masterson along with the MSM items for auction on E-Bay in real time. If you belong to E-Bay, this is a good page for you to bookmark.
ALTO ENTERTAINMENT

CLAUDIA KEHL SENDS AN INTERESTING ARTICLE ABOUT MSM'S HBO PROJECT NOW IN PRODUCTION
Entry Date: 1/18/2004
TV CREW COMES CALLING
HBO Visits Homewood, East Baltimore to Tell Story of 'Blue Baby' Pioneers
(From the JHU GAZZETTE, the official newspaper of Johns Hopkins University)
A strip of the Homewood campus underwent a brief identity crisis late last month as the university got the chance to play the role of Johns Hopkins Hospital circa 1940s for a day.
On Dec. 22, an HBO film crew descended upon the campus to shoot a portion of the cable network's upcoming feature Something the Lord Made, filling the Levering courtyard with a fleet of antique cars, an ambulance and actors in period dress.
The film depicts the true story of Johns Hopkins surgeon Alfred Blalock and lab technician Vivien Thomas, who in 1944 co-developed a method to save oxygen-deprived "blue babies." The men, who died in 1965 and 1985, respectively, will be portrayed by Alan Rickman and rapper/actor Mos Def.
The previous day the crew shot scenes at the actual JHH, which played itself.
Later this month, HBO will spend another day filming at the East Baltimore campus and wrap up principal photography. Veteran television director Joseph Sargent is directing the film, which also stars Mary Stuart Masterson and is scheduled to air in late spring or early summer.
— Greg Rienzi

A NICE NEW YEAR GREETING FROM SWISS CORRESPONDENT CLAUDIA KEHL
REPORTS ON NEW WEB ADDRESS AND NAME FOR HER MARY STUART MASTERSON SITE
Entry Date: 1/18/2004
Hi Guy,
I wish you a Happy New Year and all the best for 2004!
As you said on your FYI page it's been about five or six years now since we're in touch. And all because of MSM. Let's hope for many years to come. 2003 was a great year for us MSM fans. Her Broadway Musical debut was definitely the highlight!
By the way I changed yet another thing on my site. I changed the title to Mary Stuart Masterson - Website. I think it's better than Infosite especially because there's other stuff on it than only info. It's just more general. Therefore I also slightly changed the domain name to www.msmwebsite.com
MSM WEBSITE--CLAUDIA'S PLACE

"8 1/2"--THE ENTERTAINMENT WEEKLY RANKING OF THE BROADWAY MUSICAL "NINE"
Entry Date: 1/4/2004

ENTERTAINMENT WEEKLY just put out its "Best of 2003" list for all entertainment media from television to books. In the "Stage" section, there was a top ten list of plays and musicals. Mary Stuart Masterson's "Nine" came in at 8 1/2, ahead of "Comedians," and "Caroline or Change." Here is what the paragraph for the "Nine" ranking said:
The thrill of Nine is watching self-centered hero Guido Contini undergo a musical nervous breakdown, cycling through a past-paced patter song, an ode to three lovers, a mini opera, and a suicidal rehash of his childhood. Broadway wags wondered whether Banderas could possibly pull off such a demanding role in a high-profile revival of Maury Yeston's Tony-winning retelling of Fellini's 8 1/2. He could and he did, with stalwart support from Masterson as Guido's long-suffering wife and true love. BRAVISSIMA!

THE END OF "NINE"
Entry Date: 12/31/2003
My wide-ranging travels auditing credit unions made frequent updates very difficult this month, along with getting my e-mail. It's hard getting e-mail when you are living in a motel out in the boonies with voltage too low to accomodate a 56K modem. Anyway, Claudia Kehl, one of the best Internet friends I have made in the last six years of operating this site, let me know that "Nine," MSM's great Broadway triumph, left Broadway on the fourteenth of December. One good thing about this news is that Ms. Masterson has added yet another success that will insure her of someday soon having the adjective "distinguished" used in front of the noun "actress" to exactly describe her place in her craft.

HAPPY NEW YEAR TO ALL VISITORS TO THE TAVERN!!
Entry Date: 12/31/2003


CLAUDIA KEHL REPORTS: MARY STUART MASTERSON TO PLAY RENOWNED CARDIAC SURGEON
Entry Date: 12/31/2003
10:30 PM EST--90 Minutes Left in 2003
Our Swiss correspondent and ally, Claudia Kehl, who also operates the Mary Stuart Masterson Infos site from her home base, sent me this really good news about an HBO production starring Ms. Masterson as a famous heart surgeon who helped develop what is now a standard operation on heart patients.
According to IMDb Mary Stuart Masterson will be starring as Dr. Helen Taussig in the HBO original movie "Something the Lord Made".
Co-Stars will be Alan Rickman, Mos Def, Charles S. Dutton and Gabrielle Union. IMDb
The partnership between Blalock (Rickman) and Thomas (Mos Def) began in 1929 when the then-19-year-old Thomas' dreams to go to college and medical school were dashed when he lost his tuition savings in the October stock market crash and took a job as a lab technician at Vanderbilt University's medical school, working for Blalock, a resident surgeon.
At Vanderbilt and later at John Hopkins University, Blalock and Thomas worked on several breakthroughs that revolutionized cardiac surgery, including the wider use of plasma or whole-blood transfusions to prevent surgical shock, which saved millions of lives during World War II, and the Blalock-Taussig shunt.

SOLUTION TO "ON THE SECOND DAY OF CHRISTMAS" MOVIE TV SCHEDULE CONFUSION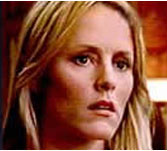 MSM in "On the Second Day of Christmas" a 1997 Lifetime Television for Women Holiday Romantic Comedy
Entry Date: 11/29/2003
Use the link to the LIFETIME TELEVISION page for "ON THE SECOND DAY OF CHRISTMAS," shown below. Once on LIFETIME's page for the movie, click on the little envelope near the top of the page to have the network send you an e-mail when the movie is going to be shown on LIFETIME TELEVISION. You can also go to the LIFETIME MOVIE NETWORK link below, register for their "Movie Newsletter" service, and ask LIFETIME MOVIE NETWORK to send you an e-mail when "ON THE SECOND DAY OF CHRISTMAS" will be shown on that cable channel. A few visitors have asked if there is a video version of this movie, and one has not been made yet. If you want a video of the movie, you will have to make your own copy, and I don't want any of you to miss your chance. GOOD LUCK!
LIFETIME TELEVISION FOR WOMEN
LIFETIME MOVIE NETWORK

MERRY CHRISTMAS !
Entry Date: 11/29/2003

Be sure to check out the traditional Tavern Christmas Greeting Card by clicking the link below:
HAPPY HOLIDAYS!

ANOTHER YEAR OF CONFUSION WITH THE TELEVISION SCHEDULE FOR "ON THE SECOND DAY OF CHRISTMAS"
Entry Date: 11/29/2003
Some of you will remember that there was a lot of confusion about when the Mary Stuart Masterson television movie "On the Second Day of Christmas" would be shown on LIFETIME TELEVISION. Well, it has started already this year. The site "TV NOW" has the movie scheduled for viewing at 9:00 PM on December 19th, while LIFETIME's page for the movie not only has it running on December 5th at 9:00 PM, but has a box the visitor can click on to have a reminder e-mailed to them so they do not forget that the movie will be shown on that date. So, on the TV Schedule page, I have included BOTH dates, just to make sure nothing gets missed. There was no indication on TV NOW that the movie would be shown on the LIFETIME MOVIE NETWORK, an affiliate of LIFETIME TELEVISION, so I will go to that site and check there.
"On the Second Day of Christmas" was originally broadcast in early December 1997, six whole years ago, and only four months before this site opened at Geocities. I first saw it while at the Quality Inn in Kittanning, Pennsylvania on that day. Time does go by awfully fast.

HAPPY THANKSGIVING TO ALL VISITORS!!
Entry Date: 11/22/2003


CLAUDIA KEHL POSTS ARTICLES AND PHOTO LINKS ABOUT NEW "NINE" CAST
11/22/2003
Hi Guy,
They had the re-opening of "Nine" with the new cast where also the crtitics where present.
From the re-opening night party
MSM with JOHN STAMOS
NEW CAST PHOTO
Some new reviews I put on my site
REVIEWS OF "NINE" WITH NEW CAST
"The New York Times" especially praises MSM and how she improved her singing and characterization.
Kind regards,
Claudia
The links Claudia sent are to her new site dedicated to the latest news about Mary Stuart Masterson's professional projects, from movies to television to Broadway. Those who haven't picked up on the links on this page and on the Links Menu Page get another opportunity with this posting from our great Swiss ally, Claudia Kehl, whose photos of MSM outside the theater after a "Nine" Easter time performance are on the Photo Album page of the Tavern.

CLAUDIA FINDS ARTICLE ABOUT MSM AND "NINE" CAST TO GRACE THANKSGIVING PARADE!
Entry Date: 11/22/2003
Several Broadway shows will perform during the upcoming CBS "Thanksgiving Day Parade" telecast.
The broadcast, which airs from 9 AM to 12 noon ET (check local listings) Nov. 27, will include taped performances from a host of Broadway musicals. Nine's John Stamos, Mary Stuart Masterson, Rebecca Luker and Sarah Gettelfinger will perform "Only With You".
PARADE NEWS
Claudia

AS "NINE" CAST CHANGES, MSM STILL GARNERS TOP REVIEWS FOR HER PERFORMANCE!
THIS IS A SURPRISE TO US?
10/28/2003
Revival of 'Nine' Is Less Than 10
Tue Oct 28, 6:05 PM ET
By MICHAEL KUCHWARA, AP Drama Critic
NEW YORK - Of all the musical revivals to arrive on Broadway since "Cabaret" in 1998, no show has been more imaginatively rethought than "Nine."
Director David Leveaux reconceived the Maury Yeston-Arthur Kopit musical from beginning to end, taking the tale of libidinous Italian film director Guido Contini and turning it into a series of theatrical encounters between Contini and the beautiful women who adore and torment him.
But then Leveaux had the benefit of a superb cast led by Antonio Banderas, making an impressive Broadway debut as Guido, and a galaxy of unique female performers that included Chita Rivera, Mary Stuart Masterson , Jane Krakowski and Laura Benanti.
Now, Banderas and several of his leading ladies have departed and with them, unfortunately, so has some of the effectiveness of Leveaux's remarkable Roundabout Theatre Company production.
The problem doesn't lie in the new collection of women. These sirens, who include Eartha Kitt, Sara Gettelfinger and Rebecca Luker, are quite smashing. Marni Nixon, who also joined the cast, is sweetly maternal as Guido's mother.
It's the new man at the center, John Stamos, who falters. Despite only a so-so singing voice, Banderas was a natural Guido — able to be both appealingly boyish and childishly petulant, impossibly egocentric and overly generous. The game Stamos has to work at these contradictions. His performance of a 40-year-old man on the verge of a nervous breakdown is more calculated, and the effort shows. Stamos, best known for his role on the television sitcom "Full House," is also vaguely American, unlike the Spanish-born Banderas, who brought a credible continental sensibility to the role.
But then there are the new women in Guido's life.
The catlike Kitt, who looks amazing in a black bustier (complete with whip), purrs with her trademark feline intensity. As the producer Liliane La Fleur, she is more French than her predecessor. Choreographer Jonathan Butterell has rechoreographed Liliane's big "Folies Bergeres" number, giving Kitt a waltz rather than the tango that had been tailored especially for Rivera.
The word statuesque was invented for Gettelfinger, a striking redhead of Amazonian proportions who plays Guido's vulnerable mistress, Carla. It's a little scary watching her amazing aeronautical entrance and exit during Carla's big number ("A Call From the Vatican"), but Gettelfinger handles it with aplomb.
Luker has a hauntingly beautiful soprano, a voice that makes exquisite work of "Unusual Way" that even in Jonathan Tunick's reduced orchestrations sounds glorious.
Masterson, who plays Guido's long-suffering wife, remains from the first cast, and, if anything, her performance has grown richer and more emotionally secure since the revival opened last April at the Eugene O'Neill Theatre.
Several other original cast members continue to shine, especially Myra Lucretia Taylor, as the lusty Sarraghina who introduces young Guido (Daniel Manche) to the mysteries of sex.
Stamos may lessen the impact of this considerable production, but there still are enough pleasures around to make "Nine" worth a visit.

CHEF CREATES "NINE" DISHES FOR SPECIAL FEAST IN HONOR OF MSM, CASTMATES
10/28//2003
Barilla Commissions New Recipe in Honor of the Broadway Musical 'Nine'
Wednesday October 22, 2:31 pm ET
Barilla Honors 'Nine' Composer and Lyricist Maury Yeston at The 2003 Barilla Feast for Celebrating and Advancing Italian Culture
NEW YORK, Oct. 22 /PRNewswire/ -- BARILLA, the Italian food company, honored Tony-award winning composer and lyricist, Maury Yeston, for adapting Federico Fellini's film "8 1/2" to the Broadway musical "Nine." The honor was bestowed yesterday evening at the 2nd Annual Barilla Feast, held in New York City and co-presented with FINE LIVING TV Network.
John Stamos, the newest star of "Nine" (replacing Antonio Banderas), attended the Feast along with co-star Mary Stuart Masterson, where they both took part in the presentation honoring Mr. Yeston. As part of the honor, Barilla presented Mr. Yeston with a $10,000 contribution to the Roundabout Theatre Company, New York's most subscribed non-profit theatre.
In honor of the award and the show, Barilla commissioned a new recipe called "'Nine' Pasta Spirals" which was served at the Feast. The recipe, which includes salted cod, was created by Barilla Executive Chef, Roberto Bassi. The recipe was inspired by Fellini's hometown of Borgo San Giuliano, a fishing village where cod was a staple of local cuisine. In Italy, this dish is known as "Baccala Mantecato." Maury Yeston, John Stamos and Mary Stuart Masterson sampled the recipe for the first time at the Feast event.
"It is perhaps not well-known that Rossini, the great Italian Opera composer was also one of Italy's greatest gourmets and chefs! And, in particular, he was a great expert on pasta. I am delighted to receive this honor from Barilla and to continue the wonderful tradition that celebrates Italian music, food, and culture," said Maury Yeston. "During the time I spent with Fellini in Rome, he introduced me to the best of la cucina italiana, and any who know his films know that he was a great lover of food and that it played an important role in his life and work. So to see Barilla blending food and music and drama in this way is uniquely Italian, and a gift to the world -- for theater, film and food lovers alike. Mille Grazie!!!"
The Barilla Feast set out to spotlight and explore authentic, regional Italian cuisine and honor those who have shared their passion for Italian food and culture with the world. In addition to Maury Yeston's honor, Barilla also honored best-selling author Frances Mayes, and restaurateur, cookbook author and TV host Lidia Matticchio Bastianich. Each honoree was awarded $10,000 to contribute to the cause of their choice.
The recipe is as follows, and can also be found online at Barilla Feast.
"NINE" PASTA SPIRALS
Makes approximately 60 rolls
For finger servings for 4 to 6
Ingredients
1 1/2 pounds cleaned salt cod fillet
1 medium onion, peeled and thinly sliced
2 teaspoons dried thyme
1-teaspoon salt
1/2 teaspoon rubbed sage
1 bay leaf
1-cup milk
1/2 cup heavy cream
1 1/3 cup extra virgin olive oil
Salt and white pepper to taste
1 box Barilla oven ready lasagna
Method
1. Soak the salt cod in cool water for 2 days, changing the water every
4 hours.
2. Bring 3 quarts of water to a boil with the onion, thyme, salt, sage
and bay leaf. Reduce the heat to medium high and cook for 10 minutes.
3. Add the salt cod fillet to the boiling water and cook for 20 minutes.
4. Remove the fillet from the water. If fillet still has the skin and
bones, remove them. Set the flesh of the fish aside.
5. Bring the milk and heavy cream to a quick boil and then remove from
the heat immediately.
6. Put the flesh of the fish into the bowl of a food processor, mixer or
blender. Process or whip the fish until it is coarsely chopped.
Continue processing while adding milk and heavy cream mixture.
7. Slowly drizzle the olive oil into the fish and cream mixture while
continuing to process on high. Once all the oil has been added, remove
the mixture and set aside.
8. Bring 4 quarts of water to a boil with a tablespoon of salt. Add the
lasagna strips and cook for 3 minutes. Drain the lasagna strips
immediately and cool. Lay the strips flat out on the counter.
9. Spread each lasagna strip with 1/4 cup of salt cod mixture. Roll the
strip up like a jellyroll and cut into 5 equal pieces. Arrange the
rolls flat on a platter. Top with a spoonful of tomato and olive
mixture.
Tomato & Olive Topping
Make this topping while the salt cod is cooking.
Ingredients
3/4 cups sun dried tomato halves
10 cured black olives
2-tablespoon olive oil
Method
Finely chop the sun dried tomatoes and olive. Combine with the olive oil. Set for at least 30 minutes, while cooking the salt cod. When ready serve, spoon on the salt cod spirals.
About Barilla
Since 1877, the Barilla company has been producing pasta and other grain- based foods for consumers around the world. The company's basic animating principle has been to make these healthy products affordable to all, no matter where they might be. Barilla has remained true to its entrepreneurial roots over the past four generations, by combining ancient Italian traditions with cutting-edge technological advances. The result is a globally successful company, built on a foundation of principles that allow for continuous growth to reach ever-expanding goals.
The Barilla Group -- whose brands include Barilla, Mulino Bianco, Pavesi, Voiello, Wasa, Misko (Greece), Filiz (Turkey), and Yemina and Vesta (Mexico) -- is headed by the Barilla family for 125 years. The Group has 25 factories (18 in Italy and 7 abroad). It is the worldwide leader in pasta and one of the largest baked goods producers in Europe. Currently realizes 31% of sales in volume in more than 100 countries outside of Italy.
BON APPETIT!!

CLAUDIA KEHL SENDS INFO ABOUT NEW "NINE" CAST
Date: 10/28/2003
Hi Guy
Here's a picture of MSM with the new "Nine" cast. According to Playbill.com Jenna Elfman has postponed her start. Understudy Sara Gettelfinger takes over the role until Jenna is ready. I am sure John Stamos and Eartha Kitt are great, too.
Claudia

HOUSTON CHRONICLE REVIEW OF "NINE" CD SOUNDTRACK
Entry Date: 10/3/2003
There is still time for those of you with frequent flyer miles and some vacation time to go see Mary Stuart Masterson in "Nine" on Broadway. If you can't make it, there will be a soundtrack recording available. The Houston Chronicle, the main newspaper from Ms. Masterson's hometown, has a nice review of the CD, singling out Antonio Banderas and Mary Stuart Masterson for their singing talents. There is a link to the article below.
ANTONIO BREAKS INTO SONG
!

SUITE 101 SITE ARTICLE ABOUT MSM
Entry Date: 10/3/2003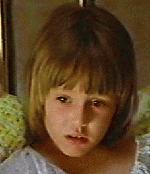 Mary Stuart Masterson in The Stepford Wives, 1975
A search of Alta Vista resulted in the discovery of an article full of high praise for Mary Stuart Masterson's acting talents and her professionalism. This article is on the page of the Suite 101 site dedicated to Ms. Masterson, and it is worth a read. It also had the still photo of a very young Ms. Masterson in her first movie, The Stepford Wives.
SUITE 101

SOME MORE RENOVATIONS TO THE TAVERN
Entry Date: 10/3/2003
The big change was to the "Body of Work" page. We separated Mary Stuart's film work into two categories, acting and producing. As Claudia Kehl pointed out on her site, Ms. Masterson is now a producer, having taken that role in the production of Damon Santostefano's recently presented comedy Last Man Running. The Biography was updated for her "Nine" triumphs, including the Tony Award nomination. There are other renovations to come as the proprietress of this establishment just keeps taking on more challenges. We'll keep you updated as the redecorating continues.

HAPPY HALLOWEEN!
Entry Date: 9/26/2003


MSM DOES ANOTHER BOOK ON TAPE
Entry Date: 9/26/2003

William J. Bennett, former Secretary of Education and Drug Policy "Czar" edited a collection of letters, speeches, and other works of the Founders of the United States and those who advised them. The works were collected in a volume entitled Our Sacred Honor: Words of Advice from the Founders in Stories, Letters, Poems, and Speeches. A book-on-tape was made with the assistance of narrators Mary Stuart Masterson, David Straithairn (who also acted with MSM in AT CLOSE RANGE), Barry Bostwick, Fritz Weaver, and Phillip Bosco. Look for this audio book at the following link.
SACRED HONOR

SOME NICE WORDS ABOUT MSM ON A SITE FOR VIDEO AND DVD SHOPPERS
Entry Date: 9/26/2003
Here is a good site for finding a Christmas or birthday gift for that Mary Stuart Masterson fan on your list. At Adeovaleo.com, there is a special page just for the work of Ms. Masterson. Among the comments are that MSM is "A master of the dramatic, expressive visual art." How is that for a combination of accuracy and brevity?
MSM MALL

MARY LOUISE PARKER TO STAR IN "THE BIGGEST THIEF IN THE WORLD"
Entry Date: 9/26/2003
Claudia Kehl, our Swiss ally and intrepid MSM news hound, discovered that it will be Mary Louise Parker who will be in the movie "The Biggest Thief in the World." Some of the media earlier reported that MSM would get the part, and keep working on "Nine" as the movie was filmed in the New York City area.

THE MARY STUART MASTERSON FAN LIST SITE
Entry Date: 9/26/2003

There is another Mary Stuart Masterson site, with a nice graphic on the main page, that amounts to an Internet Fan Club. Those who like MSM's work can register there and post their comments. The link to this service is below.
FAN LIST SITE

AN MSM "PLAYBILL" BIOGRAPHY
Entry Date: 9/26/2003
There is a good biography of Ms. Masterson on the Website of the Broadway magazine PLAYBILL. The link to it is accessed below.
BROADWAY BIO

MSM TO STAY WITH "NINE" UNTIL AFTER START OF NEW YEAR
Entry Date: 9/7/2003
Our Swiss correspondent, Claudia Kehl, has discovered the following on PLAYBILL magazine's Web site:
Two days after Playbill announced that MSM will also leave with Banderas, Krakowski and Rivera on October 5, today they report that she has extended her stay through January 4, 2004. Well, of course that's great news!
EXTENDED CASTING
Claudia

MORE ON "BEST THIEF IN THE WORLD" FROM CLAUDIA KEHL
Entry Date: 8/31/2003
The director of "The Best Thief in the World" is Jacob Kornbluth. He also wrote the screenplay.
THIEF
THE BEST THIEF IN THE WORLD, directed by Jacob Kornbluth, is about a boy who deals with turmoil at home by breaking into his neighbors' apartments.
DIRECTOR
"My brother Jacob has written an incredible screenplay based on his misspent youth in New York City's Washington Heights neighborhood. Titled "The Best Thief in the World," it's a drama that traces a family's struggle to hold together in the wake of the father's incapacitating stroke; at the center is 11-year-old Izzy, an introspective boy who breaks into other apartments in his building as a way to create a "safe" imaginative space for himself. "Thief" is currently shooting in New York, with Jake directing."

CLAUDIA KEHL REPORTS ABOUT POSSIBLE MSM FILM ROLE
Entry Date: 8/21/2003
Excerpt from an article in NY Daily News talking about movies being made in New York these days.
.....In fact, two movies being shot right now are set in the Midwest. "The Best Thief in the World," starring Mary Stuart Masterson, is being filmed on Staten Island locations that resemble Ohio, allowing Masterson to continue her role on Broadway in "Nine."......
MOVIE NEWS ARTICLE
According to the following article (about being a standby for a leading actor) it looks like MSM is leaving "Nine" at about the same time Antonio does. He's leaving on October 5.
The musical will continue but no definite replacements have been announced yet.
"NINE" UPDATE
NOTE
Claudia wrote back to me after the above e-mail to let me know that the newspapers may be confusing Mary Stuart Masterson with Mary Louise Parker getting the role in the movie "The Best Thief in the World." There is some confusion in the media at this point, but I'm putting up this news item because we already heard some time ago that Ms. Masterson was soon to start work on a film being directed by her husband, Damon Santostefano. This could be that movie with a change in title. As the situation changes, we will let you know.

CLAUDIA KEHL STARTS A NEW MARY STUART MASTERSON SITE!
Entry Date: 8/21/2003
Hi Guy!
I am trying to build a small Mary Stuart Masterson site on my own. This is the link of it:
CLAUDIA'S MARY STU SITE
It's more an info site about her current projects so I called it "Mary Stuart Masterson Infos". I also don't have too much possibilities, but for what I use it it's just perfect and it was quite simple to build it. I have to say it's really fun! I never thought that I would like it so much to create it. But when you started with it you don't want to stop it.
I did put your site to the links site of course and will definitely continue to send you all the infos and news I can find of MSM.
I am still trying different things out because every second day you got a new idea to change something, lol!
Claudia

"BOOMTOWN" NBC SERIES LINKS TO "FRIED GREEN TOMATOES"
Entry Date: 8/21/2003
NBC started a series called "Boomtown" on Sundays last fall. The show centers on a Los Angeles Police Department precinct and includes stories about uniformed officers as well as detectives. One of the producers is Jon Avnet, who was the director of "Fried Green Tomatoes." Among the cast is Gary Basaraba, who played the popular character of local Sheriff Grady of Whistlestop, Alabama. "Boomtown" airs at 10:00 PM on Sundays on NBC stations around the country. Two players from the critically acclaimed HBO mini-series "Band of Brothers" are also in the cast, including Donny Wahlberg.

CLAUDIA KEHL REIGNITES INTEREST IN MSM'S INDEPENDENT FILM CAREER
Entry Date: 7/31/2003
We have been so caught up in Ms. Masterson's Broadway success in "Nine" that her film career has taken a backseat, which is understandable given the fact that MSM was nominated for a TONY award in her first major musical effort. It should not be forgotten, and certainly hasn't been by our intrepid Swiss correspondent, that Mary Stuart Masterson is primarily a film artist. One of the independent movies of hers that I have been most anxious to see, in any form in which it is available for viewing, has been WEST OF HERE. It has been shown in independent film festivals to great reviews, and is also her brother Pete Masterson's directorial debut. Claudia found a synopsis of this movie, and a link to an article about its latest limited showing. If you live in a major metropolitan area, be on the lookout for WEST OF HERE. It will most likely be shown at a university that has a film department or an art house theater in limited engagements.
WEST OF HERE LINK
Synopsis from the "Sonoma Valley Film Festival"
West of Here
Starring Josh Hamilton, Norbert Leo Butz and Mary Stuart Masterson
Directed by Peter CB Masterson, 79 min
Inspired by real events, West of Here will touch anyone who has been
graced by the presence of greatness. Cousins Gil (Josh Hamilton) and
Josiah (Norbert Leo Butz) Blackwell grew up together with music as
their common language. Gil wrote the songs and Josiah played them.
When Josiah heads for the West Coast to make a go of it with his
music, Gil stays behind to work for his dad because that is what's
expected of him. Josiah's sudden death spurns Gil into action.
Driving west to retrieve Josiah's belongings, Gil stops in his old
college town, meeting up with unrequited flame Genevieve (Mary Stuart
Masterson), who decides to join him. With each westward mile with
Genevieve, Gil slowly finds the strength to step out of Josiah's
shadow.
Peter Masterson elicits authentic performances from his actors,
including his sister, who shines as a singer whose career is at a
standstill. West of Here resonates with honest emotion as it depicts
the anxieties that accompany chasing dreams and growing up, as well
as the life-affirming joy that comes from true friendships.
Filmmaker Profile: Peter CB Masterson began working in the film
business at an early age for his father, filmmaker, Peter Masterson.
He joined the camera union in 1995, and has since worked his way up
to this debut as the diretor/cinemetographer of West of Here.

CLAUDIA DISCOVER'S AN MSM VOICEOVER PERFORMANCE ON NEW CARTOON SERIES "GARY THE RAT"
Entry Date: 7/31/2003
"Gary the Rat" is a new cartoon series presented on the latest incarnation of "The Nashville Network" (TNN), which used to present country/western music videos and reruns of "The Dukes of Hazzard." After changing to a format of reruns of old shows, a lot of "Star Trek" movies and reruns, and "James Bond" movies, TNN has decided to become "The Men's Network." We won't call them "The Spike," as that title is currently under litigation, the morphing network being sued by SPIKE LEE for "stealing" his name. "Gary the Rat," ironically enough, considering Spike Lee's legal action, is an American lawyer who has been turned into a big blue rat in a business suit. Kelsey Grammer is the voice of "Gary the Rat," but is better known as "Frazier" on the NBC comedy. Grammer is no stranger to prime time cartoons. Grammer is also the voice of BART SIMPSON'S Lex Luthor-like enemy, "Sideshow Bob" on "The Simpsons."
The "Gary the Rat" episode has not run yet, and will probably be run in August of this year. Just use the handy links that Claudia sent me so you can catch "The Old Flame" when that episode is run on TNN, or whatever they are calling it now. The air date has not been announced as yet.
THE RAT EPISODE GUIDE
Episode "Old Flame"
TVTOME LINK

HEATHER HUNT FINDS INTERESTING ARTICLE ABOUT MSM'S COSTUME DESIGNER FOR "NINE"
Entry Date: 7/31/2003
Hi:
Here's a snippet on MSM's Nine outfit with quotes from Vicky Mortimer, Nine costume designer, and MSM herself.
>>Mortimer says that, based on her conversations with Leveaux [the director], a number of design ground rules emerged, chief among them that "apart from Luisa [MSM's character], all the women should look as they did when Guido first met them - i.e., they should have one look, as opposed to changing with the events of the piece."
. . .Luisa, who is dressed in a gray tailored skirt and white blouse, with square black glasses.
Even though Luisa (Mary Stuart Masterson) wears the simplest outfit onstage, Mortimer says her clothes underwent the most transformations. "It took two goes before we realized the crucial thing: that she and Guido should feel like real partners, that they should look like they belonged together, despite the range of temptations around him. Mary Stuart's way of describing it was that Luisa should feel like the script girl - her discretion masks her hold on her husband."<<
This excerpt is from an article called "City of Women," which is all about Nine's technical production elements, in a publication called "Entertainment Design" from July 1, 2003.
hrh
hrh32@yahoo.com

CLAUDIA DISCOVERS MSM'S DEDICATION TO HOMELESS PETS
LOTS OF GOOD PHOTOS
Entry Date: 7/31/2003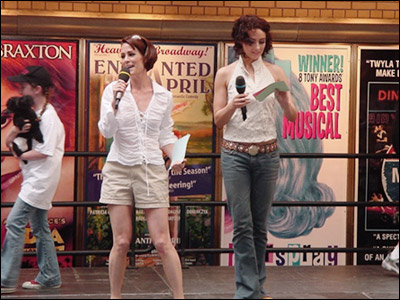 Mary Stuart Masterson was attending the 5th Annual Broadway Barks July 12, 2003 at Shubert Alley in New York City. Broadway Barks assists New York animal shelters in their mission to find homeless pets good homes.
NEWSDAY PHOTO
PLAYBILL PHOTO
BROADWAY.COM PHOTO

BRITISH VISITORS!! "BLACK AND BLUE," MSM'S CBS MOVIE FOR TELEVISION NOW IN DVD ON BLACKSTAR
Entry Date: 7/31/2003
Claudia Kehl has found an announcement that the above DVD is now available in the United Kingdom. Please note the format requirements.
Black and Blue (1999) has been released on DVD in the UK. It's region
code 2 (Europe and Japan). So you either need a DVD player with
region 2 or a codefree player who can play all region DVD's.
BLACK AND BLUE DVD
Claudia

CLAUDIA KEHL VISITS THE MARY STUART MASTERSON GROUP AT YAHOO!
Entry Date: 7/31/2003
Hi Guy!
I was wondering if you know about this MSM group at Yahoo.com? I have been a member of it for a long time now. I also put the infos I send you about MSM in this group. From time to time it's rather quiet there, but recently with MSM's Broadway musical debut it became more lively again. Sometimes I had the impression I was almost the only one who posted there. I think it's a really nice group of MSM fans there.
YAHOO GROUP
Claudia