FYI ARCHIVES
PAGE 13
SPECIAL "NINE" BROADWAY MUSICAL EDITION
FROM 1/2/2003 to 7/4/2003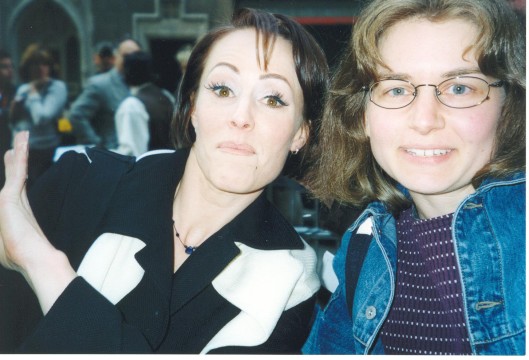 Mary Stuart Masterson with the Tavern's Swiss Correspondent, Claudia Kehl of Switzerland after a performance of "Nine"

CLAUDIA KEHL MET MARY STUART MASTERSON AT "NINE" PERFORMANCE THIS PAST EASTER!
Entry Date: 7/4/2003
Our Swiss correspondent, Claudia Kehl, has reported to the Tavern, and also on the Guestbook, that she had attended a "Nine" performance this past Easter season. I restrained myself from asking her if she took any photos of any of the players, including You-Know-Who, but Claudia not only took some pictures, but also personally met Mary Stuart Masterson, who Claudia described as "very nice" to those who stayed around the theater waiting for some of the performers to emerge. Claudia sent me a collection of these photos, and they now appear on the "Mary Stu's Photo Album" page of the Tavern. ANYONE who also has a Web site that promotes Mary Stuart Masterson's career can feel free to go ahead and download all of the images, with the exception of the one with Claudia, and post it on their site. There is one exception to this rule, and that is YUN LEONG, of Australia's MSMism, as he is another Internet friend of Claudia's, so I don't think she will mind if YUN posts these images on his site, which is one of the most artistic on the Web dedicated to following MSM's professional career. To find the photos, click the link below.
PHOTO ALBUM

HAPPY FOURTH OF JULY TO ALL USA VISITORS!
Entry Date: 6/29/2003


CLAUDIA KEHL FINDS A GREAT "NINE" SITE AND SOME "NINE" VIDEOS
Entry Date: 6/29/2003
NINE SITE
It's a very nice site!!
I also found the following site where Antonio and three "Nine" ladys including
MSM of course were at the Early Show a few days before the Tonys. You can
download two videos there.
CBS "NINE" VIDEOS
Claudia


Claudia Kehl E-mails About MSM's Latest Movie Project As Producer of Her Husband's Next Film
Entry Date: 6/15/2003
Claudia found the web site of MSM's husband, Damon Santostefano, as well as digging for information about the lastest film project!
She produced "Last Man Running," directed by her husband Damon Santostefano.
I was searching a little bit for this movie and found the Official Site of
it and even the homepage of Damon Santostefano. The site seems quite new
because it is partly still under construction.
LAST MAN RUNNING
WEB SITE OF DAMON SANTOSTEFANO
Claudia

HEATHER HUNT SENDS AN ARTICLE LINK
Entry Date: 6/15/2003
Thanks for your great FYI page (and the whole MaryStu site!). Here's an item you may have missed:
MSM ARTICLE
A very good article though I don't know how long it'll be there.
Also, thanks for your Tony wrap-up. I would add how cute it was when Jane K. was trying to hug MSM and Chita that MSM told her to hurry and swatted her on the behind to get her out on stage with time for her speech before that annoying orchestra could cut her off. As it turned out, Jane did get a little cut off but she still got in a cute speech.
Thanks again. Keep up the great work!
hrh

THE TONY AWARDS
BLOW-BY-BLOW UP TO THE FEATURED ACTRESS IN A MUSICAL AWARD
Entry Date: 6/8/2003
The Tony Awards began at 8:00PM EDT at Radio City Music Hall with Billy Joel, whose music was featured in the musical "Movin' Out," playing the piano and singing part of "I'm In a New York State of Mind." The action moved into the Radio City Music Hall with some of the dancers from "Movin' Out" performing an energetic dance to "Keepin' The Faith." The host for the awards ceremony was Hugh Jackman, who is most known for playing Wolverine in the "X-Men" movies.
The Tony Award controllers seemed to like to move things along. Jackman made some opening remarks, sang briefly, and got down to business introducing the first award presenters, husband and wife Matthew Broderick and Sarah Jessica Parker. The duo gave out two awards, the Best Book of a Musical to Mark O'Donnell and Thomas Meehan for "Hairspray, " and the Best Score to Marc Shairman and Scott Whitman for "Hairspray." At this point, it looked as if "Hairspray" just might sweep all the musical awards after these first two went to that musical.
Bebe Neurith and Anne Reinking presented the Choreography to Twyla Tharp for "Movin' Out." This was followed by the tumultous final dance scene by the cast of "Hairspray."
Christopher Reeve appeared next and presented the Best Director of a Play to Joe Mantello for "Take Me Out." This was followed by a musical piece from "A Year with Frog and Toad."
Julianna Margulies ("ER") and Benjamin Bratt ("Law and Order") gave a salute to Actor's Equity followed by the Tony Award for Featured Actor in a Play that went to Dennis O'Hare for "Take Me Out."
John Spencer ("West Wing") presented the Tony for Featured Actress in a Play, which went to Michele Pawk for "Hollywood Arms," which was written in part by Carol Burnette. It should be noted that the Tony Awards people were determined to move things along fast. As a result, when winners were making their "thank you" speeches, the orchestra would signal them it was time to stop thanking people by starting to play some musical piece over their speech. Ms. Pawk defied this signal, and kept right on talking over the orchestra until the conductor surrendered and stopped playing. She even thanked her dress designer.
After this, the two English guys from "The Play What I Wrote" did a comic bit of being called to the stage, but losing their way in the Radio City Music Hall. By the time they made it to the stage, Jackman announced more commercials, and there were a lot of those.
Once back, the show presented some taped comments by Antonio Banderas, about his character Guido in "Nine," followed by Mary Stuart Masterson who described her character, Luisa, as being Guido's wife and muse. Jane Krakowski made some comments about her character, Guido's mistress. This was a bumper leading up to Melanie Griffith introducing her husband, Antonio Banderas, and all the women of "Nine" in a song from the musical. MSM wore glasses and smoked a cigarette as Antonio Banderas' Guido sang of his desire to be both young and old, and everywhere at once, as all the women in his life gathered around him to sing his praises.
Rosie Perez then took the stage to present the Featured Actor in a Musical Award to Dick Latessa of "Hairspray." It was clear that what was coming next was going to be the Featured Actress in a Musical Award, for which Ms. Masterson was a nominee along with castmates Jane Krakowski and Chita Rivera.
The Featured Actress in a Musical Award was presented by Joey Fantone of N'Synch, who is also performing in a musical. As Fantone announced the nominees, the camera found Mary Stuart Masterson, Jane Krakowski, and Chita Rivera standing together as their names were read along with nominees from other musicals. The winner was JANE KRAKOWSKI. I was disappointed, of course, but still glad "Nine" took the award in this category. The nomination and great reviews MSM received are sure to garner her more musical and dramatic roles on Broadway. Jane Krakowski saluted her female co-stars as being among the best she has ever worked with on the stage.
Well, that's it. Our favorite didn't win the award, but "Nine" should provide a lot of momentum for Ms. Masterson's career on stage, in film, and on television. Besides, she walked off with a lot of other awards for her work in "Nine," as described on this page.
It was a great run.

TONY AWARDS CEREMONY ON CBS JUNE 8, 2003
Entry Date: 6/2/2003
CBS is showing the Tony Awards gala this coming Sunday night. There should be plenty of commercials about the times and stations in your local area, and be sure to check the TV Guide or newspaper TV schedules. Mary Stuart Masterson should be on hand as a nominee and as a presenter, so be sure to tune in.

HAPPY BIRTHDAY, MARY STU!
Entry Date: 5/30/2003

It's a little early, but next month will mark another birthday anniversary for Mary Stuart Masterson. You can reach the Tavern's Birthday Greeting Card page by clicking the link below.
HAPPY BIRTHDAY, BROADWAY AWARD WINNER!

CLAUDIA KEHL AND MERRY ON BOARD REPORT ABOUT MSM WINNING THEATER WORLD AWARD
TWO DIFFERENT ARTICLES AND LINKS.
Claudia forwarded this Broadway.com article about the Theater World Award. The link follows the article.
2002-2003 Theatre World Awards Announced
The 2002-2003 Theatre World Awards have been announced. The awards honor
those who are making a "reviewable" New York stage debut, either on or off-Broadway.
In other words, even if a performer has appeared previously in the ensemble
of a musical or had a bit part in a play, they can receive a Theatre World
Award for a breakthrough role.
The six male winners are:
Antonio Banderas, Nine
Thomas Jefferson Byrd, Ma Rainey's Black Bottom
Jonathan Cake, Medea
John Selya, Movin' Out
Daniel Sunjata, Take Me Out
Jochum Ten Haaf, Vincent in Brixton
The six female winners are:
Victoria Hamilton, A Day in the Death of Joe Egg
Clare Higgins, Vincent in Brixton
Jackie Hoffman, Hairspray
Mary Stuart Masterson, Nine
Fiona Shaw, Medea
Marissa Jaret Winokur, Hairspray
The Theatre World Awards are chosen by Clive Barnes (The New York Post),
Peter Filichia (News 12 New Jersey), Harry Haun (Playbill), Frank Scheck
(The Hollywood Reporter), Michael Sommers (The Star-Ledger), Doug Watt (The
New York Daily News) and Linda Winer (Newsday).
Winners will receive their awards at an afternoon ceremony at Studio 54 on
June 2.
http://www.broadway.com/template_1.asp?CI=28258&CT=38
MSM CONQUERS BROADWAY
---
Merry sent this article about the Theater World Award with the link following.
Banderas, Selya, Winokur Among Winners of Theatre World Awards
By Ernio Hernandez
19 May 2003
The Theatre World Awards, which honor performers for making theirfirst big New York splash (including, but not limited to, Broadway debuts),were announced May 19. The winners will be celebrated at a ceremony to beheld June 2.
The 2003 Theatre World Awards winners are Antonio Banderas (Nine), Thomas Jefferson Byrd (Ma Rainey's Black Bottom), Jonathan Cake Medea), Victoria Hamilton (A Day in the Death of Joe Egg), Clare Higgins (Vincent in Brixton), Jackie Hoffman (Hairspray), Mary Stuart Masterson (Nine), John Selya (Movin' Out), Fiona Shaw (Medea), Jochum ten Haaf (Vincent in Brixton), Daniel Sunjata (Take Me Out) and Marissa Jaret Winokur (Hairspray).
Theatre World is an annual publication edited by John Willis. Theawards self-titled awards were first presented in the 1944-45 season.
Among past winners include Betty Comden (1944-45); Barbara Bel Geddes,Marlon Brando (1945-46); Carol Channing, Julie Harris (1948-49); CharltonHeston, Grace Kelly (1949-50); Richard Burton, Cloris Leachman, Eli Wallach(1950-51); Audrey Hepburn (1951-52); Rosemary Harris, Eileen Heckart, RichardKiley, Paul Newman, Gwen Verdon (1952-53); Harry Belafonte, James Dean (1953-54);Julie Andrews, Barbara Cook, Anthony Perkins, Christopher Plummer (1954-55);Sydney Chaplin, Jason Robards, (1956-57); Anne Bancroft, Richard Easton,George C. Scott (1957 58); Larry Hagman, William Shatner, Pat Suzuki, RipTorn (1958-59); Warren Beatty, Carol Burnett, Patty Duke, Jane Fonda, JohnMcMartin, Dick Van Dyke (1959-60); Elizabeth Ashley, Peter Fonda, James EarlJones, Robert Redford, Brenda Vaccaro (1961-62); Alan Arkin, Liza Minnelli,Estelle Parsons (1962-63); Linda Lavin (1964-65); Zoe Caldwell, John Cullum,Faye Dunaway, Leslie Ann Warren (1965-66); Dustin Hoffman, Leslie Uggams,Jon Voight, Christopher Walken (1966-67); Sandy Duncan, Bernadette Peters,Michael Rupert (1967-68); Jane Alexander, Blythe Danner, Al Pacino (1968-69); Len Cariou, Lewis J. Stadlen (1969-70); Ben Vereen, James Woods (1971-72);Victor Garber (1972-73); Joe Morton, Ann Reinking, (1973-74); Christine Andreas,Tovah Feldshuh, Meryl Streep (1975-76); Joanna Gleason, Andrea McArdle, JonathanPryce (1976-77); Nell Carter, William Hurt, Judy Kaye (1977-78); GregoryHines, Michael Jeter, Christine Lahti, Edward James Olmos (1978-79); BoydGaines, Richard Gere, Harry Groener, Lonny Price, Dianne Wiest (1979-80);Giancarlo Esposito, Cynthia Nixon, Amanda Plummer (1980-81); Karen Akers,Danny Glover, David Alan Grier, Jennifer Holliday, Elizabeth McGovern (1981-82); Matthew Broderick, Kate Burton, Harvey Fierstein, Peter Gallagher, JohnMalkovich (1982-83); Joan Allen, Glenne Headly (1983-84); Charles S. Dutton,Whoopi Goldberg, John Mahoney, Laurie Metcalf, John Turturro (1984-85); AlecBaldwin, Ed Harris, Marisa Tomei (1985 86); Annette Bening, Timothy Daly,Demi Moore, Molly Ringwald, Colm Wilkinson (1986-87); Melissa Gilbert, AidanQuinn, B.D. Wong (1987-88); Dylan Baker, Joan Cusack, Sally Mayes, Kyra Sedgwick,Eric Stoltz (1988-89); Michael McKean, Mary Louise Parker (1989-90); GillianAnderson, Adam Arkin, LaChanze, Lea Salonga (1990-91); Larry Fishburne, JessicaLange, Laura Linney (1991-92); Michael Cerveris, Marcia Gay Harden, AndreaMartin, Liam Neeson, Stephen Rea, Natasha Richardson, Martin Short, JenniferTilly (1992-93); Jarrod Emick, Audra Ann McDonald, Anna Deavere Smith, (1993-94)Billy Crudup, Ralph Fiennes, Beverly D'Angelo, Calista Flockhart, AnthonyLaPaglia, Helen Mirren, Jude Law, Vanessa Williams (1994-95); Viola Davis,Michael McGrath, Alfred Molina, Adam Pascal, Lou Diamond Phillips, DaphneRubin-Vega (1995-96); Kristin Chenowith, Jason Danieley, Linda Eder, AllisonJanney, Mark Ruffalo, Fiona Shaw (1996-97); Margaret Colin, Alan Cumming,Lea Delaria, Edie Falco (1997-98 ); Rupert Graves, Nicole Kidman, Ute Lemper(1998-99); Craig Bierko, Gabriel Byrne, Toni Collette, Stephen Dillane, JenniferEhle, Philip Seymour Hoffman, Hayley Mills, Claudia Shear (1999-2000); JulietteBinoche, Macaulay Culkin, Raul Esparza, Kathleen Freeman, Deven May, RebaMcEntire, Chris Noth, Rosie Perez, Joely Richardson, John Ritter (2000-2001);and Simon Callow, Mos Def, Spencer Kayden, Gretchen Mol, Anna Paquin, LouisePitre, Rachel Weisz (2001-2002).
http://www.playbill.com/news/article/79651.html
CONQUERESS OF THE STAGE

A WEB SITE FOR MARY STUART'S "MAD AT THE MOON" CO-STAR HART BOCHNER
Entry Date: 5/30/2003
Steve Murphy of Indianapolis, Indiana, one of the most pleasant cities I have ever visited, has a site set up on Geocities for Hart Bochner. Mr. Bochner is most noted for being in the mini-series WAR AND REMEMBRANCE in which he played one of Robert Mitchum's sons in the second part of the THE WINDS OF WAR back in early 1989 or late 1988. The first THE WINDS OF WAR was in 1983 when Ben Murphy had the role played by Hart Bochner in the second of the mini-series about World War II. In MAD AT THE MOON, Bochner was Ms. Masterson's love interest in the movie. You can take a look at Mr. Murphy's Hart Bochner site by clicking the link below.
MAD AT THE MOON

GREAT "NINE" LINKS FROM CLAUDIA KEHL, OUR SWISS CORRESPONDENT
Entry Date: 5/30/2003
There is a great NY Times article about the women in "Nine".
WOMEN OF "NINE"
it's the follwing article on the link above:
MSM and Jane Krakowski at the Drama Desk Awards
DRAMA DESK AWARDS
MSM and Brian Dennehy at the Tony Nominee Press Event
TONY AWARD PRESS EVENT
Claudia

CORRESPONDENT MERRY ON BOARD SENDS MIDWEST ARTICLE ABOUT MSM'S TRIUMPH IN "NINE"
Entry Date: 5/30/2003
Telegraph Herald (Dubuque, IA)
April 27, 2003 Sunday
Masterson mixes challenges ; Busy: Actress sings in "Nine" and tackles a troubled marriage
By Peter Santilli
Mary Stuart Masterson was almost as apprehensive about playing Luisa in the Broadway revival of "Nine" as her character is about sharing her husband with paparazzi and a whirlwind of adoring women. But after overcoming a brief bout of insecurity, the actress couldn't be happier about being a part of director David Leveaux's chic interpretation of the 1982 Tony Award-winning musical.
"I was terrified, of course, to do this," she says, relaxing in her dressing room at the Eugene O'Neill Theatre. "The first day of rehearsal was the scariest."
With a healthy list of credits in theater ("Three Sisters," "Lily Dale"), film ("Fried Green Tomatoes," "Benny and Joon"), and television ("Kate Brasher"), it seems incongruous that Masterson, 36, would be so frightful about the role. She explains the source of her fear:
"The last musical I did was in eighth grade," she says with muted amusement. "I played Daisy Mae in Li'l Abner.' "
But decided it was time to give musical theater another try.
"I have always wanted to sing. I love to sing. It's been a deep desire that I've been too afraid to confront for a very long time."
At times, Masterson employs a similarly self-effacing tone as the wife of needy film director Guido Contini, played by Antonio Banderas. In the ballad, "My Husband Makes Movies," she sings about the burden of having a famous and desirable husband who is constantly surrounded by elegant women - of which there is no shortage in this show.
The only male cast member in "Nine," aside from Banderas, is William Ullrich, who plays Guido as a 9-year-old (hence the title).
Masterson admires the work of young Ullrich, who is charming as Guido's alter ego - innocent and untethered by the emotional baggage that comes with age.
"He's really gifted and very poised," she says. "Sometimes I talk to him and I forget he's so young. But then he'll talk to you about his action figures. And I'll do karate-chop moves and he'll laugh. And it's like, Oh my God, he's 9!' "
Masterson's Luisa is one of 16 women who populate the stage and Guido's life. Some of the other principals are his mother (Mary Beth Peil), his lover (Jane Krakowski) and his film producer, played by the perennial show stopper Chita Rivera.
"They brought each person here to be a specific color in the palette," Masterson says of her co-stars. "Each person really is singular." But she characteristically refused the opportunity to rate her performance.
Leveaux agreed that very specific casting was crucial with such a "high voltage of women on stage." In Masterson, he sees a strength and appeal shrouded by dormancy.
"She has this particular beauty about her that is rather stealthy, which is to say you don't get a complete advertisement at the outset," he said. "And then bit by bit, it seems to grow."
It is for this reason, Leveaux said, that Masterson is effective as Luisa.
"In a world of extraordinarily glamorous women, Guido Contini's wife becomes - by the end - the most authentically beautiful woman in his life," he said. "Mary Stuart's temperament sort of slow burns until it ignites. She's an ambush.
"Nine," which is based on Federico Fellini's classic film, "8 and a half," is Masterson's first production under the direction of Leveaux.
"It's not normal musical theater," she says. "The use of metaphor and conceptual movement as opposed to straight choreography makes it different from what people might expect."
Like Fellini's film, the show has a dreamlike quality, drifting in and out of the consciousness of the self-absorbed Guido.
Leveaux said he tried to maintain the film's continuity.
"I felt very strongly that this should not be a musical that is just divided up by scenes and numbers, which I guess is the traditional way. You stop for a number and then you carry on."Leveaux is one of many directors clustered around Masterson. She is married to a director - Damon Santostefano ("Three to Tango"). Her father is director Peter Masterson ("The Best Little Whorehouse in Texas"). Even Banderas, whom she described as "the consummate artist," has logged time in the director's chair.
"It's unbelievable," she says with a laugh. "It's too omnipresent to not think of it."
Masterson tried her hand at the craft a few years ago, directing a short film, "The Other Side," that aired on the Showtime's "Directed By" series. It was a rough first run on a tiny budget but a learning experience and one she would like to try again.
Masterson, whose mother is actress Carlin Glynn, appeared in her first movie, "Stepford Wives," when she was 8. She grew up in Texas and New York and has lived full time in Los Angeles only for the past three years. She plans to move back to New York within a few years.
As for her career after "Nine," she says she's like to do more musicals. Her work on the show has her considering another direction.
"This is making me think of trying to direct something very small - try to learn the stage craft a little bit," she says.

CLAUDIA KEHL CELEBRATES MARY STUART MASTERSON'S TONY NOMINATION!!
Entry Date: May 15, 2003
Claudia sent the following comments by Mary Stuart Masterson concerning her TONY AWARD NOMINATION for Best Featured Actress in a Musical for her role in "Nine," a musical that has only been on Broadway, and open to the public, since April of this year.
Mary Stuart Masterson
Best Featured Actress in a Musical Nominee for Nine
"I knew it was going to be on New York 1, so I thought about waking up, but I didn't set my alarm. I woke up at twenty to nine. They were one category away from my category, so I happened to catch it. It's a tremendous honor to be nominated with these women in this category. It's the same category my mother won a Tony in [for The Best Little Whorehouse in Texas] an undisclosed number of years ago! [Laughs.] So that makes me doubly excited. I haven't spoken to my mother yet--she's in Italy--but I left her a message but didn't say why I was calling. I feel closer to her and more impressed by her than ever before. She had three children while she was doing eight shows a week! I've faced fears and desires that have been in me for a long time by doing Nine and that alone is its own reward. This is beyond anything I expected!"
Along with the reaction from Ms. Masterson about this tremendous honor, given that this is her first musical role on Broadway, the tireless Swiss MSM aficionada also found a lot of links to some great photographs of MSM and her co-stars from "Nine" at the press gatherings after the nominations were announced.
FILMMAGIC PHOTOS--PAGE 1
FILMMAGIC: ALL MSM PHOTOS
THEATERMANIA PHOTOS
REXFEATURES PHOTOS
CORBIS PHOTOS

ATTENTION RICH CURILLA OF "ALAMO VILLAGE," BRACKETTVILLE, TEXAS
MSM "BAD GIRLS" WARDROBE ITEMS FOR SALE
Entry Date: 5/15/2003
Attention all of you fans of "Bad Girls" along with MSM fans in general. There was a posting on our Guestbook by someone named Gary who has a dress and a pair of stockings worn by You-Know-Who in the entertaining Western from 1994, BAD GIRLS. If anyone out there is interested, you can reach Gary at the e-mail address in his message which is reproduced below.
Name: gary
E-mail address: cher-isa-babe@adelphia.net
Homepage URL: http://
Comments: I am a fan of Mary Stuart Mastersons. I really like her inFried Green Tomatoes and Bed of Roses. I have a dress that she wore in Bad Girls with two pairs of stockings and COA for sale if anyone is interested.I Buy Sell and Trade
Tuesday, May 13th 2003 - 10:53:44 PM

THE FIVE YEAR PLAN: MARY STUART MASTERSON IN ENTERTAINMENT WEEKLY
Entry Date: 5/15/2003
In the May 16th Entertainment Weekly, there is a full page spread, with a large photograph, of Mary Stuart Masterson discussing what the magazine called her "Five Year Plan." The photo, which dominated page 19, shows Ms. Masterson stepping out of a shower, wrapped in a large towel, while singing into a back brush. Basically, MSM discusses herself five years ago, now, and five years from now. It is interesting stuff. In the "Five Years Ago" part, MSM talks about preferring to sing alone, mostly in the shower, in order to rehearse for "Nine." She also talks about once writing a script about a character who sings at night by herself. In the "Now" section, there is a quote about the "rush" she gets from being in the cast of "Nine" with Antonio Banderas, Chita Rivera, and Jane Krakowski. "Five Years From Now," she is writing a book, writing poetry, producing a movie.
"I think women are multitaskers, so they can feed their young, cook the meal, protect the hearth, and be ultimately creative at the same time."

MARY STUART MASTERSON RECEIVES OUTER CRITICS CIRCLE AWARD NOMINATION FOR "NINE" ROLE
Entry Date: 4/29/2003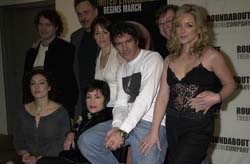 Cast of "Nine"
Claudia Kehl sent the good news that Mary Stuart Masterson has been nominated for the Outer Critics Circle Award for Outstanding Featured Actress In a Musical. "Nine" received a whopping 12 nominations for awards, to tie "Hairspray." Laura Benati, Jane Krakowski, and Mary Beth Peil, all MSM's co-stars in "Nine," received nominations for the same award. The critics and the public apparently love the show, which is outstanding news for Ms. Masterson and her castmates.

CLAUDIA KEHL'S "NINE" REPORT: SWISS CORRESPONDENT ATTENDS MSM MUSICAL
Entry Date: 4/29/2003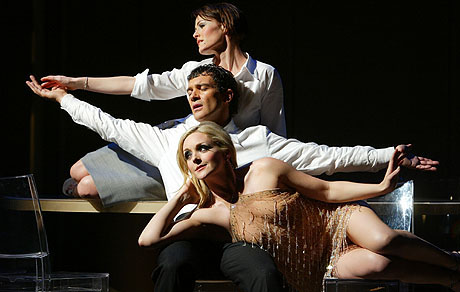 From the top: Mary Stuart Masterson, Antonio Banderas, Jane Krakowski in "Nine"
Claudia attended the musical "Nine," starring Mary Stuart Masterson, during the Easter Holiday. What follows are the main excerpts from her e-mail to me about how much she enjoyed the musical production, especially Ms. Masterson's singing and acting.
Mary Stuart was as amazing as ever. She sings really good and her acting was terrific. I also saw some other musicals. I just love musicals. I definitely hope to go to NYC again when MSM would do another musical or even a play there. The good thing about Broadway musicals/plays is that you will know the casting months ahead before it opens, so you can plan a trip to NYC soon enough. When I heard about MSM's musical debut last October I planned my trip at the beginning of this year and got really good tickets.
Claudia's advice about getting good tickets ahead of time is very good advice. Below is a link she provided for another article about "Nine."
NINE NEWS

NINE GETS AN EXTENDED RUN
Entry Date: 4/29/2003
The Tavern's active Swiss correspondent, Claudia Kehl, who globe-trotted her way to a good seat to see Mary Stuart Masterson live on stage in "Nine" over Easter, reported that "Nine" will run longer than previously scheduled until August 10, 2003. That only goes to show just how good the revival of "Nine" is. Below is a link to the PLAYBILL article about the extended run.
NINE EXTENDED!
http://www.playbill.com/news/article/78951.html

GREAT PHOTO ON "YAHOO!"
Entry Date: 4/29/2003
Claudia found a great photo of the "Nine" star, Mary Stuart Masterson, posted on YAHOO! I hope Yahoo!'s stock goes up a little more for providing this image.
MSM "NINE" PHOTO

CNN ON "NINE"
Searching the Internet for all the latest about Mary Stuart Masterson is a passtime of Claudia Kehl that has kept the visitors of the Tavern informed about MSM's professional projects for five years now. Claudia has found an instance, below, where Ted Turner's CNN finally paid due attention to Ms. Masterson's work on their SHOWBIZ site.
CNN SHOWBIZ

CLAUDIA KEHL'S DISCOVERIES OF NINE PICTURES AND REVIEWS
THE ULITMATE "GOOGLE" LINK
Entry Date: 4/29/2003
Claudia Kehl was busy all through the month of April, attending a live performance of "Nine" and keeping up with MSM's activities while my laptop was getting a new cooling fan! Well, everything is back to normal and we get to catch up on all of the news. The Broadway.com Web site had a great review of "Nine," and Claudia found it on the link below. Enjoy.
BROADWAY.COM REVIEW
The shortcut link to all the articles about "Nine" on GOOGLE, the great search engine, was e-mailed to me by Claudia, and GOOGLE'S links will undoubtedly grow as "Nine" gets more attention, and garners more awards
GO GOOGLE!

CLAUDIA KEHL FINDS GREAT "NINE" PICTURES ON PLAYBILL
Entry Date: 4/29/2003
This photo from "Nine" could make a great Wallpaper on any MSM fan's computer, so don't hesitate to visit the link below.
NINE IMAGES

ANTONIO BANDERAS ON MARY STUART MASTERSON AND HIS OTHER CO-STARS OF "NINE"
Entry Date: 4/29/2003
On one of the links Claudia Kehl sent to me, were the following comments by ANTONIO BANDERAS, Mary Stuart Masterson's co-star in the musical "Nine." I am starting to appreciate Antonio Banderas a lot more. He sounds like a pretty smart guy.
Mary Stuart is a very grounded woman. She can be very sexy, too. She's got a spark I cannot define, something sparkling that I saw when she did "Fried Green Tomatoes." As an actress, Mary Stuart is very giving. She's experimental, too. She doesn't hold back.

MARY STUART DISCUSSES HER SINGING HISTORY
Entry Date: 3/29/2003
Claudia found another "Nine" article in which some of the cast talk about the show and how they prepared for it. Ms. Masterson had this to say about the fact that she has never been required to sing much before in her career:
"I've always loved to sing, but I was always too chicken. I got a wonderful singing teacher in Los Angeles, and I would sneak into his studio and work on technique and sing songs and stalk out, and this was as far as I got. That was years ago, so I finally said to my agent, 'I think I need to try this singing thing.' And they're like, 'What, you sing? You've been working how many years and never told anybody this?' So, I auditioned and somehow ended up here. I don't know how it happened."
One of the few times Mary Stuart did sing was on a tape recording, namely the LA Theater Works' audio cassette of Wendy Kesselman's MERRY-GO-ROUND, in which she sang briefly with Steven Weber. It should be remembered that this was a tape recording, and not a live performance. LA Theater Works is producing these tapes in order to preserve the spirit of old-time radio theater. The tapes are available on the link below, so anyone interested in hearing Mary Stuart Masterson sing professionally, perhaps for the first time, try MERRY-GO-ROUND. There is also a link to MERRY-GO-ROUND on the BODY OF WORK page of the Tavern.
LA THEATER WORKS

MAURY YESTON, "NINE'S" COMPOSER, PRAISES THE TALENT OF YOU-KNOW-WHO
Entry Date: 3/29/2003
Claudia found some interesting comments that were given by the composer of the music for "Nine," Maury Yeston. Some excerpts follow, along with a link to the original article.
"Well, let's not forget her (Mary Stuart's) DNA, first of all. Her mother (Carlin Glynn) won the Tony (for "The Best Little Whorehouse in Texas') and her father (Peter Masterson) wrote 'Whorehouse.' She was raised in the 46th Street Theater. This is an actress of enormous subtelty and delicacy, enormous beauty, and enormous depth...She is a fantastic singer. I've been quoted as saying it was the most overwhelming audition I've ever seen. She came in and totally blew us away. It meant a great deal to me the first time around to see all of these people become stars, and I think it is going to happen again. Mary Stuart is going to be a revelation."
YESTON COMMENTS

CLAUDIA KEHL FINDS A PHOTO COLLECTION OF "THE WOMEN OF NINE"
Entry Date: 3/29/2003
The Tavern's Swiss correspondent is keeping us all posted on the build up to "Nine." There is a nice bunch of photos of the female cast of the Broadway Musical located at the link below, the official site for "Nine."
NINE'S WOMEN

HAPPY SAINT PATRICK'S DAY TO ALL ACTUAL AND HONORARY IRISH VISITORS TO THE TAVERN!
Entry Date: 3/8/2003


SWISS CORRESPONDENT KEEPS THE NEWS AND LINKS COMING ABOUT "NINE"
Entry Date: 3/8/2003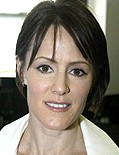 Claudia Kehl, ace Net surfer from the land of the Alps, has come across some great "Nine" sites out on the Web. There is one that includes a video where the actors say a few words about their work on the production. These videos can be downloaded for viewing. Claudia reports that MSM's video is short, but displays Ms. Masterson's sense of humor. The other link is back to a PLAYBILL article announcing the cast album to NINE. I guess the stage business calls them "cast albums" instead of "soundtracks," like in the movies. So, soon, you can have a CD of MSM singing professionally for the first time. The third link is to Broadway.com's thumbnail biography of MSM, including all of her stage credits on and off Broadway. Just click on the links below to access those sites:
VIDEOS ON "NINE"
To access the videos, click on MULTIMEDIA and then on VIDEO FEATURES
"NINE" CAST ALBUM
THEATER BIOGRAPHY
The productions "Three Sisters" and "The Lucky Spot" were added to the BODY OF WORK page on the TAVERN.

NINE ADDED TO BODY OF WORK PAGE
Entry Date: 3/8/2003
"NINE" has been added to the STAGE PRODUCTION section of the BODY OF WORK page of the Tavern.
BODY OF WORK

NINEONBROADWAY.COM
Entry Date: 3/8/2003
Searching Google, I was able to locate the official Web site of MSM Broadway musical "Nine." The show was put on for the theater reporters and other show business VIPs, and it was a big hit with the crowd. Theater critic and journalist Frank Rich wrote a great review of the production for the NEW YORK TIMES. The article also has a listing of various ticket prices for performances of "Nine." This show may receive an extended run if the reviews are all this great.
NINE ON BROADWAY

CLAUDIA KEHL FINDS NEWS ABOUT THE "NINE" PREMIERE
Entry Date: 2/28/2003
Our Swiss correspondent, Claudia Kehl, is keeping a sharp eye out for information about the upcoming "Nine" premiere on Broadway. She found an article in the magazine PLAYBILL, published in New York and dealing with news of the Broadway theater. What follows is a segment of the article that included comments from Mary Stuart Masterson, but included comments from all the major players: Antonio Banderas, Chita Rivera, and Jane Krakowski.
Quick to point out this is not her Broadway debut, the actress who plays the loyal but waning wife to Guido, Mary Stuart Masterson, explains "Technically speaking, I had one line in [the 1982 revival of] Alice in Wonderland. I understudied Kate Burton, but I played the Four of Hearts and I was the Small White Rabbit." The casting of Masterson, who has made a name for herself in such films as "Some Kind of Wonderful," "Benny & Joon" and "Fried Green Tomatoes," may come as a surprise to most who didn't know she can sing. "This is a move directly from my shower onto the stage, from singing in my shower to Broadway," joked Masterson at a Feb. 26 press event for the production. She added, "The music is written in such a way that expresses exactly the emotion it's trying to convey. So, you almost have to do nothing and it fills you."
A link to the article appears below:
PLAYBILL ON "NINE"

CLAUDIA KEHL AND MPILARGAR FIND "NINE" PHOTO COLLECTIONS ON THE NET
The run-up to the premiere of "Nine," the biggest MSM story of the first half of 2003, includes some collections of cast portraits called "Photo Calls" in the theater business. What follows are the links to some copyrighted photos of the "Nine" cast found on Broadway.com and Playbill by Claudia and Milargar. The TAVERN is grateful for the assistance of these correspondents in keeping all visitors abreast with the news of Ms. Masterson's Broadway adventure:
PLAYBILL PHOTO CALL
BIGPICTURES USA PHOTO CALL
MORE PLAYBILL COVERAGE AND PHOTOS
NOTE THAT TICKETS TO "NINE" CAN BE PURCHASED ON-LINE FROM PLAYBILL ON THEIR WEB SITE!!

HAPPY VALENTINES DAY TO ALL VISITORS TO THE TAVERN!!
Entry Date: 2/8/2003

VALENTINES DAY IS A GOOD DAY TO RENT OR BUY "BED OF ROSES" BY THE WAY.

CLAUDIA KEHL REPORTS THAT TWO OLDER MSM FILMS AVAILABLE ON DVD
Entry Date: 2/8/2003
Claudia, reporting from the Alpine nation of Switzerland, wishes you all to know that MR. NORTH and MARRIED TO IT are now available on DVD. Not only is DVD the wave of the future, but the DVDs last forever, provide a much richer picture, and are much easier to store. I have thought about converting from VHS, but have been procrastinating. Maybe a gradual transition would be best, but it soon will one day be the only physical media for films. Those who wish to buy a copy can go to the Web sites of Amazon.com or Reel.com.

COPY OF "ON THE SECOND DAY OF CHRISTMAS" SOUGHT
Entry Date: 1/25/2003
The following entry was made in the Guestbook, hosted by Dreamhost, earlier in the week:
Name: Janelle Woodard
E-mail address: jannelly_45@msn.com
Homepage URL: http://
Comments: Hi everyone...
I saw most movie "On the 2nd day of Christmas" this year for the first time and I would like to buy it. I had to go to work about 30mins before the movie ended. So I have not seen the ending and unfortunately, I have not found a place that has a copy. If anyone you know has one and is willing to get rid of it, please pass them on to me. I would be very greatful.Or if anyone has any information on where I can find a copy that would be great.
Not only is she one of my favorite actresses but she is a real inspiration.
Thanks.
Monday, January 20th 2003 - 07:15:46 AM
If anyone has a copy of ON THE SECOND DAY OF CHRISTMAS, please contact Janelle Woodard at the e-mail address above. It should also be noted that the LIFETIME MOVIE NETWORK, an affliliate of LIFETIME TELEVISION FOR WOMEN, is going to run ON THE SECOND DAY OF CHRISTMAS in February. Please consult the TV schedule page with a list of MSM's films and television productions by clicking on the link below. LIFETIME, an ABC/DISNEY affiliate, produced ON THE SECOND DAY OF CHRISTMAS in 1997. There is no video or DVD available to my knowledge.
TV SCHEDULE

GIRLS, INC.
ENTERTAINMENT WEEKLY KICKS OFF THE "NINE" BUZZ
Entry Date: 1/17/2003
As we have pointed out here, with the help of Claudia Kehl, Mary Stuart Masterson is going to star in the Broadway Musical "Nine" starting on April 10th of this year. The magazine Entertainment Weekly has just published its 2003 Preview issue dated January 24/31 with Rebecca Romijin Stamos in her X-Men makeup on the cover. Anyway, Entertainment Weekly uses this issue to zero in on what the writers and editors conclude are the best offerings in film, television, video games, music, and the stage. "Nine" is highly anticipated by the magazine, and on page 32, there is a nice layout about the musical production, along with a short article that centers primarily on Mary Stuart Masterson and the producer Maury Yeston, who originally took "Nine" to a Tony Award in 1982. There is a nice publicity photo of Chita Rivera, Jane Krakowski of "Ally McBeal," Laura Benanti, and Mary Stuart perched on the edge of a tall bar stool wearing a silver evening dress.
Ms. Masterson is quoted right off in the article: "I call the show 'The Mistress, the Muse, His Wife, and His Mother." This quote is highlighting the main plot of the script, which is about a movie director reviewing his relationships with the women in his life. The writer mentions that Antonio Banderas, who plays the director, and Mary Stuart Masterson have never sung on a New York stage before. Maury Yeston says this about that: "I love the idea that some people are goingto be new to the musical theater, because that is what we did the first time around (with "Nine" in 1982). Yeston goes on to heap most of his praise on You-Know-Who:
"(Mary Stuart Masterson) gave the most overwhelming audition I have seen in my career."
Well, Mr. Yeston, anyone who visits here, especially the Guestbook signers, could have told you in advance that would happen!
Keep in mind, Yeston won a TONY in 1982, before he saw Mary Stuart audition. Uh, I think she was maybe SIXTEEN at the time.
This is looking better all the time. Maybe I could arrange to go to a training school in Manhattan about April....