FYI ARCHIVES
Entries From 3/18/2002 to 7/30/2002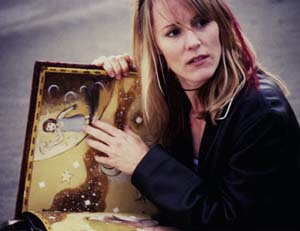 CLAUDIA KEHL FINDS THE "WEST OF HERE" PREMIERE
Entry Date: 7/30/2002
I missed this earlier e-mail from our Swiss correspondent, Claudia Kehl, and it contains the good news that "West of Here," the new movie directed by Mary Stuart Masterson's brother, and starring Ms. Masterson, premiered at an independent film festival in Las Vegas:
Hi Guy
How are you? It's been very quiet about Mary Stu lately. Well tomorrow
is
her birthday.
Unfortunately her cop series wasn't picked up for the fall. At least
with
"Leopold Bloom" she has a new movie coming out next year.
"West of Here" had its world premiere at the "CineVegas International
Film
Festival" on June, 9. (http://cine.vegas.com/index.html)
By the way I like the picture of Mary Stuart with Jena Malone on the
Body
of Work site. Do you know where they were there?
Greetings
Claudia

ON THE "CABARET" REPORT RECEIVED ON THE GUESTBOOK
Entry Date: 7/13/2002
The founder of a John Stamos Web site posted to our Guestbook concerning the possibility that Mary Stuart Masterson would be replacing Jane Leeves ("Frazier"") as Sally Bowles in the long-running revival of "Cabaret" on Broadway. Checking the New York Theater Web site revealed that another actress had received the role and will be replacing Ms. Leeves on 7/15/2002. There have been several Sally Bowles castings on this version of "Cabaret," so we may not have heard the last of MSM being considered for this key role.

A NICE COLLECTION OF MARY STUART MASTERSON WALLPAPERS
Entry Date: 7/13/2002
WALLPAPERS

YOU, TOO, CAN OWN A PIECE OF "LEOPOLD BLOOM"
Entry Date: 7/13/2002
Anyone can make an investment in the independent film "Leopold Bloom," which will star Mary Stuart Masterson and others. To inquire about becoming an investor, try clicking the link below.
LEOPOLD BLOOM

COUNTING DOWN TO "LEOPOLD BLOOM"
Entry Date: 7/13/2002
The Counting Down Web site has a page for "Leopold Bloom." This site is updated frequently, and should provide the visitor to the most recent news about the upcoming MSM vehicle.
COUNT DOWN

HAPPY FOURTH OF JULY TO ALL USA VISITORS!
Entry Date: 6/30/2002


THEY SAY IT'S YOUR BIRTHDAY!

BEST WISHES, MARY STU!
BIRTHDAY CARD

NEW COUNTER TRACKS VISITS AT TAVERN
6/1/2002
Yes, we have a new counter service at the Tavern. Hitmatic decided to start charging for statistics such as countries of origin, which we keep track of here on the Customers Page. So, we decided to go with AdFree Statisitics, which will provide at least as much information as Hitmatic. We dropped the back-up counter. After all of these services, I still miss CountMaster the most, but that was four long years ago.

KATE BRASHER INTERVIEW LINK
Entry Date: 5/31/2002
ENTERTAINMENT TONIGHT's Web site contains an interview with Mary Stuart Masterson at the time of "Kate Brasher" premiering on CBS in the late winter of 2001. I found the interview while combing the Internet for articles about "R.U.S./H."
KATE BRASHER INTERVIEW

UPDATE ON R.U.S./H.
Entry Date: 5/31/2002
I checked Fall television schedules everywhere I could think of, and there is no mention of "R.U.S./H" on the CBS Schedule for either the Fall, or as a mid-season replacement. There is a possibility that the pilot could be shown as a CBS movie special of some kind. The closest show title on the CBS schedule for 2002-2003 is "RHD/LA," which turned out to be "Robbery Homicide Division/Los Angeles," a show created and produced by Michael Mann ("Manhunter," "Miami Vice," "Crime Story"). It will star Mary Stuart Masterson's co-star from "The Florentine," Tom Sizemore ("Saving Private Ryan," "Black Hawk Down").

A FREDDY FENDER MYSTERY
Entry Date: 4/26/2002
Searching Alta Vista for MSM news, rather than Google, really paid off. I found a link to Mary Stuart on the site of noted Mexican-American country/western singer/songwriter and actor ("The Milagro Beanfield War") Freddy Fender. There was a mention of a movie entitled "Mi Amigos," and Mary Stuart Masterson was the main name listed in the credit. I could find no link to a movie of that name, so I can only guess that Texas native Freddy Fender might have had a documentary done on his life and career and that Mary Stuart Masterson appeared as one of his many Texas friends. That is just a guess, however. I'll keep looking for some answers. In the meantime, pay a visit to Mr. Fender's site.
AMIGO

"SATURDAY NIGHT LIVE" HOSTS TRANSCRIPT PAGE

Entry Date: 4/26/2002
There is a Web site out there that documents all of the hosts of "Saturday Night Live" from the beginning. As we have just passed the tenth anniversary of MSM's stint as host, the link below can provide more information, and some photos, of Mary Stuart Masterson's monologue and two of the comedy sketches she did that night, including the one about the "very pregnant undercover cop."
SNL

TENTATIVE RELEASE DATE FOR "LEOPOLD BLOOM"
Entry Date: 4/26/2002
The Mary Stuart Masterson movie "Leopold Bloom," in which she plays a character named Brynne, is tentatively scheduled for February 10, 2003. The movie will also star Elisabeth Shue, Sam Shepard (MSM's co-star in "Lily Dale"), and Dennis Hopper. Being that this one has a release date scheduled, while "West of Here," directed by Ms. Masterson's brother, Pete Masterson, is still unscheduled for release, indicates that the movie has some major backing. We should see this in theaters, at least in limited release, shortly after the start of the new year.

CBS SERIES "R.U.S./H." ON MARY STUART MASTERSON'S IMDB FILMOGRAPHY
Entry Date: 4/26/2002
This proposed Mary Stuart Masterson starring vehicle on CBS Television has apparently completed the pilot and is awaiting a decision from the network programmers. It is now listed as part of Ms. Masterson's filmography on the Internet Movie Data Base site. We should be getting some news soon on whether or not CBS will give the series a try in its prime time schedule, and whether it will be launched in the Fall or as a mid-season replacement like "Kate Brasher."

MSM'S DRUM INSTRUCTOR ON "SOME KIND OF WONDERFUL"
Entry Date: 4/26/2002
Alta Vista also yielded this treat about the man who gave Mary Stuart Masterson drum lessons for her role as Watts in "Some Kind of Wonderful." There is a nice tribute to MSM, and how quickly she came to being a good drummer, on the link below. There is also a photo displayed there of Ms. Masterson in the studio sitting at the drums.
GIRL DRUMMER

MARY STUART MASTERSON ON THE BOARD OF A RAINFOREST PRESERVATION GROUP
Entry Date: 4/26/2002
The Rainforest Alliance has Mary Stuart Masterson as a member of it's Board of Directors. There is a nice biography of her on the Alliance's Web site, which can be accessed on the link below:
RAINFOREST ALLIANCE

MARY STUART MASTERSON'S NEW YORK HAIRDRESSER
Entry Date: 4/26/2002
For MSM's legion of women fans, Alta Vista came up with the site of New York hairdresser Richard Stein, who lists Ms. Masterson as a client. Any of you who plan to visit New York may want to make an appointment for a cut or a manicure and see just WHO drops in on the same day.
RICHARD STEIN SALON

CLAUDIA KEHL FINDS NEW MARY STUART MASTERSON / CBS COLLABORATION
Entry Date: 3/18/2002
bj: MSM's new projects
Date: 3/14/02 11:19:27 AM Eastern Standard Time
From: ckehl@bluewin.ch (Claudia Kehl)
To: gjordan741@aol.com
LOS ANGELES (Zap2it.com)
Mary Stuart Masterson joins the CBS drama pilot "R.U.S./H," for Studios USA
Written by Paul Attanasio, "R.U.S./H," stars Masterson as a detective in an elite unit of the Los Angeles Police Department. Attanasio, the creator and executive producer of ABC's critical favorite "Gideon's Crossing" will executive produce with Katie Jacobs.
Variety
--Oscar winner thesp Martin Landau ("Ed Wood") has signed on for an untitledABC drama, Mary Stuart Masterson is joining "R.U.S./H." for CBS, and martialarts thesp Russell Wong ("Romeo Must Die") will play the title character in theWB actioner "The Black Sash." Landau will play a key adviser to the mediafamily at the heart of veteran producer Larry Gelbart's ABC project. The seriesis expected to have a knockout cast, with several major parts still to befinalized. Masterson has made detective for "R.U.S./H.," which centers on anelite squad of the LAPD. Masterson is currently lensing the picture "Leopold Bloom." Wong's "Black Sash" revolves around a man who returns to San Franciscoto reclaim his life and family after being released from jail in China, havingbeen wrongfully accused of drug trafficking. Ray J ("Moesha") also stars.
Leopold Bloom (2003) http://us.imdb.com/Title?0308496
Claudia