FYI ARCHIVES NUMBER 29
OCTOBER 3, 2016 TO NOVEMBER 5, 2017

HAPPY THANKSGIVING!
Entry Date: November 5, 2017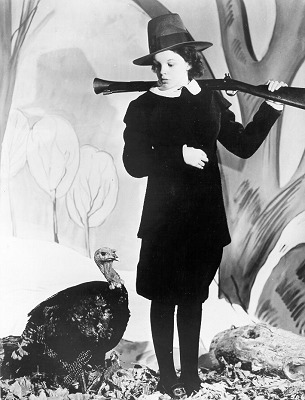 STEVE FINDS SOME INTERESTING NEWS ABOUT MSM AT TRIBECA FILM FESTIVAL AND A NEW STORYHORSE THEATER PROJECT
Entry Date: October 23, 2017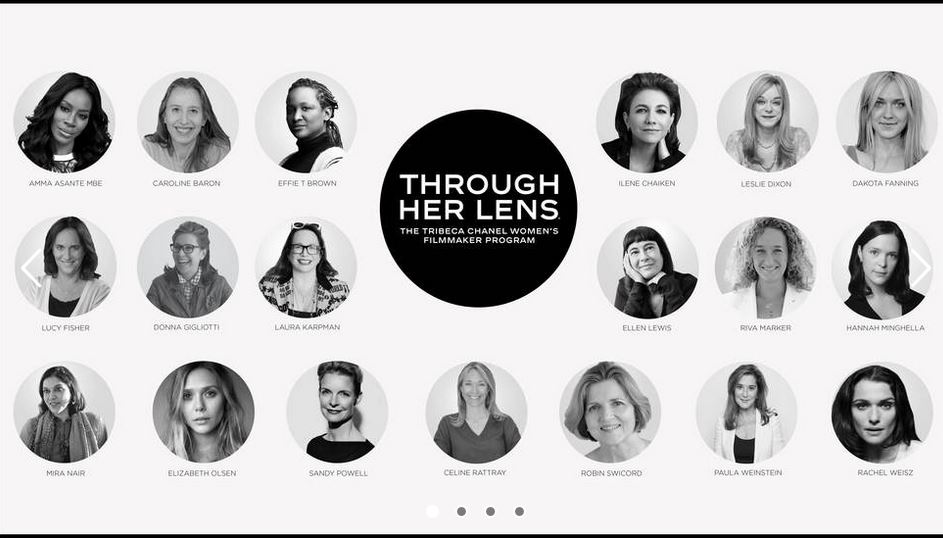 Robert DeNiro's New York-based Tribeca Film Festival launched this month, and included Ms. Masterson in a special panel discussion and luncheon about women in filmmaking called "Through Her Lens." Among the participants were Gillian Anderson from The X Files, Cynthia Nixon from Sex In the City and Let It Ride (Yes, I remember, Ms. Nixon), and Kyra Sedgwick from The Closer. At the time of the start of the film festival, the scandal concerning Harvey Weinstein, one of the founders of Miramax, broke wide open. Steve included a link to the Post Star newspaper that includes some of the comments of the women attending the discussion.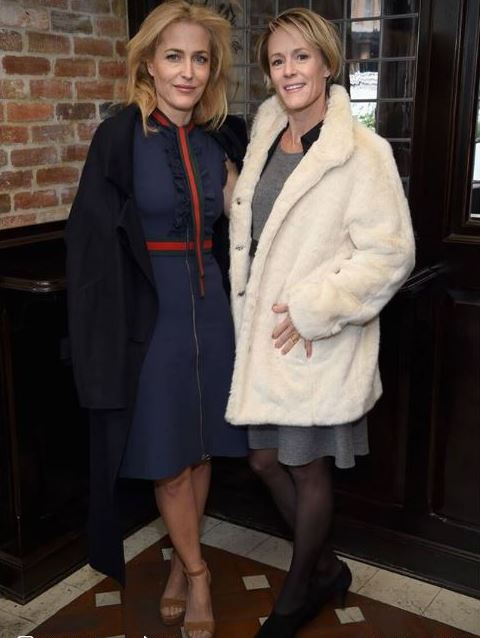 Gillian Anderson with Ms. Masterson at Tribeca.
TRIBECA FILM FESTIVAL
POST STAR NEWSPAPER

STEVE STARK REPORTS STORYHORSE DOCUMENTARY THEATER TO PROBE UNSOLVED MURDER
Entry Date: October 23, 2017
In looking at this poster concerning the research Jeremy Davidson put into the upcoming production, I wonder if Mr. Teal's profession had anything to do with his demise.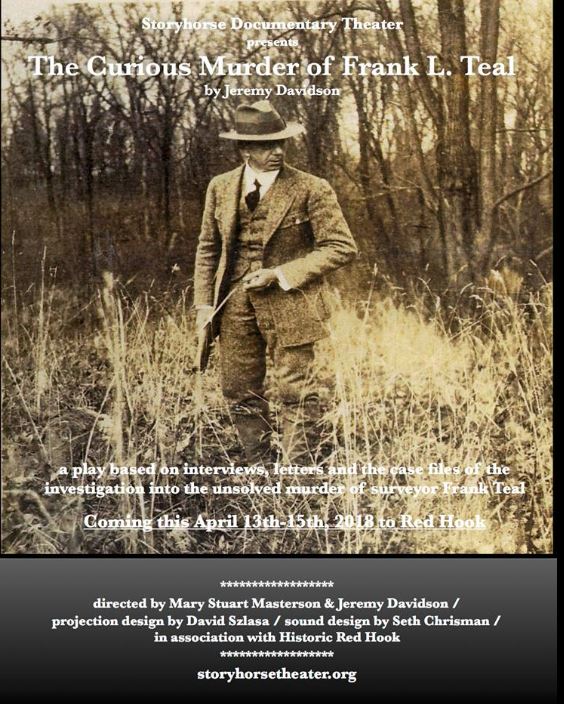 CLAUDIA KEHL SENDS SOME LINKS TO BLINDSPOT PHOTOS
Entry Date: October 19, 2017
Claudia sent me some links to Blindspot's photo display of different stills made in production and for publicity. Take a look by hitting the link below and get ready for a full Blindspot season with MSM in charge.
THIRD SEASON

STEVE STARK REPORTS THE DATE OF THE THIRD SEASON PREMIER OF BLINDSPOT
Entry Date: October 19, 2017
Steve shot me a quick email to let me know Blindspot starts its third season on October 27th. Ms. Masterson appears to have a few scenes in this first episode, so get ready. It might help to stream some of the episodes from the first two seasons if you haven't been following the series. It's an interesting one.

CLAUDIA FINDS A VIDEO ABOUT THE HUDSON VALLEY FILM CONFERENCE
Entry Date: October 11, 2017
Claudia sent me a link to the Hudson Valley branch of the cable television company Spectrum, which had a video from one of their news broadcasts about Ms. Masterson's conference about making films in the Hudson Valley. Check out the link below.
FILM CONFERENCE

CLAUDIA KEHL REPORTS: MSM ATTENDS HUDSON VALLEY FILM CONFERENCE
Entry Date: October 9, 2017
As the film making entrepreneur who chose the location for the Stockade Works film studios and production facilities in Kingston, New York, Ms. Masterson was logically chosen as one of the members of the Hudson Valley Film Conference as reported by our intrepid Claudia, reporting from Switzerland. See the links Claudia sent to me last Friday below. You can buy some of the photos on the photogallery at the Record newspaper, but they cannot be reproduced. The photos are very reasonably priced, so why not pick out your favorite ones and send an order to the Record? Claudia and Steve Stark know these small town Hudson Valley newspapers pretty well. They really convey the feel of that area in New York State. I can see why Ms. Masterson and her family like the Hudson Valley so much just by visiting the newspaper sites. There was a pumpkin harvesting pop-up that had a nice hometown feel to it. Why not send them a few bucks and get a nice photo for your office, cubicle, or wherever? I sent for two of them.
RECORD ON-LINE ARTICLE
PHOTOS
MID HUDSON NEWS ARTICLE

HAPPY HALLOWEEN
Entry Date: October 8, 2017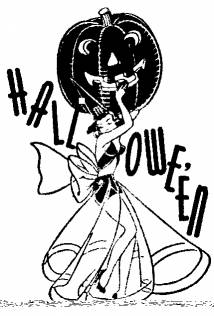 STEVE STARK REPORTS ABOUT MSM'S LATEST SUCCESS WITH STOCKADE WORKS
Entry Date: September 27, 2017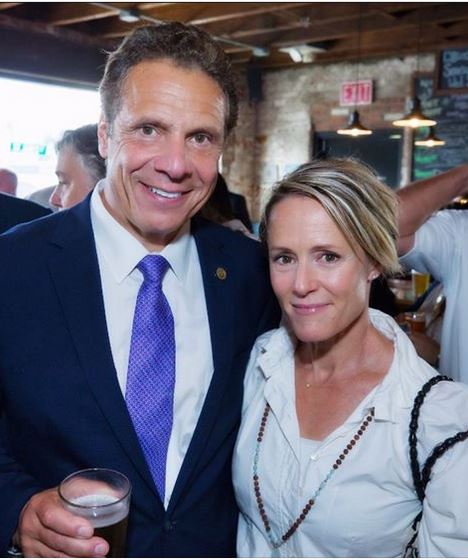 New York Governor Cuomo enjoys a cold one with one of his constituents.
Steve found a post in the Facebook page for MSM's Stockade Works which announced that Stockade Works received another ten million dollars in investments and funding. To access the Stockade Works Facebook page click the link to it below.
STOCKADE WORKS

THE MUSICAL STAGE VERSION OF BENNY & JOON IS READY FOR THE STAGE
Entry Date: September 27, 2017
Yes, there is now a stage version of Benny & Joon, and it is ready for the stage, according to the article in Broadway World, which mentions the original film stars, Mary Stuart Masterson and Johnny Depp. Take a look by clicking the link provided.
BENNY & JOON

CLAUDIA KEHL SENDS NEWS ABOUT AN EVENT ATTENDED BY MS. MASTERSON AND HUSBAND JEREMY DAVIDSON DURING THIS SUMMER
Entry Date: September 11, 2017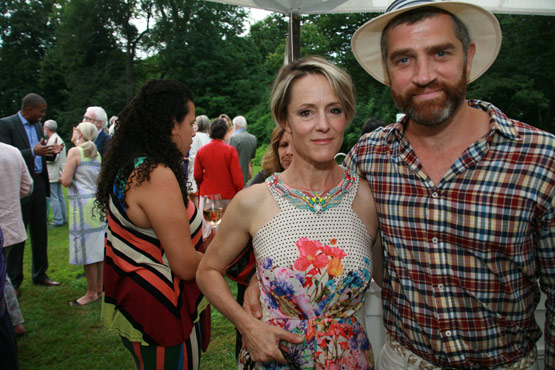 Ms. Masterson and Jeremy Davidson at the Bard Summer Scape in July.
To access the story on the New York Social Diary, click the link at the end of this post after reading Claudia's email reproduced below.
Hi Guy,
Just found this about an event Mary Stuart and Jeremy attended in the summer.
http://www.newyorksocialdiary.com/party-pictures/2017/students-and-mentors
Picture: http://www.newyorksocialdiary.com/i/partypictures/08_03_17/bard/Bard-2017-SummerScape-IMG_4925.jpg
The 2017 SummerScape Gala was held on Saturday, July 22, 2017 at Montgomery Place in Annandale-on- Hudson, NY. The Gala was a summer celebration and benefit for the Richard B. Fisher Center for the Performing Arts at Bard College, celebrating the vibrant Hudson Valley community, supporting world-class culture and performing arts, and superb local food.
Claudia
CLAUDIA'S LINK

MARY STUART MASTERSON: FARMER
A GREAT FIND BY BOTH STEVE STARK AND CLAUDIA KEHL
Entry Date: August 21, 2017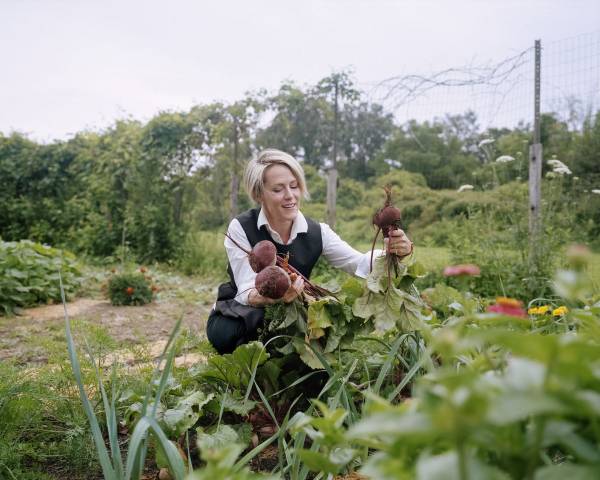 Ms. Masterson with some oversized beets.
A local Hudson Valley (New York) newspaper did a special feature on Mary Stuart Masterson's life on the farm she shares with husband Jeremy Davidson and their four children. This was a truly terrific find, and both Claudia and Steve got it to me over the weekend. There are 12 photos that come with this article, so be sure to click on the links and spend some time looking at them. I'm especially impressed with the size of the beets that Ms. Masterson is harvesting in the above picture. They would be in the running for a blue ribbon at the Venango County Fair this year. I wouldn't want to be clubbed on the head with one of those babies, that's for sure.
And since they have fans here, too, Claudia and Steve are doing just fine, according the the emails they sent me over the weekend. It's great to hear from both of them.
NEW YORK TIMES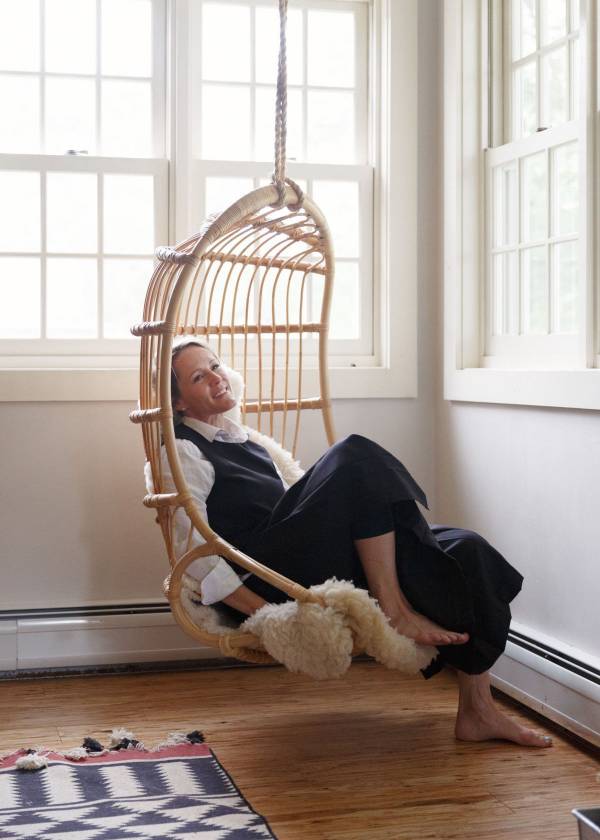 MSM seems to be reflecting on her eventful life.

A BONUS CELEBRATION PRESENT FOR MS. MASTERSON
Entry Date: August 11, 2017
With all the news of Ms. Masterson's active professional life recently reported by Claudia Kehl, I decided to add a little something extra to June's birthday celebration, an embed of the Fat Boy Slim video starring Christopher Walken, Weapon of Choice. This is my favorite music video of all time since it centers on the life of a person who has to travel frequently and live in hotels, a lifestyle that became all too familiar for me for over 27 years. Here we go:

CLAUDIA KEHL SENDS SOME GOOD NEWS FROM SWITZERLAND
Entry Date: August 8, 2017
Claudia, our overseas correspondent from Switzerland has sent a basket full of news about Mary Stuart Masterson's filmmaking and television projects, of which there are no less than three going on right now. I would have had this up yesterday, but I had a family reunion, something that happens frequently in American families during summer. What follows are all of the news items from Claudia, along with the links to photos and articles about the films and television appearances that MSM has on tap for the next few months.
THE REST OF US
One of Claudia' emails describes the independent film The Rest of Us that Ms. Masterson is producing, and will take advantage of the facilities at Stockade Works, Ms. Masterson's film making complex in the Hudson Valley of New York State. Claudia sent along this excerpt from the article along with the link that appears below.
The Vampire Diaries actor Raffi Barsoumian has been cast in the indie film The Rest Of Us from writer/director Linda Moss. Set in Spring 2002, post 9/11, the pic follows a motley crew of math and science students as they re-evaluate who they are in the wake of changing cultural and psychological landscapes. The University is pushed to the brink as the country's emerging rage against Muslims and a campus-wide suicide crisis forces everyone to reconsider where they stand. Barsoumian will play a new faculty member at the school, a closeted Muslim, who torn between his desire to protect his students and concerns for his own safety. Mary Stuart Masterson, who starred in the 1991 film Fried Green Tomatoes, is producing The Rest Of Us. The pic marks Barsoumian's first feature role.
The theme of the film sounds like an interesting one, and it hasn't been that many years since 911 that people have completely forgotten the effects of the terrorist attack on their personal lives and how they see the world.
Claudia also sent along a link to the photo of the film in production on her Facebook page, so we know now that the film is already underway.
BLINDSPOT--MSM TO RETURN
Claudia is excited about the return of Ms. Masterson to the cast of Blindspot as Acting FBI Director Eleanor Hirst. This should be a good run for MSM on the NBC scripted drama. One of the regular stars of the show, Audrey Esparza, posted the news on her INSTAGRAM account.
AN ELEGY FOR ANNE FRANK--A STAGE NARRATION BY MARY STUART MASTERSON
Mary Stuart Masterson has been chosen as the narrator for the Hudson Valley Philharmonic to narrate their Elegy for Anne Frank. The orchestra posted about this on their Facebook page.
Claudia wrote this in her email about how she is looking forward to watching Ms. Masterson on the stage again, as she did when MSM was a star in the Broadway musical, Nine.
I hope Mary Stuart would do something like that or a staged reading again in New York or so. I would definitely do a trip to NYC. I would love to see her again on stage in the future. But as we know, she's now busy with her STOCKADE WORKS in her region and with 4 children it's not so easy to be in NYC for a longer time. There is still hope, she will be doing theatre, no matter if Broadway or Off-Broadway in the future. Even a staged reading would be cool!
Greetings from Switzerland
Claudia
How cool is that!
VERY COOL, CLAUDIA!!

STEVE FINDS SOME MORE GOOD STUFF FOR HIS MSM FACEBOOK GROUP
Entry Date: July 9, 2017
Steve Stark keeps the members of his MSM Facebook Group happy by posting the most up-to-date news about the actress that can be found almost anywhere. First, Steve discovered, through the Poughkeepsie Journal Web site that Ms. Masterson will be part of one of the Hudson Valley (New York) Philharmonic's 2017-2018 presentations. Ms. Masterson will be narrating Elegy for Anne Frank on April 21, 2018. Check the link below for Poughkeepsie Journal for the details, and do not forget, if you are really interested about what Mary Stuart Masterson is up to, be sure to join Facebook and Steve's MSM group. Joining Facebook is Free, and for people from all over the world.
Second, there is an old trailer for an episode of Kate Brasher, the 2001 CBS television drama that starred Ms. Masterson. That video is embedded below, but, again, be sure to get a FREE account on Facebook and sign up for Steve Stark's Mary Stuart Masterson Group. Steve's already got people from every continent on the group, along with some long-time MSM observers, such as J.J. Young of Some Kind of Webpage, which, if I recall correctly, is the longest running Mary Stuart Masteron site on the Internet. So, be sure to show Steve your appreciation for all the news he's sent over the years by subscribing to his Facebook group!
POUGHKEEPSIE JOURNAL
STEVE'S FACEBOOK GROUP

HAPPY INDEPENDENCE DAY!
Entry Date: July 2, 2017

MSM'S 2017 BIRTHDAY CELEBRATION--MUSIC FROM THE SOUNDTRACK OF STREETS OF FIRE (1984)
Entry Date: June 19, 2017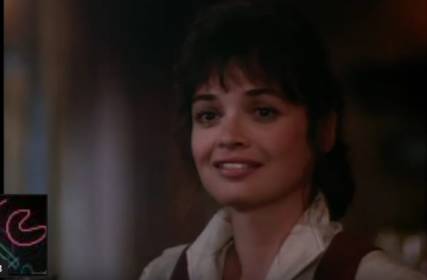 Deborah Van Valkenburgh in Streets of Fire (1984)
June is the birthday month of Mary Stuart Masterson, and each June the Tavern supplies a link to a Web page that provides some kind of article, video, or music instead of some kind of bland announcement of the advent of her birthday. It sometimes takes a little longer to come up with something different, but the music in this year's "birthday gift" is worth the effort.
NEVER BE YOU
I CAN DREAM ABOUT YOU
COUNTDOWN TO LOVE
SORCERER
TONIGHT IS WHAT IT MEANS TO BE YOUNG

HAPPY BIRTHDAY TO MS. MASTERSON!
Entry Date: June 19, 2017
The post immediately above this one includes the links that are this year's birthday tribute to Ms. Masterson.

STEVE'S FACEBOOK GROUP STILL LEADS THE WAY
Entry Date: June 15, 2017
Steve found this trailer for the fine independent ensemble film The Florentine (1998). This indy was shot in the Bethlehem, Pennsylvania area, and was featured in an early Web site to which this site was once linked. That site emphasized the location, and how the performers fared while shooting the film in the Lehigh Valley area. I'm embedding Steve's trailer, but be sure to head over to Facebook for Steve Stark's Mary Stuart Masterson Group. There are some interesting people posting there, too, and Steve is posting his right-to-the-minute news about MSM's activities.

STEVE STARK UPLOADS SOME GOOD FINDS ABOUT THE LITTLE THINGS ON HIS MARY STUART MASTERSON FAN GROUP ON FACEBOOK
Entry Date: May 30, 2017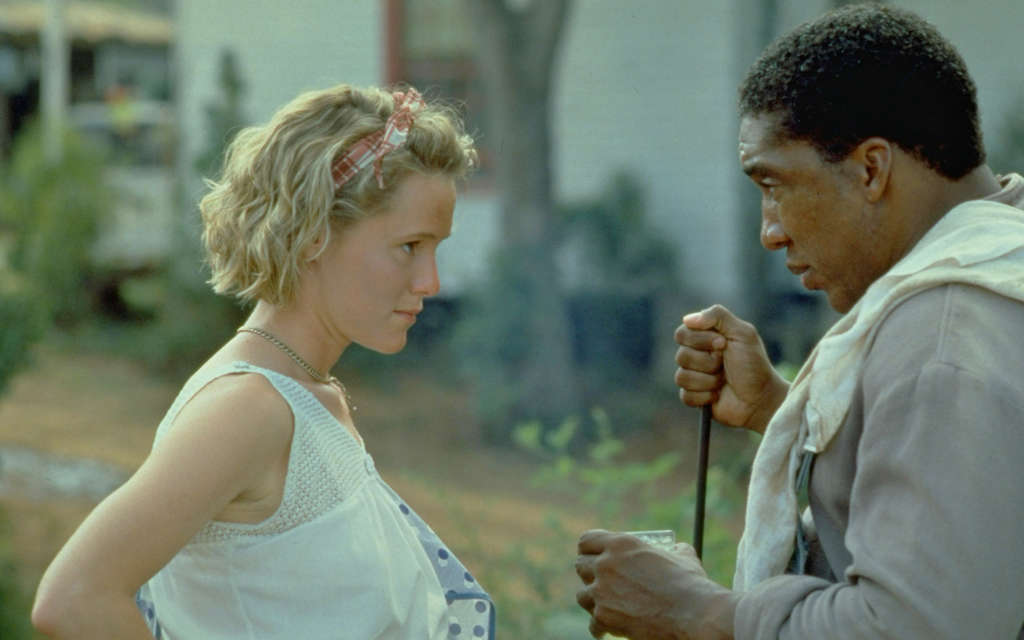 Ms. Masterson in Fried Green Tomatoes, 1991.
We are back updating, but having to use two laptops to get it done as this one, a ten-year-old Toshiba Satellite A-105 is not ready to go out on the Internet. What I have to do is move changed pages to a flash drive, move the changed pages to my remaining Internet capable machine, and then upload the new pages and any new images. It takes a bit more time to get this done. I am inputting this at 9:25 AM, but will not upload until this afternoon after putting up the other laptop for uploading. It's a lot of fun.
Speaking of new images, Steve has quite a few of both MSM and Jeremy "Cool Dad" Davidson bringing their stage production, The Little Things, to Glen Falls, New York. This is a very timely production as their is a large increase in the tick population, and many I've talked with in Western Pennsylvania, have had problems with ticks just cutting the grass. These links should prove informative about Lyme Disease, and how patients cope with the afflication, as well as being updates about the professional activities of Ms. Masterson. There are also some nice photos for the visitors to enjoy.
WAMC RADIO STORY
CBS CHANNEL 6 IN ALBANY
POSTSTAR STORY
This last link is directly to Steve's FACEBOOK GROUP, where other MSM fans and experts gather to post and comment about the latest news about Ms. Masterson's professional works. Steve's Facebook group enables the visitor to get interactive with the other fans, so go and enjoy yourselves!
STEVE'S FACEBOOK PLACE FOR MSM NEWS AND VIEWS

CLAUDIA KEHL SENDS SOME NEWS AND VIEWS ABOUT BLINDSPOT
Entry Date: May 25, 2017
Claudia emailed some links to a photograph of MSM working on the NBC crime drama Blindspot, in which she portrays an FBI Special Agent in Charge (SAC), or other upper management professional providing leadeship to the team. We should hope Trump does not fire her, so she might be back for next season. MSM's possible return was also brought up, and there is a link to that subject as well.
Steve Stark is also busy over at his MSM facebook group, highlighting another performance of Mary Stuart's and husband Jeremy Davidson's stage production about Lyme Disease, The Little Things. There are some nice pictures from this event, and they will be posted later this evening as the work of bringing the site back into production from this temporary computer goes on while the rest of life's responsibilities demand attention. We are behind, but we will catch up over the next 2-to-3 days.
PHOTOGRAPH
SEASON FINALE SPOILERS
BLINDSPOT'S MARTIN GERO MENTIONS MSM

DISASTER STRIKES 32-BIT DELL NOTEBOOK USED TO UPDATE TAVERN
Entry Date: May 25, 2017
As I have already alerted Steve Stark and Claudia Kehl a few days ago, the notebook computer I have been using for the past year has a deteriorating hard drive. Fortunately, we lost no documents or applications. However, the keyboard stopped functioning. At first, it looked like a motherboard problem, but we got lucky. A new harddrive is on order and will be installed in the next one-to-two weeks. In the meantime, I attempted to use the crippled Dell D-380 laptop we used from about March 2013 until March 2016 when the screen stopped functioning in anything but Safe Mode. I tried using that one first, but Windows tried to update and sometime during the update all applications disappeared. I think some sectors on the hard drive were either worn out, or the unit got a bit too hot, and all of the application sectors were ruined to the point that the Desktop does not come up, but you can log on to, well, nothing. Undaunted, and determined to get this going for the next week, or two, I went back to the Toshiba Satellite A100, typically used for storage now. I uninstalled and reinstalled my homepage generator, and moved the back-up of the site, with all the latest pages intact. This is the laptop that brought the site back in 2009. Purchased in 2007, and replaced in 2013 with the Dell D-380. It is working fine except it has a problem with a slow logon and shut down. I can live with that until the Dell Notebook is back up and running again. As you can see above, we started updating again, and there will be more over the next two days as we have a TV Schedule to update and Steve and Claudia are always finding something new out there about your favorite actress and some of her favorite portrayals.
The A100 always had a nice screen. Clear as crystal and great for watching DVDs.

CLAUDIA KEHL SENDS A LINK TO THE ENTERTAINMENT WEEKLY ARTICLE ABOUT THE SEASON FINALE OF BLINDSPOT--IMPORTANT NEWS FOR OVERSEAS VISITORS
Entry Date: May 13, 2017
Claudia sent along the Entertainment Weekly link to an article about the season finale of NBC's Blindspot, which is to telecast on Wednesday, May 17th at 8:00 PM. In addition to sending along the link, Claudia sent another email about obtaining a United States proxy server for those overseas visitors who wish to view Ms. Masterson's appearance on Blindspot next week. Claudia always has to use a US proxy for some of her streaming, but it shouldn't deter anyone from outside the Unites States from streaming any of Ms. Masterson's work on television. There is a link below for a quick and painless way to obtain a temporary US proxy server for your streaming needs. So, knock yourselves out over there in the UK, China, Australia, and other points over the globe.
BLINDSPOT ARTICLE
QUICK PROXY FIX

STEVE STARK FINDS MSM'S NEXT AUDIO BOOK
Entry Date: May 13, 2017
Steve found an interesting find about Ms. Masterson's latest audio book, which has not yet been released, but is taking advanced orders for the print and Kindle versions. The novel is titled House Among the Trees and the author is Julia Glass, who also wrote I See You Everywhere, another novel that used Ms. Masterson's narration for the audio book. A link for the audio book is below. The library highlighting the book intends to keep only one copy for the public. There are already four holds on the volume. That is a good sign. Fried Green Tomatoes is also available at the library, but all copies are out!
HOUSE AMONG THE TREES

STEVE STARK REPORTS ABOUT A NEW SHOWING OF MSM AND JEREMY DAVIDSON PRESENTING THEIR SAGE DOCUMENTARY ABOUT LYME DISEASE
PRESENTATION TIMELY AS THERE ARE REPORTS OF INCREASED TICK POPULATIONS IN NORTHEAST
Entry Date: May 10, 2017
Steve reported on his Facebook group for MSM fans that the presentation The Little Things, dealing with challenges individuals have faced after contracting Lyme Disease, which is contracted by the bites of deer ticks. In our area of Western Pennsylvania, people are reporting numerous encounters with the tiny insects that burrow into flesh to feed on the blood of their hosts. The mild winter has increased tick populations, and many of my friends are avoiding the woods, and any areas of high grass and brush tangles where ticks proliferate. Steve's details about the presentation are below, and there is a link for those who might be in the area to obtain tickets. This is a timely and important subject.
LYME ACTION NETWORK SHOW: Lyme Action Network presents, "the little things", an acclaimed multi-media theatrical reading, produced by Storyhorse Documentary Theater, written by Jeremy Davidson and directed by Mary Stuart Masterson, for a single performance at the Wood Theater in Glens Falls on May 22. The performance begins at 7:30 p.m. A "talk-back" with Masterson, Davidson, and Lyme disease experts will follow the performance. Tickets are $15. A pre-performance reception featuring Déjà Vu Jazz, appetizers by Gourmet Café, and wine and beer by Mean Max Brew Works will begin at 6 p.m. Tickets for the reception are $25. Reception and performance tickets may be purchased in person or by phone from the Wood Theater Box Office at 480-4878; or online at www.woodtheater.org/box-office/.
LITTLE THINGS

THE FINAL WORD ABOUT THE BLINDSPOT SEASON 2 FINALE
Entry Date: May 10, 2017
The title to the Blindspot Season 2 finale, titled Lepers Repel, co-starring Mary Stuart Masterson, will be telecast one week from today, May 17, 2017. TV GUIDE's Web site confirms this date and the title to the episode. Again, Blindspot streams on NBC's Web site, so our overseas visitors, and those in the USA who miss it for any reason, can stream the latest episodes on NBC's site. If unfamiliar with Blindspot, it might be a good idea to stream a few episodes to get familiar with what is happening.
BLINDSPOT

STEVE REPORTS ABOUT JEREMY DAVIDSON'S APPEARANCE ON MADAM SECRETARY
Entry Date: May 10, 2017
Steve Stark sent me an email on about Jeremy Davidson appearing on CBS' Madam Secretary back on April 30th, which I missed as I collected email once that day in the morning and not again. Since Mr. Davidson appearted that night, I missed the opportunity. Silly me! That episode is still streaming on CBS ACCESS. The link for it is below. So, go watch this year's Cool Dad on Madam Secretary on-line, and at your convenience. Many of our overseas visitors have to use the Internet to stream appearances by MSM on NCIS, for one example. The CBS presentation The Good Wife is also available for streaming on CBS. In some cases, the viewer can watch up to 14 episodes of different shows for free. If you want to view more, you need to pay a subscription.
I will have to check mail each evening as well as each morning!
CBS STREAMING

HAPPY MOTHERS' DAY TO OUR VISITORS!
Entry Date: April 23, 2017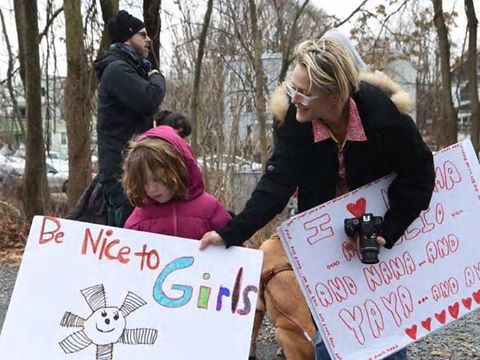 THE BLINDSPOT MYSTERY MIGHT NOW BE SOLVED---I HOPE!
Entry Date: April 23, 2017
According to the Blindspot FACEBOOK page, the Blindspot schedule for the rest of the 2016-2017 season begins on April 26th, this coming Wednesday, April 26th. There are four remaining episodes, according to the FACEBOOK post explaining the schedule up to the season finale. Apparently, Blindspot will be back next season, so the MSM episode will be the season finale, and not the last episode ever of the show. An early estimate would be the MSM episode should be telecast on May 17, 2017.

A BRIEF HISTORY OF HOW NCIS' ROOTS TRACE ALL THE WAY BACK TO THE DAWN OF TELEVISION
Entry Date: April 23, 2017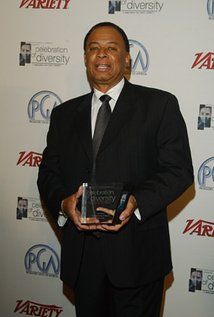 Mr. Charles Floyd Johnson
Entertainment television began about two years before I was born, 1950. An example of this was the classic show Our Miss Brooks, starring Eve Arden. While Ms. Arden played Connie Brooks, long-suffering English teacher at Madison High on CBS television, the show was also broadcast on radio, as televisions were still rare in the early 1950s. I am using Our Miss Brooks as an example since it is now telecast on ME-TV. The long-running and extremely popular contemporary show, NCIS, which recently showed four episodes with Ms. Masterson as a prominent guest character, has its roots all the way back to television's beginnings, and the work of William T. Orr, of Warner Brothers productions, and Roy Huggins, Mr. Orr's chief creative partner from the early 1950s through the 1960s. Orr and Huggins produced such classics as 77 Sunset Strip, Maverick, Cheyenne, Hawaiian Eye, and many more from that era. Roy Huggins was the main writing force for many of Orr's early shows.
Roy Huggins went on to develop one of the greatest shows of the modern era of television, The Rockford Files, which starred James Garner. Garner's production company, Cherokee Productions, owned a piece of The Rockford Files. The Co-creator of The Rockford Files was the late Stephen Cannell (The Greatest American Hero, Hardcastle and McCormick, The A-Team, and many more). Along with Cannell came Charles Floyd Johnson, who assisted in production and writing of The Rockford Files for Stephen Cannell and James Garner. Cannell also created the show Black Sheep Squadron, which was one of the precursors to NCIS. Assisting in the creation of Black Sheep Squadron was Donald P Bellisario. Many cast members from Black Sheep Squadron wound up on shows Bellisario and Charles Floyd Johnson created in the 1980s, 1990s, and 2000s, including Magnum, PI, JAG, and NCIS. Tom Selleck's guest slots on The Rockford Files, as Private Detective Lance White, contributed to getting him his starring role on Magnum, PI, a show produced by Donald P. Bellisario and Charles Floyd Johnson, both of whom can trace their careers back to the days of William T. Orr and Roy Huggins, through Stephen Cannell.
Charles Floyd Johnson, continues as a producer of NCIS, with Donald Bellisario now retired, but still credited as Executive Producer. Mr. Bellisario is no longer involved in creative decisions and daily administration of NCIS. Some observers were concerned about the change, back in 2007, but Charles Floyd Johnson's continued steady hand kept the show on track, and maintained the "extended family" atmosphere of nearly all of the shows designed by Bellisario and Johnson.

HAPPY EASTER AND PASSOVER GREETINGS TO ALL VISITORS!
Entry Date: April 12, 2017
sc

REPORTERS CLAUDIA KEHL AND STEVE STARK DISCOVER MARY STUART MASTERSON TO GUEST ON BLIND SPOT
Entry Date: March 29, 2017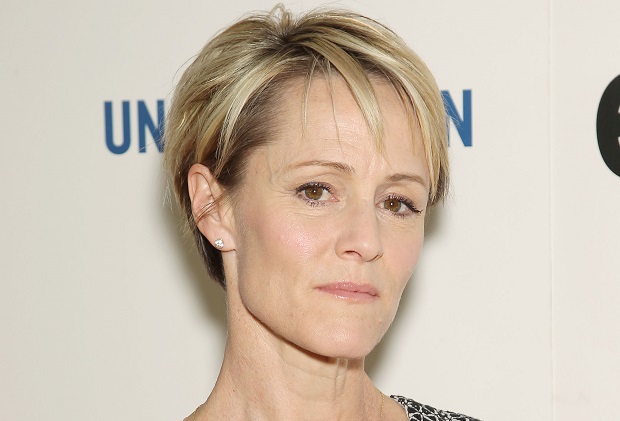 Steve and Claudia both got emails to me on the same day describing how MSM would be guest starring on this crime procedural drama in its season finale. Blind Spot, and NBC show, is in danger of being canceled after this season, but still has some chance of staying on with NBC. The management might be waiting to see if the ratings come up at the end of the season. All three of us, Steve, Claudia, and I have been looking for a telecast date, but there is nothing yet. There might be something in the Entertainment Weekly that is due in my mailbox Friday, and I'll keep checking as the days go on. Check out the links below and be sure to thank the Tavern's ace contributors. They are always on the prowl for a good MSM story.
TV LINE
ENTERTAINMENT WEEKLY WEB SITE

STEVE STARK SENDS A LINK TO A WEB PAGE: SOME KIND OF WONDERFUL: WHERE ARE THEY NOW?
Entry Date; March 22, 2017
Take a look at what has been happening with some of the stars of Some Kind of Wonderful, which is now 30 years old. It is mind boggling how all of that time has flown by, but this is one way to catch up with the past.
WONDERFUL

CLAUDIA KEHL SENDS SOME NEWS ABOUT A SPECIAL YOUTUBE ANNOUNCEMENT BY MSM AND JEREMY DAVIDSON
Entry Date: March 9, 2017
You are all going to enjoy this video that Claudia passed along to us as we really get to spend some time with Jeremy Davidson along with Ms. Masterson. In this pleasant few minutes, more of his personality comes through the video. I think his kids have a pretty cool dad.

STEVE SENDS THE LINK TO THE LITTLE KNOWN FACTS PODCAST
Entry Date: March 9, 2017
Steve Stark, the operator of the Mary Stuart Masterson Fan Group on Facebook and regular news contributor to the Tavern, sent along a link to Ilana Levine's podcast, Little Known Facts, during which Ms. Levine interviews Mary Stuart Masterson. It's a fun thirty minutes.
LITTLE KNOWN MSM

CLAUDIA KEHL AND STEVE STARK BOTH SEND A PUBLICITY STILL OF MS. MASTERSON ON THE NEXT EPISODE OF NCIS TO TELECAST ON MARCH 7TH
Entry Date: March 3, 2017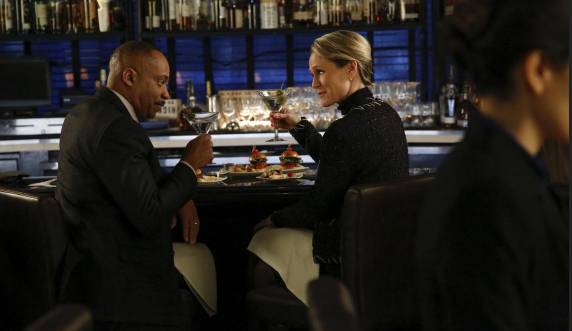 Still from the NCIS episode What Lies Above.
Claudia and Steve both sent along the above still photo of Ms. Masterson with Rocky Carroll in a scene from the upcoming episode of NCIS titled What Lies Above. It looks as if the Honorable Jenna Flemming, MC, likes sliders with her martinis. I don't know if the martinis are shaken or stirred.

STEVE STARK SENDS THE LINK TO MEMORABLE TV'S ARTICLE ABOUT THE NEXT MSM EPISODE OF NCIS SCHEDULED FOR MARCH 7, 2017, WHAT LIES ABOVE
Entry Date: Februrary 23, 2017
Visitors should also keep in mind the link to the CBS Network's NCIS page that enables the visitor to stream NCIS episodes that either are not shown in their countries, or they visitors just missed that night. Both links are available below. Also remember that the 2016-2017 season of NCIS will be coming to a close soon, so take advantage of available streaming of these episodes while you can. It is hard to believe, sometimes, that all of these years of NCIS have gone by already. I can remember stopping at my mother's home on a Saturday in 2008, when she was still in assisted living. I would stop every week to check on her place and see to things like cutting down a diseased maple tree, raking leaves, etc. It was the Saturday before Halloween and the trick-or-treaters showed up that night. I had Tootsie Roll pops to give them. I gave two to one girl so she would have a red one to match her costume. Funny the things you remember, but I was watching NCIS that evening on USA Network.
MEMORABLE TV
NCIS

/
CLAUDIA KEHL SENDS SOME LINKS TO PHOTOGRAPHS OF MSM AND HUSBAND JEREMY DAVIDSON
Entry Date: February 23, 2017
Claudia is all excited about the the next appearance of Ms. Masterson on NCIS., and sent along these photographs taken by a Hudson Valley, New York photographer of MSM and Jeremy Davidson at different spots on their New York property. There is a third photo for which I cannot make the link work properly, so the master link to the photographer's, Karen Pearson's, Instagram site is below. Just keep loading more photos onto the page and you will find all of the photos from Northwind Farms.
PHOTOGRAPH 1
PHOTOGRAPH 2
PHOTOGRAPHER'S INSTAGRAM
THE BIG HAUL

STEVE STARK FINDS THE HARPER'S BAZAAR YOUTUBE COPY OF THE AS YOU ARE OFFICIAL TRAILER
Entry Date: February 14, 2017

CLAUDIA KEHL SENDS A NEW PHOTOGRAPH OF MSM FROM SWITZERLAND
Entry Date: February 14, 2017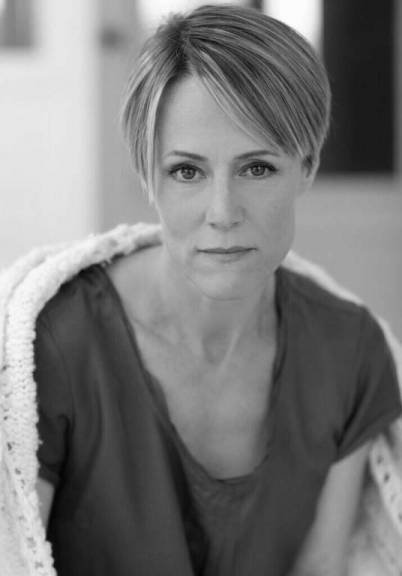 When Claudia writes from Switzerland to say she has a picture for the visitors to enjoy, the Swiss miss isn't fooling around. Hope you enjoy the nice portrait of Ms. Masterson.

STEVE STARK SENDS LINK TO NCIS TRAILER ON YOUTUBE FOR A MANY SPLENDORED THING
Entry Date: February 13, 2017
What follows below is the embedded version of the video Steve found. Enjoy!

TOPIX MARY STUART MASTERSON PAGE YIELDS PHOTOS FROM NCIS EPISODE A MANY SPLENDORED THING
Entry Date: February 13, 2017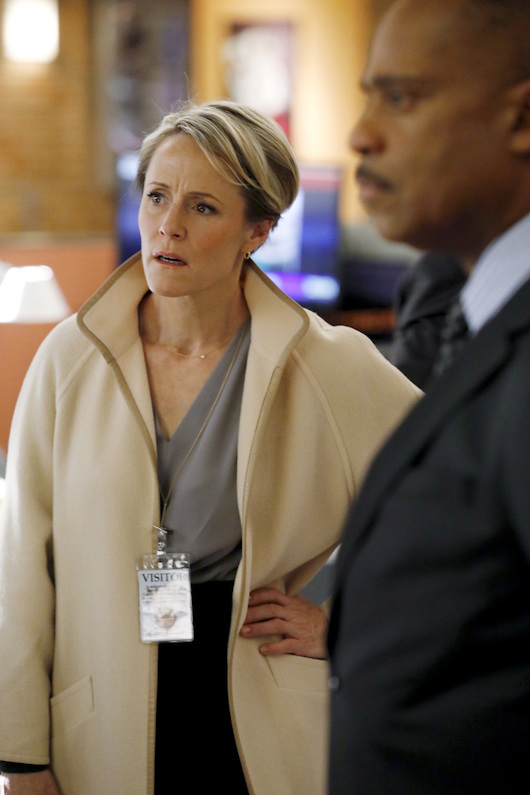 The Honorable Jenna Flemming, MC with NCIS Director Vance. Maybe they just saw Gibbs slap McGee upside the head.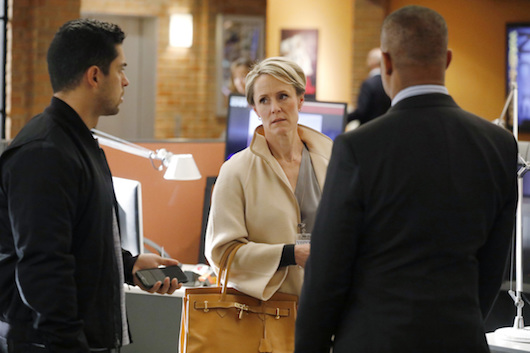 From Left, Wilmer Valderrama, Ms. Masterson, and Rocky Carroll

THE NEW JERSEY STAGE WEBSITE CAPTURES THE ARTHOUSE FILM FESTIVAL WHERE MSM SPEAKS
Entry Date: February 13, 2017
ARTHOUSE FILM FESTIVAL
http://www.newjerseystage.com/articles/getarticle.php?titlelink=arthouse-film-festival- returns-to-mountainside-and-eatontown

STEVE FINDS THE NEXT APPEARANCE OF MARY STUART MASTERSON ON NCIS
Entry Date: February 8, 2017
The next episode of NCIS, in which Ms. Masterson will portray our favorite Congresscritter, the Honorable Jenna Flemming, MC (Member of Congress), will be entitled A Many Splendored Thing and will be telecast on Tuesday, February 21, 2017 at 8:00 PM Eastern time. Again, if you miss the episode, or live overseas where it is not telecast, jump on your computer and head for CBS's Website under NCIS Episodes. You can stream each episode for FREE, up to five episodes, but you might have to register. So lay in your favorite TV snacks and drinks and get ready for this upcoming Tuesday.

STEVE STARK FINDS ANOTHER LINK ABOUT MSM'S KEYNOTE ADDRESS TO THE UPSTATE VENTURE ASSOCIATION OF NEW YORK
Entry Date: January 31, 2017
Steve located this article in the Record On-Line, by Barbara Bedell, covering Ms. Masterson's keynote speech at the UVANY, which was also covered on January 27th below. This was a very good write-up, and the photo of Ms. Masterson is another keeper, so everyone go enjoy at the link below!
MSM-ENTREPRENEUR

CABLE TV SCHEDULE COMING BACK AT END OF THIS WEEK
Entry Date: January 31, 2017
The schedule of Mary Stuart Masterson's television appearances, including cable and streaming showings of her films and television shows, has been delayed until the end of this week. The project of building the schedule required long hours staring at the computer screen, and I got blurred vision from it that lasted a few days. I was advised to get yellow lens glasses to reduce the blue light from the screens. So far it is working, and the schedule will be built starting on Friday or Saturday, and should be good for about two weeks. I use the lenses every time I use the computer now. I recommend them to anyone who puts in a lot of screen time on the job.
I would have started the schedule today, but the White Lab Coated gentleman have me scheduled for something called a CT Scan tomorrow. They've already made a wreck of my digestive tract with their antibiotics. Believe it or not, really bad indigestion and heart burn can cause your blood pressure to spike. I asked them about this, but they had no response, so I Googled it. I found some kind of doctor's forum where patients were describing how this serious indigestion correlated to a sudden,and unusual, blood pressure rise. That isn't the first time I had to use Google to diagnose myself. So, beware of really bad indigestion when you are about to get a BP reading. The numbers can be unreal, especially when you recorded both numbers being slightly lower than optimum just days before. Nothing like burning down the village to save it.

STEVE STARK FINDS MSM VIDEO OF PART OF HER KEYNOTE ADDRESS AT THE FIRST ANNUAL DEAL CELEBRATION OF THE UPSTATE VENTURE ASSOCIATION OF NEW YORK
Entry Date: January 27, 2017
Steve sent me an email yesterday about Ms. Masterson addressing this first "Deal Celebration" of the Hudson Valley New York's Upstate Venture Association of New York (UVANY). I followed the link Steve sent to the very active Hudson Valley News Network, which has an excellent Web site, a local newspaper, and a YouTube channel, which enabled me to embed the video below. There is a nice, but brief, Q&A with Ms. Masterson on the video, which put her ability to articulate on the fly to the test. She answered "the big question" like an Olympic gymnast sticking the landing.

ACTIVE CITIZEN--MARY STUART MASTERSON AND DAUGHTER JOIN THE WOMEN'S MARCH, HUDSON VALLEY, NEW YORK BRANCH
Entry Date: January 27, 2017
I was beginning to think I would never get to make this post as the entire page had to be corrected at the code level as a path error automatically rewrote all the HTML code for every image on this page. I had to call up the code and edit every line of code that instructs a server to call up an image and stick it in the correct location on the page. It took a long time. I must archive part of this page very soon. Anyway, Steve Stark emailed me that he put up a photo about what MSM was doing, and she was at the Women's March with her daughter. Check out the picture below. MSM's daughter is the small strawberry blonde on the left.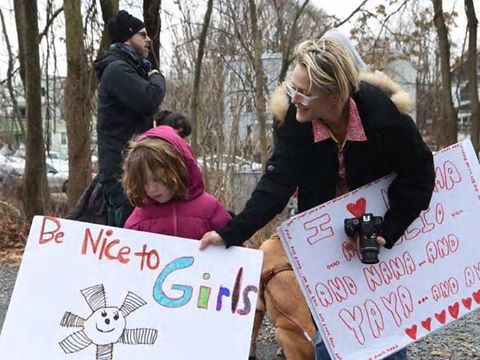 STEVE STARK STRIKES AGAIN WITH ANOTHER PIECE OF MARY STUART MASTERSON NEWS
Entry Date: January 21, 2017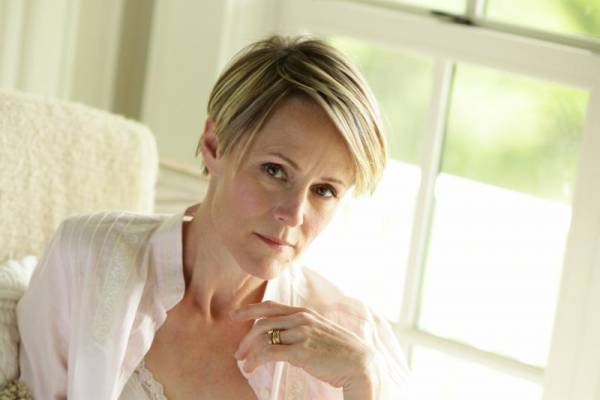 Steve emailed me a report about Mary Stuart Masterson being the Keynote Speaker at the Annual Celebration of the Upstate Venture Association of New York (UVANY) is an organization of diverse investors, entrepreneurs, and small business owners in the Hudson Valley area of Upstate New York. Ms. Masterson was chosen for this honor because of her success in launching Stockade Works, a film production facility, the first of its kind in that area of New York. MSM is also noted for Storyhorse Theater, launched by Ms. Masterson with her husband, Jeremy Davidson. Below is a link to the article.
KEYNOTE SPEAKER

STEVE FINDS MSM POST ON HER FACEBOOK PAGE ABOUT HER LATEST FILMING OF AN EPISODE OF THE POPULAR SERIES NCIS
Entry Date: January 10, 2017
MSM prepares for filming at NCIS backlot.
Steve Stark works diligently to search out the latest developments in the life and career of Mary Stuart Masterson. Things had been quiet for awhile, but when he found this on her Facebook page it became apparent that Steve hadn't lost his talent at finding MSM news. The slowdown in news was most likely the result of Ms. Masterson filming the new NCIS episode that I estimate will be telecast sometime in February or early March. In the meantime, Streve sent photos, including the one above, and the two below that show the kind of trailer Ms. Masterson uses to both prepare for filming, and to "decompress" after.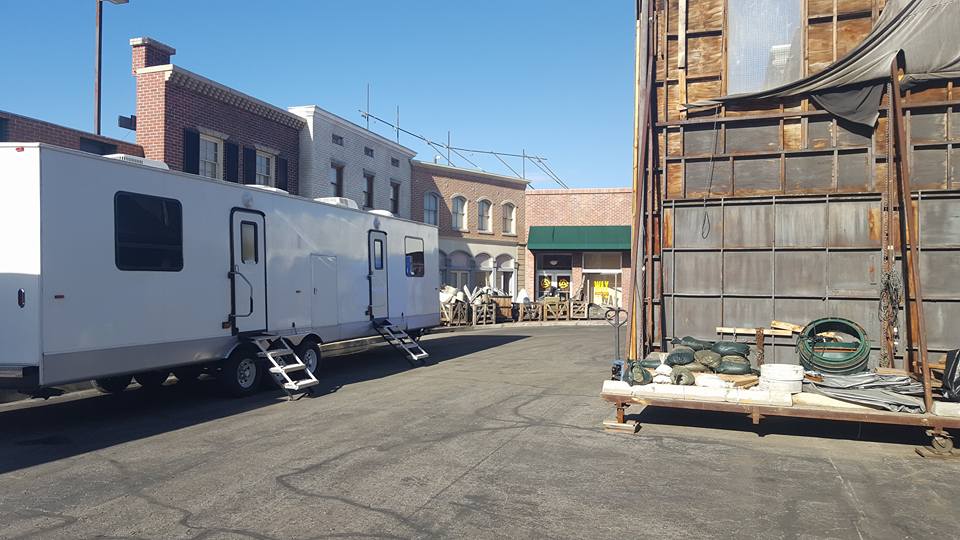 This photo of the NCIS backlot I found interesting as the building facades remind me of North Side. Oil City, Pennsylvania.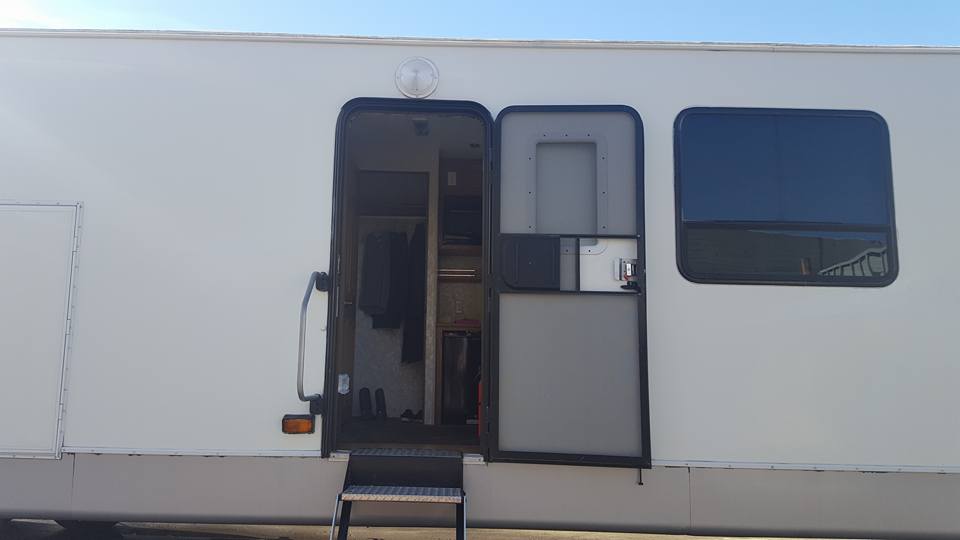 MSM leaves the door open for a quick look inside.

STEVE STARK SENDS REPORT ABOUT MSM MAKING THE PRESENTATION OF THE FIRST ANNUAL "STOCKADE WORKS AWARD"
Entry Date: January 10, 2017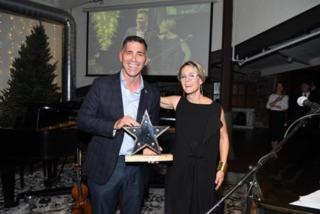 Mike Hein, the Ulster County, New York County Executive, who played a key role in Ms. Masterson's successful start-up of the Stockade Works film production facility, was presented with the first Annual Stockade Works Award for his efforts. The link below will take the visitor to the article on the Web site of the Ulster County government.
STOCKADE AWARD

HAPPY NEW YEAR TO ALL VISITORS
Entry Date: December 27, 2016


STEVE STARK SENDS NEWS ABOUT MSM'S STOCKADE WORKS PROJECT
Entry Date: December 27, 2016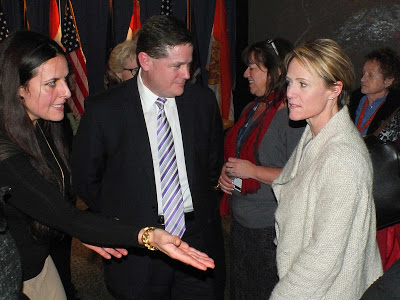 Mary Stuart Masterson's efforts to open a film and television production facility in Ulster County, New York, are still underway. Ms. Masterson did her homework to ascertain if the tax and regulatory environment needs some adjusting in order to entice different television and film companies to shoot some of their productions in the Hudson River Valley. What was discovered in the research was that the cost of using the New York area for production is not as inviting as other states, such as Georgia, which has a production facility operating. Ms. Masterson is working to tweak the environment enough to entice more film work to the region. Below is a link to a recent blog entry by Mark Reynolds with more details.
MARK REYNOLDS BLOG ENTRY

A FULL PAGE ABOUT MSM'S LAW AND ORDER: SVU CHARACTER, PSYCHIATRIST REBECCA HENDRIX
Entry Date: December 12, 2016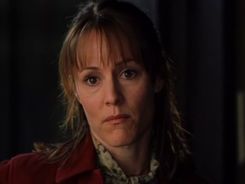 Mary Stuart Masterson as the studious and compassionate psychiatrist, Rebecca Hendrix.
There is what the Web calls a Wiki, a site full of information about the several Law and Order television series, with some individual pages of data about particular characters, and MSM's Rebecca Hendrix, our favorite TV shrink, has one for her. The link is below. Take a look and enjoy the data box with the fictional Rebecca's vital statistics.
REBECCA--OUR FAVORITE SHRINK

MERRY CHRISTMAS AND HAPPY HANUKKAH 2016!
Entry Date: December 12, 2016

HAPPY THANKSGIVING 2016!
Entry Date: November 9, 2016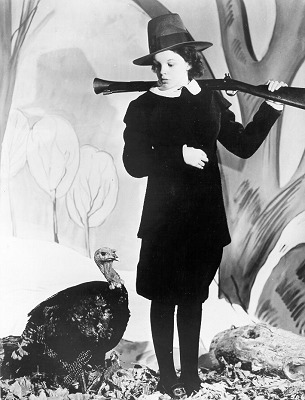 NCIS EPISODE PAY TO PLAY GUEST STARRING MARY STUART MASTERSON DATE SET
Entry Date: November 22, 2016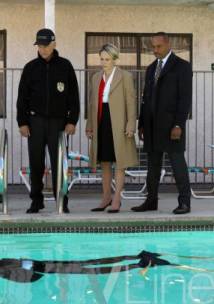 MSM with Mark Harmon and murder victin in NCIS episode Pay to Play.
We have a date for the first telecast of MSM as Congresswoman Jenna Flemming for her first of several future appearances on the top rated drama NCIS. The episode will be telecast on December 6th at 8:00 PM on your local CBS station, and it can be streamed on the CBS Website if you miss it that date, or just want to watch it again, or grab screencaps!

EXTRA BIRTHDAY LINK FOR MSM--THAT GIRL MAKE UP TEST CIRCA 1966!
Entry Date: November 1, 2016
I know there was already a link provided for MSM to enjoy back in June for her birthday, but I didn't know about this one back then. In 1966, the year Ms. Masterson was born, Marlo Thomas began filming episodes of the brand new ABC comedy series That Girl. The show was about Ann Marie, a girl from the Hudson Valley, Brewster, New York, who moves to a small apartment in New York to pursue an acting career. In 1966, single women working toward a career were virtually unknown as characters on television. The fact that the show began the year MSM was born, makes it worthy as a birthday link, or in this case, an embedded video. In the days when Mary Stuart Masterson was sleeping in her cradle, Marlo Thomas made this make-up test for future shoots of That Girl. This video brings to this page much cuteness as well as a chance for visitors to see some of the things that go on behind the scenes in the working life of an actress.

CLAUDIA KEHL FINDS A WOMEN IN FILM AND MEDIA PANEL, WITH MSM PARTICIPATING, AT THE WOODSTOCK FILM FESTIVAL
Entry Date: October 27, 2016
Claudia, our Swiss reporter, discovered a YouTube video of the above captioned discussion panel at this past fall's Woodstock Film Festival. Ms. Masterson was in attendance for the panel and the festival held at the town made famous by the music festival held there in 1969. I saw from the video that Amber Tamblyn (Sisterhood of the Traveling Pants, Joan of Arcadia, House) sat beside Ms. Masterson on the panel. A link to Ms. Tamblyn's blog was one of the Tavern's birthday links to Ms. Masterson a few years ago.

STEVE STARK PROVIDES THE DATE FOR THE PREMIER OF MS. MASTERSON ON NCIS
Entry Date: October 27, 2016
Steve sent along a link to the article about MSM's debut on NCIS as Congresswoman Jenna Flemming, whose life must be protected by NCIS while a homicide is investigated by Gibbs (Mark Harmon) and his team. I know our visitors have been wanting to get that debut date, and it is November 15, 2016. That is a Tuesday, of course, from 8:00 to 9:00 PM as all good NCIS fans know. Nice and early, with no competing NFL games, and no delayed bedtimes. All are assigned to watch, and if you live overseas, you can stream it over at CBS on-line. Mark your calendars.
NCIS RECURRING CHARACTER DEBUT

STEVE STARK REPORTS ABOUT MSM AT LUNCHEON FOR THE UPCOMING DOCUMENTARY NEWTOWN CONCERNING THE SANDY HOOK SCHOOL SHOOTING
Entry Date: October 27, 2016
The documentary Newtown, which brings the viewer back to December 14, 2012 when the school shooting at Sandy Hook, Connecticut took place, and provides a window into how the community has worked to recover from the tragedy, will premier in November. John Slattery, one of the stars of Mad Men, hosted a luncheon at Le Cirque in New York. Ms. Mary Stuart Masterson was in attendance along with other notables, including the film's producer, Maria Cuomo Cole.
NEWTOWN

STEVE STARK SENDS ALONG THE GOOD NEWS THAT MARY STUART MASTERSON HAS A NEW ROLE ON USA'S NUMBER ONE SHOW ON TELEVISION--NCIS!
Entry Date: October 22, 2016
Steve was very happy to send the email that MSM has been given a recurring role as Jenna Flemming, a United States Congresswoman who gets involved in an investigation by NCIS agent Leroy Jethro Gibbs (Mark Harmon) and his team. The article for which Steve sent along the link added a brief filmography for MSM. I think Ms. Masterson will fit right into the chemistry that always seems to bond the cast members of the shows developed by Donald P. Bellisario from Magnum PI, to JAG, to NCIS the cast members seem to compliment and bring out the best in each other, sort of like family, which is a key ingredient to their success. Check out the photos of MSM in action with the NCIS gang, and the visitors to Mary Stu's Tavern send along their congratulations to Ms. Masterson.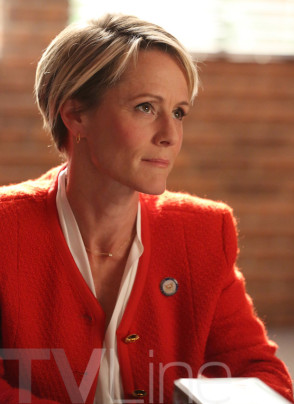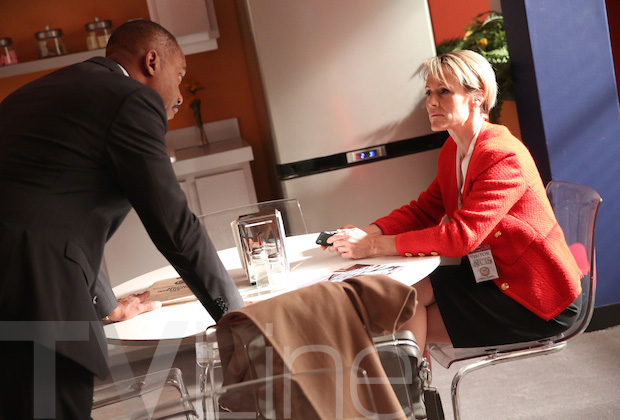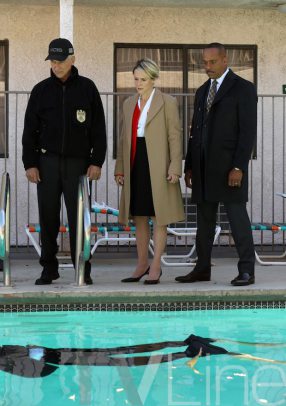 NEW CAST MEMBER

STEVE STARK FINDS THE LATEST NEWS ABOUT MSM'S STOCKADE WORKS PROJECT IN KINGSTON, NEW YORK
Entry Date: October 16, 2016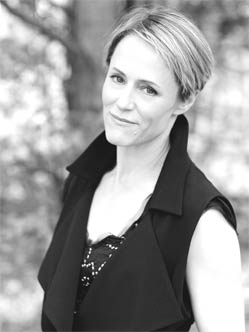 The resourceful Steve Stark located an update article about Ms. Masterson's plans for the Old Metropolitan Life Insurance Company building on Greenkill Avenue in Kingston, New York. The building is a large, multi-story red brick industrial building where Met Life formerly did business. MSM's non-profit Stockard Works, which seeks to increase economic activity and create new jobs by combining technology and filmmaking operations in the area. The Rupco organization, which is an affordable housing advocacy group has teamed up with MSM to piece together public and private financing packages to raise the estimated $12 million to go forward with the project. The old Met Life building is large enough for Rupco to set up their offices along with the filmmaking and technology activities of Stockade Works. Steve also provided the link to the article in Hudson Valley One that lays out the present status of MSM's project to bring filmmaking to the Hudson Valley while also creating more high-value jobs for the local citizens. Mary Stuart Masterson: Entrepreneur.
STOCKADE WORKS PROGRESS

HAPPY HALLOWEEN 2016 TO ALL VISITORS TO THE TAVERN!
Entry Date: October 13, 2016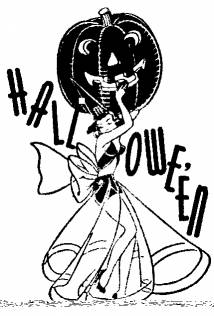 STEVE STARK FINDS MORE PHOTOS OF THE GHOST STORY PRESENTATION
Entry Date: October 13, 2016
Steve found some additional photographs from the recent Ghost Story gala that show even more how much fun everyone must have had, both in the audience and in the cast. Ghost Story must have been an enjoyable kickoff to the Halloween season, which itself is the kickoff to the Holiday Season that ends each year. Thanksgiving, and Christmas, are right around the corner following the Trick-or-Treat night for the kids, who get to enjoy holidays on a different level than the suffering "groan" ups!
GHOST STORY 1
GHOST STORY 2
GHOST STORY 3
GHOST STORY 4

CLAUDIA AND STEVE REPORT ABOUT MSM'S NEWEST PRIME TIME TELEVISION ROLE--IN NUMBER 1 SHOW NCIS!!
Entry Date: October 11, 2016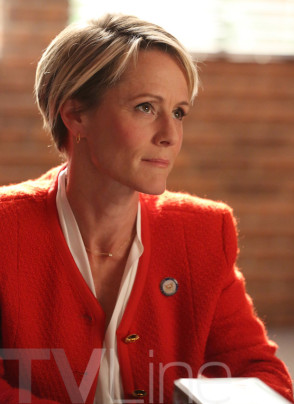 MSM on NCIS.
The Tavern's intrepid MSM watchers and news reporters discovered that Ms. Masterson will appear in an episode of the Number 1 prime time scripted drama on television, NCIS. Both Claudia and Steve found the photo showing Vilmer Valderrama and Duane Henry working on a night filming in an SUV of some kind with Ms. Masterson looking comfy in the back. I tried to find out what in what episode MSM would appear, and when, but nothing came up on the CBS Web site for NCIS. One thing I did find that might be handy is that you can stream the episodes from the Web site, so if you saw it on regular broadcast, but forgot to burn it to DVR, you can burn the episode by streaming it on the CBS Web site. In addition to this good news, Steve found that the photo of MSM at IMDB has been changed, and it looks pretty good.
CLAUDIA'S FACEBOOK FIND
STEVE FINDS NEW IMDB PHOTO FOR MSM'S PAGE
STEVE AND CLAUDIA FIND LINK TO WILMER VALDERRAMA'S TWITTER ACCOUNT

STEVE STARK REPORTS ABOUT THE LATEST STORYHORSE THEATER PRODUCTION
Entry Date: October 8, 2016
Shortly before Steve emailed the following report, he helped me to figure out why and how Lycos, the company that owns Angelfire, where Mary Stu's Tavern has been hosted since 2009, was redirecting me away from the Angelfire Log In page to a page that informs visitors to Lycos about the status of any technical problems with the Lycos network. Steve clicked on a link I sent him, and was able to access the Log In page, while I could not. This situation was exactly like that of the site owners of Tripod Web sites, another Lycos holding, experienced last summer. The Tripod site owners could not log in to update their sites, and commercial Web site owners could not contact anyone at Lycos, which had moved to India from Texas. The commercial site owners lost money due to the problem. There was only one link that worked for me, and that was to Lycos Life, a site where the company sold wearable devices. Lycos Life had a technical assistance chat capability. I was able to get the message through that Angelfire site owners could not log in to Angelfire while the general public, represented by Steve, could access the log in page. Lycos had captured site owners' IP addresses and linked them to a kind of subroutine that would redirect Angelfire site owners to a page, Lycos Status, that would inform the site owners about any technical problem with Angelfire. There had been a problem on, or after, October 3rd, when I had last updated. For some reason, probably bad logic in the code, the subroutine did not stop redirecting site owners after the technical problem was resolved. It took a few hours, but Lycos got us back into the update page, and the post below, the photo found by Claudia Kehl, was the first to go up. I couldn't have been sure of the problem without Steve trying the link, and the information helped Lycos pinpoint the problem faster. Mary Stu's Tavern is an interactive Web site. Good work, Steve!
STORYHORSE DOCUMENTARY THEATER
"The Kept Private" a Storyhorse Documentary Theater piece based on conversations about slavery and race in rural Upstate New York, historical documents, census data, and the 1835 Revolutionary War pension application of a 93 year old Black farmer from Milan named Andrew Frazier.
Current Cast: Mary Stuart Masterson, John Douglas Thompson, Tim Guinee, Russell G. Jones, Marcel Spears, Crystal Dickinson
The Barn at Brook No Evil Farm, Red Hook, Veterans Day, Nov. 11th, 12th and 13th.
Limited tickets available: storyhorsetheater.org/tickets (Pay What You Wish 11/13)
directed by Carl Cofield
written by Jeremy Davidson
projection design by Rasean Davonte Johnson
sound design Elisheba Ittoop
lighting design Alan C. Edwards

CLAUDIA KEHL, THE TAVERN'S SWISS REPORTER, FINDS A NICE PHOTO AN ARTICLE ABOUT MARY STUART AND JEREMY WORKING TOGETHER ON GOOD DIRT!
Entry Date: October 6, 2016
Claudia, the intrepid Swiss Miss and reporter of MSM's film, stage, and other projects sent along a link to a photo of MSM and husband Jeremy Davidson working together on their joint creation, Good Dirt. Claudia described it this way: Look at this wonderful picture of Mary Stuart and Jeremy. So beautiful!
I'm just glad Jeremy is back on his feet after getting shot like that in Salt. If you are going to play a Secret Service agent, sacrificing yourself for the President is a good way to go out.
PARTNERS

STEVE STARK SENDS A NEW LINK TO THE HALLOWEEN SPECIAL READING OF GHOST STORIES WITH MSM AS ONE OF THE READERS
Entry Date: October 3, 2016
I followed Steve's link to the Hudson Valley News Network, which included access to a video explaining about this special reading of "spooky stories" for Halloween, as presented by various actors, actresses, and other celebrities in filmmaking and stage productions who reside in the Hudson River Valley of New York State. After bringing up the video, which is an enjoyable report about the presentation, there was a link to the YouTube version, which enabled me to secure the Embed code so the video could appear right here for everyone to enjoy, while still giving the host YouTube network credit for the download. The link to Hudson Valley News Network is available above the embedded video.
HUDSON VALLEY NEWS NETWORK