FYI ARCHIVES PAGE 28
JANUARY 20, 2016 -- SEPTEMBER 27, 2016


CLAUDIA SENDS A LINK TO A YOUTUBE VIDEO OF THE SAN SEBASTIAN FILM FESTIVAL PRESS CONFERENCE ABOUT THE FILM AS YOU ARE
Entry Date: September 27, 2016
Claudia Kehl, our Swiss MSM newshound, located the link to a press conference about the showing of As You Are at the San Sebastian Film Festival. The participants spent some time describing their favorable impressions of Ms. Masterson's contributions to the film's critical success at the festival. I found the embed code so that the visitors could view the press conference right here. Enjoy!

CLAUDIA KEHL SENDS SOME NEW INFORMATION ABOUT THE FILM AS YOU ARE, INCLUDING A TRAILER WITH ONE OF MSM'S SCENES, AND LINK TO A FAVORABLE REVIEW
Entry Date: September 23, 2016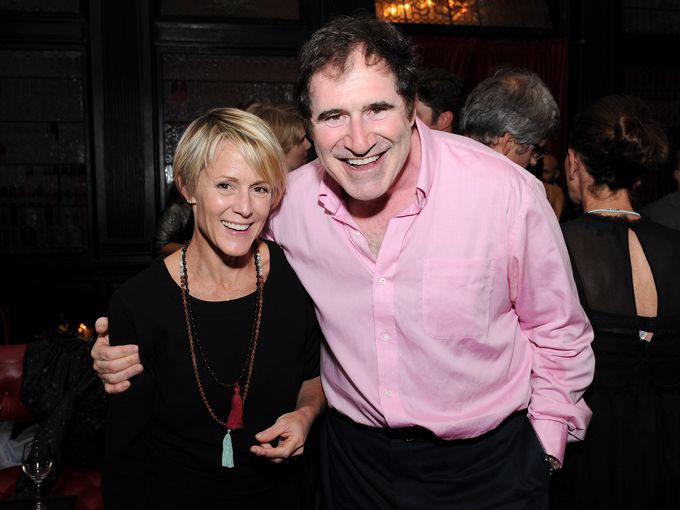 Ms. Masterson with actor Richard Kind at Celebrity Charades.
Claudia Kehl, reporting from the shadow of Switzerland's Matterhorn, sends us some links from the upcoming Indy film As You Are, which has been making the film festival circuit this year and is almost ready for release to theaters. Now, this is an independent, or art film, and the release might not result in the film being shown in your local multiplexes, but keep searching and you could find a venue near you. there will be opportunities for streaming on-line in the future, and possibly on cable television and pay-per-view. Claudia found another source of photos from Celebrity Charades, and a very favorable review of As You Are; however, the access to the review is limited to those who pay for a subscription to the British journal Screen Daily. A subscription runs about 19.95 in British pounds. I'm not sure how much that is in US dollars or Chinese Yuan, to cover two of our frequent vistors' countries. The Getty images photos of the Celebrity Charades event begin on Page 4 of the Getty Images pages of MSM photos they have on file. I don't think most fans will mind paging through all the other pages to get there as there are a lot of memories, at least, for all those who have visited, and/or helped provide news and information to this site.
AS YOU ARE TRAILER
SCREEN DAILY REVIEW OF AS YOU ARE
GETTY IMAGES FROM CELEBRITY CHARADES

STEVE STARK STAYS ON THE MSM TRAIL--COVERS MS. MASTERSON AT CELEBRITY CHARADES AND STARRY, STARRY NIGHT GALA
Entry Date: September 23, 2016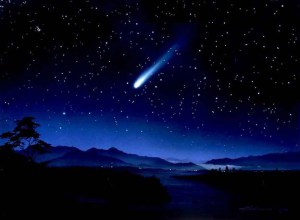 Starry, Starry Night Logo
Remember that Steve's FACEBOOK Mary Stuart Masterson Fan Group is still active. A link will be provided along with the others Steve provided at the end of this post. The FACEBOOK group puts you in touch with some real MSM experts, including Steve himself, Johnnie J. Young, and many more, so take advantage. It is all free. Steve provided a link to the USA TODAY report about MSM participating in Celebrity Charades Gala held by the Labyrinth Theater Company in New York. There are some nice photos in there of actors performing charades. Steve also found a link to the Starry, Starry Night Gala that will be held on September 30th to raise funds for the Walkway Historic Park in the Poughkeepsie, New York area. MSM will be attending that gala. For more information, there is a link to the Walkway Historic Park Web site below along with the link to the article that Steve sent to me. The number of tickets is limited and cost $175.00. Address and telephone information is found on the Walkway.org site linked below.
USA TODAY CELEBRITY CHARADES
STARRY, STARRY, NIGHT
WALKWAY.ORG
STEVE'S MSM FACEBOOK GROUP

CLAUDIA FINDS THE COVER AND ARTICLE FROM THE UPSTATER MAGAZINE PROFILE OF MSM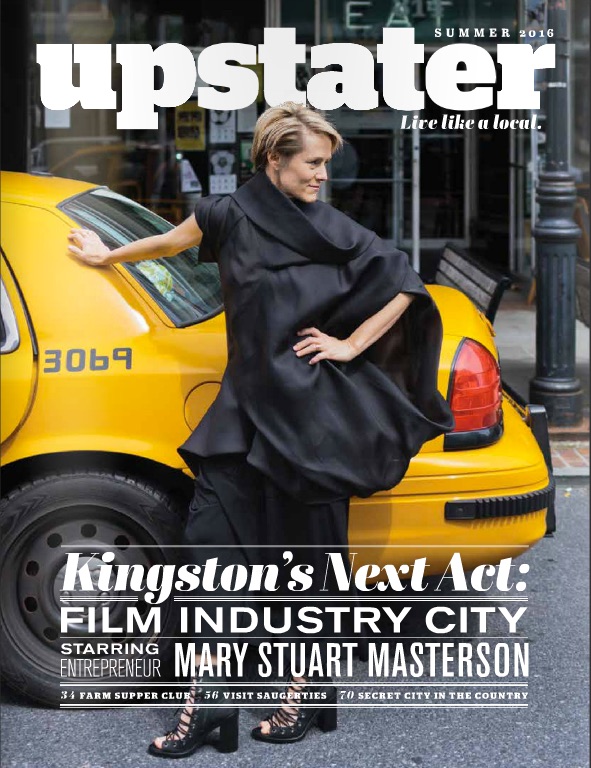 Entry Date: September 13, 2016
Claudia Kehl, the Tavern's Swiss correspondent, located the interesting cover portrait of MSM shown on The Upstater, a magazine covering personalities and events in the Hudson River Valley of New York (the State). The cover is displayed above, and below are links to the article itself, and to the Facebook page of The Upstater.
THE UPSTATER ARTICLE
UPSTATER ON FACEBOOK

CLAUDIA KEHL LOCATES SOME MORE PHOTOS OF THE STAR TREK STAGE READING
Entry Date: September 8, 2016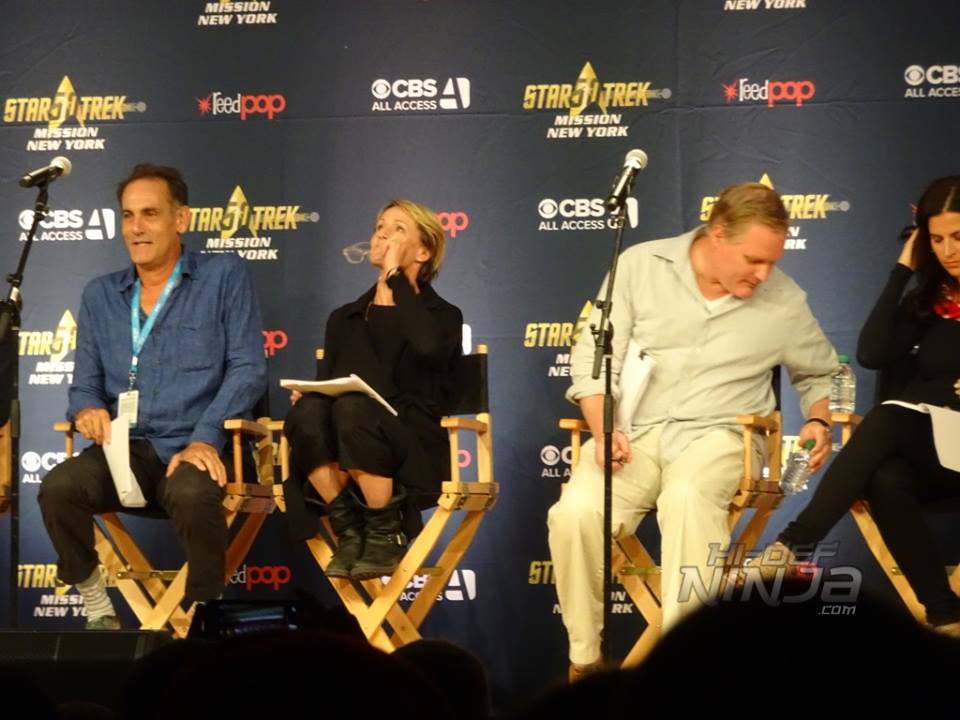 One of the photos Claudia located.
Claudia Kehl emailed me from Switzerland with some links to more photos of Mary Stuart Masterson and the rest of the cast from the Star Trek IV--The Voyage Home stage reading. The Flicker page has some nice ones and they also appear to be High Definition.
BOLDLY GO
LIVE LONG AND PROSPER

STEVE STARK REPORTS THAT MSM'S MOVIE AS YOU ARE TO BE SHOWN AT THE FESTIVAL DE SAN SEBASTIAN
Entry Date: September 8, 2016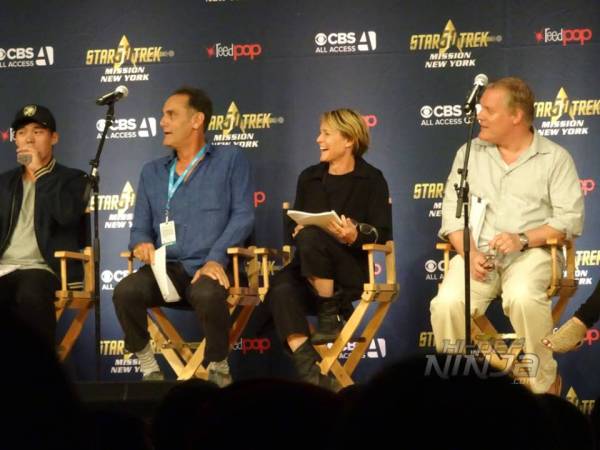 One of the photos posted by Steve on his MSM Fan Facebook Group.
And, again, don't forget to sign up to become of member of Steve's MSM Fan Group on Facebook. It's all about MSM, both past and present, and you get to meet a lot more people who have enjoyed her work over the years. There's Steve, of course, who manages the place, J. J. Young, whose Web site was one of the first, if not the first, dealing with Mary Stuart Masterson's career, and many more. There's a lot of expertise there in one place, and it can get interactive in a hurry. I'll post the link below again. In addition to the news about the San Sebastian Festival, Steve found some additional photos of the stage reading of Star Trek, in which MSM plays the iconic Admiral James T. Kirk in Star Trek IV--The Voyage Home. I'll put all the links below this post. Some of the photos have watermarks of the copyright holding owner, so take care.
STEVE'S MSM FACEBOOK GROUP
STEVE'S LINK TO THE SAN SEBASTIAN FESTIVAL FACEBOOK PAGE

CLAUDIA KEHL CATCHES MSM READING THE PART OF CAPTAIN JAMES T. KIRK IN A READING OF STAR TREK-THE VOYAGE HOME WITH OTHER PERFORMERS
Entry Date: September 4, 2016
The old television sci-fi drama, Star Trek, is fifty years old this year, and the fourth movie in the franchise series of movies that began in 1979, Star Trek--The Voyage Home also turned thirty years old at the same time. To honor this anniversary, a group of performers went on stage, under the direction of Mark Altman, to perform a staged reading of the script from Star Trek--The Voyage Home on a New York Stage. MSM played Captain Kirk! The Voyage Home is my favorite of the Star Trek movies, and I play the DVD during Easter weekend every year. It is a great memory from 1986, one of my favorite years. MSM is most likely the first actress to play Admiral James T. Kirk, as the story precedes Kirk's demotion at the end of the film. I hope MSM doesn't catch herself signing off a smart phone call to her husband with "Kirk out."
Claudia supplied links to the Star Trek Web site where the main article is located, the Mark Altman site, and Star Trek on Twitter. To those visitors who have wondered how Claudia is doing, she is doing fine, and so is her family. It was great hearing from her again.
CLAUDIA'S LINKS:
STAR TREK
MARK ALTMAN TWITTER
STAR TREK-THE VOYAGE HOME TWITTER

GENE WILDER, BELOVED COMIC ACTOR, MSM CO-STAR IN FUNNY ABOUT LOVE, PASSES AWAY AT 83
Entry Date: August 29, 2016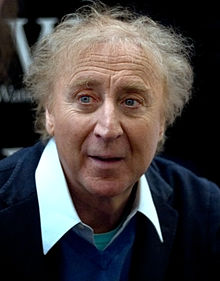 Gene Wilder, circa 2007
Gene Wilder, star of such comedies as Silver Streak, Young Frankenstein, Willie Wonka and the Chocolate Factory, and Funny About Love died today at 83 years old. Mr. Wilder was predeceased by his wife, Gilda Radner, who died from cancer in 1989. Mr. Wilder dedicated a lot of his energy to Gilda's Club, a support group for cancer patients and their loved ones. Mr. Wilder leaves behind a legacy of outstanding films, many which were collaborations with Mel Brooks, the now classic Willy Wonka, and many of his comic scenes with Richard Pryor in comedies like Stir Crazy, a movie my late father particularly enjoyed, and his work with Gilda's Club. He'll be missed.

SOME NEW PICTURES FROM STEVE STARK ALONG WITH LINK TO STEVE'S FACEBOOK GROUP
Entry Date: August 29, 2016
Steve has an informative Facebook Group set up for MSM fans. Check out the link below, and he also sent some images he found, including Ms. Masterson doing her bit to promote everyone exercising their right to vote!
STEVE'S MSM GROUP

STEVE STARK FINDS MSM TO BE AT THE FISHER CENTER FOR THE PERFORMING ARTS ON OCTOBER 1, 2016
Entry Date: August 29, 2016
Bard College gives everyone a lot of lead time to get ready for events at the Fisher Center. Another announcement forwarded to the Tavern by Steve Stark tells of a variety show in which veteran actors will be presenting ghost stories to the audience. Ghostories boasts a cast of performers that includes Mary Stuart Masterson; Jeffrey Dean Morgan, the baseball bat wielding character from The Walking Dead; Griffin Dunne, actor and producer with Frasier, and House of Lies included in his credits; and Hilarie Burton, a regular cast member from One Tree Hill. Ghostories will be presented on October 1, 2016, one day before Good Dirt is presented at the Fisher Center's Sosnoff Theater (see post below), so a person could theoretically see both presentations. Just find a nice hotel if you can't commute from home!
For advance tickets, hit the link below, or call (845) 758-7900.
GHOSTORIES

GOOD DIRT TO BE SCREENED AT SOSNOFF THEATER, BARD COLLEGE'S FISHER CENTER FOR THE PERFOMING ARTS
Entry Date: August 24, 2016
Ms. Masterson's Good Dirt, a film about traditional farmers in the Hudson River Valley of New York, will be screened at the Sosnoff Theater on October 2, 2016 at 3:00 PM. If you are anywhere near the Hudson River Valley in early October, check it out!
GOOD DIRT

STEVE STARK FINDS A WORDPRESS MOVIE BLOG THAT INCLUDES AN OUTSTANDING LOOK AT SOME KIND OF WONDERFUL
Entry Date: August 12, 2016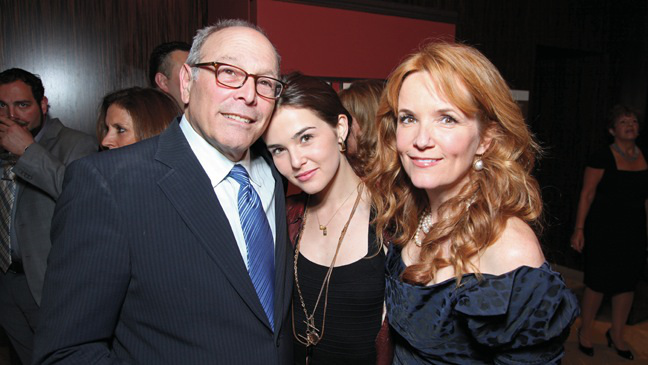 Howard Deutch, director of SKOW, with daughter Zoey and wife Lea Thompson, a co-star of MSM in SKOW.
Steve sent this to me a couple of days ago, and I spent some time looking through this Wordpress blog, which is a great place for movie fans in general to visit. The posting includes some footage from the film and an embedded trailer circa 1987. I can't believe it has been this long since the late 1980s. I really liked those years a lot. Since Lea Thompson met her husband, Howard Deutch, while filming SKOW, the blog post includes a brief history of how their relationship started, and, as the photo above shows, is still going strong with a young actress, their daugher Zoey, as part of their family. Hit the link below.
SKOW NOSTALGIA

MSM IS BACK AT BARD FISHER FOR THE BARD SUMMER SCAPE GALA
Entry Date: August 1, 2016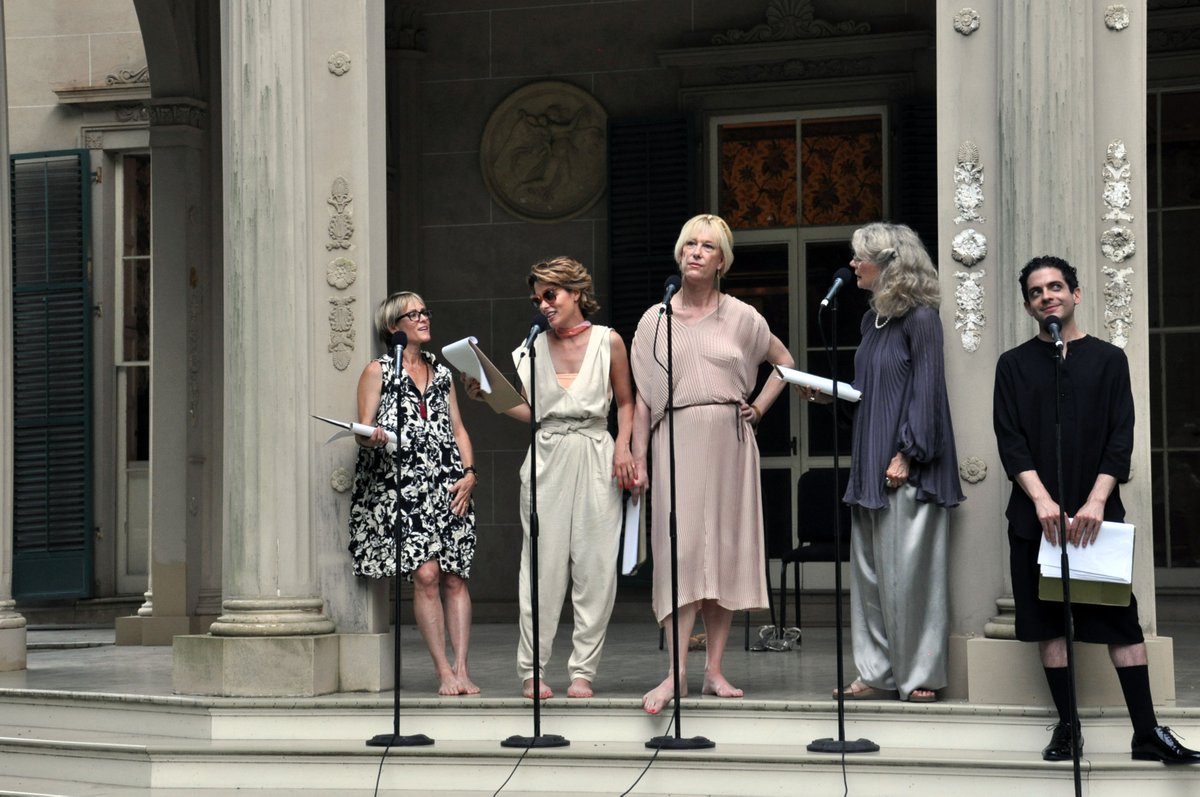 Steve Stark sent me an email not long ago, which I did not open until Sunday as I have been too distracted by something about which I can do little, which described Ms. Masterson's appearance at the Bard Fisher Center as part of Bard's Summer Scape Gala. Ms. Masterson appeared with Indie and Art House film star Parker Posey (Price Check, Faye Grimm, Party Girl); movie and television veteran actress (and Gwyneth Paltrow's mom) Blythe Danner, and versatile performer Justin V. Bond. I remember Blythe Danner's appearance on MASH in the 1970s. I crushed on her. The Bard Fisher event took place July 16th.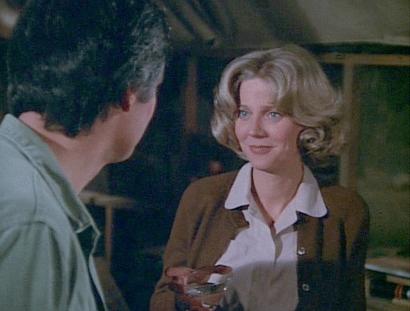 Blythe Danner in MASH, circa 1972 (approximate).

STEVE STARK FINDS MSM TO NARRATE NEW AUDIO BOOK
Entry Date: July 20, 2016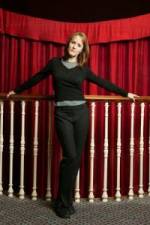 Steve emailed me yesterday, and I downloaded the photos he attached and sent him a reply, which was a lucky break for me. I lost his email with the link to the Amazon article about the new audio book Ms Masterson is narrating. I tried the "Blake Lively" technique of using the above image in Google image search, but nothing came up. Fortunately, I remembered my reply to Steve, which included his original email and the link! So here is what you need to know about the upcoming latest MSM audio book.
NARRATOR

SPECIAL PODCAST--THIRTY MINUTES OF CONVERSATION WITH MARY STUART MASTERSON
Entry Date: July 13, 2016
The TOPIX service finally came close to tying Steve Stark with getting this news into my email box, but lost out by several minutes. Prior to this, TOPIX never got MSM news to the Tavern with the speed of Claudia Kehl or Steve Stark, but you have to give them credit for coming close. Steve found that a woman named Ilana Levine has started her own podcasts in which she interviews noted people about some of the more private areas of their lives. Acknowledging that Ms. Masterson has always been very private for one known as a "celebrity," Ms. Levine does a very good job drawing out some little known facts about Ms. Masterson's career and personal life, starting right back at the beginning with her role in The Stepford Wives. It is a pleasant and quick thirty minutes.
MSM PODCAST

A SPECIAL TRIBUTE TO OUR VISITORS
Entry Date: July 13, 2016
Mary Stu's Tavern has enjoyed a special relationship with the visitors to the site. Visitors like Mari Garcia, Claudia Kehl, and Steve Stark have played active roles in the content of the Tavern almost from the beginning. We've had the best and most dedicated reporters of news about Mary Stuart Masterson's career projects of many of these sites from the late 1990s. To all of the people who signed the Guestbook, including some friends and acquaintances of MSM, and Steph, who announced "First person from Brazil," added their suggestions and compliments for the site. I'm glad you have all had a good time here for all of these 18 years. Thanks for stopping in! Here's to us.

THE VISITORS TO THE TAVERN WISH MS. MASTERSON A HAPPY BIRTHDAY JUNE
Entry Date: June 19, 2016
June is the month of Mary Stuart Masterson's birth, so the Tavern wishes her a Happy Birthday typically with a link to some entertaining venue on the Internet. This year, we are bringing it right to this page through embedding a special You Tube presentation that was made six years ago by a high school class announcing its 2010 Prom, "Arabian Nights." Unfortunately, I am becoming an expert in passing through middle age. One thing I have learned to appreciate is the youthful exuberance of younger generations. This video does a good job of conveying the energy, good humor, and camaraderie found at the mid-to-late teenage years in school. These kids are now six years older, and another aspect of these films is wondering just what they are doing now, and if they know this film is still being viewed after all of these years.

THE WEB SITE FOR THE UPSTATER IN NEW YORK DESCRIBES MS. MASTERSON'S LIFE IN THE HUDSON VALLEY
Entry Date: June 2, 2016
Steve Stark picked up this nice article by Leander Schaerlaeckens in The Upstater, and passed it along to me about along with his upcoming trip to Wisconsin as his daughter is expecting another baby in August. Steve is about to be a grandfather again!
UPSTATER

STEVE STARK FINDS A TWITTER MESSAGE ABOUT MSM'S APPEARANCE AT CONGRESSIONAL CANDIDATE'S OPEN HOUSE
Entry Date: June 2, 2016
Steve sent me this link to a tweet posted by Ms. Zephyr Teachout, Democratic Party candidate for Congress in MSM's Congressional District in the Hudson River Valley. Ms. Teachout's remarks in the tweet praised Ms. Masterson's contributions during the open house.
MSM: IDEAWOMAN

CHLOE GRACE MORETZ AND OTHER WOMEN IN FILM DISCUSS THE LEGACY OF NORA EPHRON
Entry Date: May 20, 2016
This video is embedded from the official You Tube channel of Chloe Grace Moretz, chlomovideos.

STEVE STARK SENDS SOME LINKS TO PHOTOS OF MSM AT A FILM PREMIER
Entry Date: May 16, 2016
The premier is of the film Under the Gun. Ms. Masterson attended along with Katie Couric ( I have never seen a photo of MSM with a journalist like Katie Couric), Brooke Shields, and others.
ZIMBIO PHOTOS
GETTY IMAGES

JEREMY DAVIDSON'S FACEBOOK PAGE
Entry Date: May 4, 2016
Steve Stark sent me a message on Facebook about the great photos on Jeremy Davidson's Facebook page. I'm sure a lot of visitors here would like to take a look at some of them, but you will have to visit Mr. Davidson on his Facebook page to do that. The link is below!
JEREMY DAVIDSON'S PAGE

STEVE STARK FINDS LINKS TO SOME PHOTOS OF MSM AT THE TRIBECA FILM FESTIVAL
Entry Date: April 20, 2016
The photos Steve located are from the luncheon for filmmakers at the Tribeca Film Festival. The links are below, but as the photos are the copyrighted property of such photo archives as Getty, they are for viewing only. Just follow the links and take a look. Some of MSM's other women in filmmaking are also highlighted in the pictures.
GETTY IMAGES
ZIMBIO

MARY STUART MASTERSON CHOSEN AS ONE OF THE JUDGES' PANEL FOR THE NORA EPHRON PRIZE AT ROBERT DE NIRO'S TRICBECA FILM FESTIVAL
Entry Date: April 10, 2016
Steve Stark sent me an email alerting me to the fact that MSM was chosen as one of the judges deciding the winner of the Nora Ephron Prize at the Tribeca Film Festival. This year, Tribeca got off to a controversial start when Mr. De Niro considered showing the documentary, Vaxxed, which challenges the safety of some vaccines, such as the Measles, Mumps, and Rubella (MMR) vaccine. Robert De Niro withdrew from showing the film after the mainstream media expressed indignation at the idea. The controversy will undoubtedly lead to many people wanting to view the film after all of the controversy called attention to it.
The Nora Ephron Prize was named for the prolific and talented screenwriter who produced such scripts as Silkwood, When Harry Met Sally, Sleepless in Seattle, You've Got Mail, and the film version of the classic TV comedy, Bewitched. Ms. Ephron also directed and produced several films, and was nominated for at least three Academy Awards for her screenplays. Nora Ephron passed away from pneumonia, a complication of the leukemia she had been battling for at least five years after her 2006 diagnosis. The prize goes to the female writer or filmmaker with a "distinctive voice," which makes MSM the ideal candidate to help determine the winner.

INFO ABOUT A RADIO INTERVIEW OF MSM ABOUT GOOD DIRT SENT BY STEVE STARK
Entry Date: April 3, 2016
Steve sent an email about an interview given by MSM to Leonard Lopate in New York about the opening of Good Dirt. Ms. Masterson is the director of the live and video documentary presentation about farmers in the Hudson Valley in Upstate New York.
LEONARD LOPATE

STEVE STARK SENDS WORD ABOUT THE UPCOMING PREMIER OF THE STORYHORSE DOCUMENTARY THEATER PREMIER OF JEREMY DAVIDSON'S GOOD DIRT
Entry Date: March 23, 2016
"There is no reason we can't feed the world on sustainable agriculture."
--Jeremy Davidson
The Storyhorse Documentary Theater was created by Mary Stuart Masterson and Jeremy Davidson to breing the individual stories of citizens of New York's Hudson River Valley to the screen. The family farmers of the Hudson Valley will be in the spotlight when Jeremy Davidson's documentary, Good Dirt, will premier on April 10, 2016 at the Brooklyn Academy of Music. The premier will benefit the National Young Farmers' Coalition.
In an age when huge corporate farms employ controversial techniques, which place technology between the earth and those who raise the crops, and use Genetically Modified seeds in planting, Good Dirt highlights how the small, or family farmer employs more traditional, or natural techniques that are more connected to the Earth that really produces the food.
BROOKLYN ACADEMY OF MUSIC
30 Lafayette Avenue
Brooklyn, New York 11217
Premier Date: April 10th
Start Time: 4:00 PM
After Party: 6:00 PM at Brooklyn Academy of Music's Lepercq Space
NATIONAL YOUNG FARMERS
EDIBLE BROOKLYN

STEVE STARK REPORTS ON LATEST ACTING GIG OF JEREMY DAVIDSON
Entry Date: March 15, 2016
Jeremy Davidson is scheduled to portray a character named Travis on the CBS comedy Life in Pieces this Thursday night at 8:30 PM. I haven't seen this CBS show as yet, but should tune in this coming Thursday.

THE TAVERN IS LOSING LOCATE TV AS A SOURCE FOR THE MSM CABLE TELEVISION SCHEDULE PAGE
Entry Date: March 15, 2016
Tomorrow is the day Locate TV shuts down operations. The last schedule of MSM's cable television appearances from Locate TV is on the TV Schedule page now, and runs through March 22. I have not found a suitable replacement. TV Guide is not really providing the information as a check of the TV Guide schedule for MSM appearances, done over the weekend, indicated that MSM would not be on television for the next 14 days, but the Locate TV schedule showed 25 total telecasts of MSM's films and appearances on scripted television shows during the same period. TV Guide is not useful at this time.
Knowing that the Locate TV database software is very powerful as a search engine, I wrote to Google to suggest they inquire about purchasing the software, or purchasing the site, and tying it to Google as a television search engine. We will have to wait to see about their reaction to the idea. The search for a replacement will continue. Eventually, someone might acquire the Locate TV software and try again.
LOCATE TV'S FAREWELL ANNOUNCEMENT
A Sad Announcement from LocateTV
by Susie on February 25th 2016 at 11:24 am
No comments
Share
It is with great sadness that we announce the closing of LocateTV.
The website will be shut down on 16 March 2016, with registered users no longer able to access shortlists, My Picks or receive weekly digest emails.
Born from a desire to find the new and the niche in telly, LocateTV grew from the tombstones of old to the wonderfully rich site it is today, with the unique ability to connect you with the TV you want to watch always at the heart of our mission.
We are heartbroken that after just over seven glorious years it is time for us to hang up our TV guide hat. We are eternally grateful to everyone who has supported the site over the years, from vendors, content editors and developers, to our fantastic users – you made our passion a reality.
Thank you.
Posted by Susie.

HAPPY EASTER, BLESSED PASSOVER, AND A PEACEFUL RAMADAN TO OUR CHRISTIAN, JEWISH, AND MUSLIM VISITORS WORLD WIDE!
Entry Date: March 6, 2016
The three monotheistic religions of this world spend some weeks during this year, usually just before spring, fasting, giving alms, and taking an inventory of how they are living. With Christians, there is the time known as Lent, which we are experiencing now. Jews spend some weeks doing these things as they approach their holy day of Passover. Muslims observe strict fasting during the time they call Ramadan. While making sacrifices, such as fasting, doing without indulgences like television, or movies, or volunteering to help the needy are good, time should be spent taking stock of the blessings we receive, including God's forgiveness and help.
Earlier this year, a young friend of mine, Heather, told me she might have colon cancer, and seemed in very deep despair since an eating disorder from years ago had contributed to the problems with her digestive system and her joints. She felt old at her age. I started praying for her, and enlisted others to help, such as the Franciscan Friars at EWTN and the Sisters of Saint Benedict. Just this past Wednesday, Heather happily told me that all she has is a bad case of ulcerative colitis. If she follows doctor's orders she should be all right. Heather is back to making plans for her future studying art. This is a good reason to express gratitude to God, and I'm sure all of you have some other reasons to be thankful, such as your family and friends. So, take time amidst all the fasting and alms giving to express gratitude for all your blessings!
I hope you all have more of the same, too.

CLAUDIA KEHL'S EMAIL GETS CAUGHT IN THE MOVE TO NEW EMAIL ADDRESS
Entry Date: March 4, 2016
NEW EMAIL ADDRESS: gjordan741@aol.com
Intrepid Swiss reporter Claudia Kehl sent us an email at the old address, gjordan@csonline.net instead of this alternate address that is still in use until the problem with Sending email gets fixed. I also can't get the email to download on this 32-bit Dell laptop I bought to update the site. It just won't allow me access to the email except with the 64-bit Toshiba laptop. It's still a bit of a mess over there, so we've been using the AOL address, which I will put on the main page for all the visitors.
Claudia found Ms. Masterson's FACEBOOK page and the information about the Stockade Works project and sent it on March 1, 2016 as shown in her email below. I hadn't heard from Claudia in a while, and was just considering sending her either an email or a snail mail letter (I still send those) just to make sure she is okay. It was good to hear from her, and her reports for the site will always be welcome as she has been reporting since 1998.
The best part of keeping this site has been people I've met like Claudia, Steve Stark, Erin Lillis, Mari Garcia, Yun Leong, Brian Burroughs, and many others. I twice thought about taking the site down. In 2005, when my family had to help with an aging parent problem, and again in 2009 after my mother passed away. Each time the entries in the old Guestbook kept me from doing it, because the visitors seemed to have a good time in here, like the girl from Brazil who announced: "First one from Brazil!" I wanted to keep the site going on for them. The site probably has an expiration date, but I'm not sure what it is yet. Until then, this place is just for the visitors from all over the world. I am keeping the site going only for the visitors, and I hope they all keep having a good time here.
Hi Guy,
Great news!
Actress plans to open studio in Kingston
Actress Mary Stuart Masterson wants to create a film, television and technology studio in Kingston that would focus on growing the region's film industry with an eye toward diversity.
http://www.recordonline.com/article/20160229/NEWS/160229362
And she's now on Facebook as well. Who would have thought. ;-)
https://www.facebook.com/Mary-Stuart-Masterson-1036904509700335/?fref=ts
Claudia

MSM TO HELP CREATE A FILM STUDIO IN UPSTATE NEW YORK
Entry Date: March 3, 2016
When Ms. Masterson sets out to accomplish something, it gets done. Steve Stark has located an article in the Record On-Line, the Internet issue of a local newspaper, about the plans for the studio, to be named Stockade Works, which will be somewhere in the Kingston, New York vicinity. Just click the link below.
And for those who enjoy following all the news Steve sends to the Tavern, you can check out his posts on The Mary Stuart Masterson FanGroup page on FACEBOOK. If you aren't a member, just sign up. It's free.
STOCKADE WORKS
STEVE STARK--RESOURCEFUL REPORTER

STEVE STARK FINDS A PHOTO OF MSM AT THE SPRING GALA FOR THE ROUNDABOUT THEATER IN NEW YORK
Entry Date: March 2, 2016
Steve sent this link to a photo by Getty Images of MSM arriving at the Roundabout Theater dinner at the end of February. The image is copyright protected by the Getty watermark.
ROUNDABOUT THEATER

MSM IS ON FACEBOOK
Entry Date: March 1, 2016
Steve Stark found Mary Stuart Masterson's FACEBOOK page, which contains some outstanding personal photographs she has taken recently, along with some information about what she has been doing lately. This includes cleaning out some closets, which I have had to do since I lost half of a hall closet to a larger hot water tank required by federal regulation. I had no choice but to give up all the cassette tapes to which I no longer listen and a Shark Steamer last used in 2005. It can get messy.
In addition to her FACEBOOK page, Steve located a page that is tracking MSM's work in finding a production facility for Ulster County in the Hudson River Valley area of New York State. Both links are below.
MS. MASTERSON ON FACEBOOK
THE ULSTER COUNTY PROJECT

STEVE STARK REPORTS ON: MARY STUART MASTERSON: SOLID CITIZEN
Entry Date: Feburary 22, 2016
Steve sent a great link about how Ms. Masterson is increasingly known in her local area as someone who is willing to help make her home area a better place to live and to help volunteer organizations raise funds and educate the citizens about worthwhile projects. In an article in the newspaper The Times of the Hudson Valley Mark Reynolds covered the State of the County Address by Ulster County (New York) Executive Michael Hein reported about the status of many projects in the county. Among them, in general, are a program to improve a county senior citizens nursing home; a 32-bed "Patriots Home" for returning veterans in need; a new Meals-on-Wheels program; and an expansion of a "Rails-to-Trails" program. In addition, Mr. Hein reported that he had obtained the help of actress and filmmaker Mary Stuart Masterson to attract a production facility to the Hudson Valley region.
STATE OF THE COUNTY

AMATEUR CELEBRITY INTERVIEWER KNOWN AS "SKIPPY" ON YOUTUBE CHATS WITH MSM AT SUNDANCE
Entry Date: February 7, 2016
Steve Stark sent this video link to me at my temporary emergency email address. I checked out "Skippy's" YouTube channel to get the embed code so that the video would show up below. "Skippy" talked to a few famous people at Sundance, and all were very cordial and pleasant to him, although most of them probably do not know him to any great degree. Ms. Masterson was very sweet to the guy, and John Krasinski very laid back with "Skippy," as, apparently, "Skippy" had captured Krasinski on film before, and he enjoyed the paddle ball set "Skippy" gave him. Anyway, here is the video below, but first Steve's email reminded me of another time the nickname "Skippy" came to my mind, and I recounted it in this email to Steve:
Steve,
This Skippy is pretty gutsy walking right up to those actors and actresses. He gave John Krasinski a paddle ball set. MSM was really unflappable dealing with Skippy. Very sweet. I wonder if she knows Skippy told Krasinski he loved him? Would that make her feel more, or less, comfortable?
I once made a bet with another co-worker that I would call another co-worker (who was built like a granite slab) "Skippy," just throwing it in there at the end of some mundane greeting ("Hey, how's it going this morning...Skippy?"). He took two steps further before stopping on a dime and, "What did you call me?"
Take care,
Guy

STEVE STARK FINDS A GETTY IMAGE OF MS. MASTERSON AT SUNDANCE
Entry Date: February 7, 2016
This is a nice photo of MSM toward the end of the Sundance festivities. It is a Getty Image, so it is watermarked at copyrighted to a fare-thee-well. So, I will post Steve's link below, just use the image for your own personal viewing.
MSM AT SUNDANCE

AS YOU ARE WINS A U.S. DRAMATIC SPECIAL JURY AWARD AT THE SUNDANCE FESTIVAL!
Entry Date: February 5, 2016
The Sundance award was presented to the Director and Screenwriter, Miles Joris-Peyrafitte and Screenwriter Madison Harrison by Lena Dunham. The Sundance Film Festival is the largest Independent Film Festival in the United States, bringing tens of thousands of actors and filmmakers from around the world. It is yet another contribution by Robert Redford to the art of movie making.

KRISTEN STEWART'S INTERVIEW WITH THE A GIRL'S WORLD WEBSITE COVERED MS. STEWART'S ROLE IN THE CAKE EATERS
Entry Date: February 5, 2016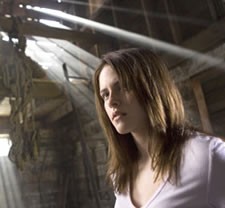 Kristen Stewart in The Messengers
There's no reason to look for the interview in which Ms. Kristen Stewart answered some questions about her films The Messengers, Zathura, Land of Women, and Into the Wild as well as The Cake Eaters. The Web site is defunct and only a few of its pages were ever archived anywhere on the Web. I'll try to find the link to the obscure archive (it wasn't the Wayback Machine) that still has this interview. A Girl's World was remarkable in the abilities of the women who ran the site to obtain interviews with the best known actors and actresses in movies and television.
Ms. Stewart, is, like Ms. Mary Stuart Masterson, a dedicated professional in her craft, and her replies to the interviewer reflect that aspect of her character. She had many words of praise for several of her fellow performers and filmmakers, including Jodie Foster, whom Ms. Stewart would love to have as director for a future role; Evan Rachel Wood, MSM's co-star in Digging to China; and Natalie Portman. This is the exchange between the interviewer and Kristen Stewart about Mary Stuart Masterson:
AGW: What is The Cake Eaters about?
Kristen: The Cake Eaters is a movie that I did with Mary Stuart Masterson. She made her directorial debut with that movie. It's great. It's about two families that are sort of intertwined very unknowingly and I play a character who has a disease called Friedreich's Ataxia which is a total deterioration of your muscle control so it's a very debilitating disease. She's just about to be in a wheel chair and she's just fighting for that last bit of independence from her mother and she wants to do one thing on her own before she dies and so she picks a guy. It's a really nice, optimistic, triumphant story for her. I love it. Mary Stuart really did a phenomenal job. I love her. She's amazing.
I finally found this small archive of selected pages from agirlsworld.com, a now defunct Website. You can find the Kristen Stewart interview on one of the few archived pages from the site, one of the largest Web sites dedicated to girls from the early years of the Internet.
THE REMNANTS OF A GIRL'S WORLD WEBSITE

LATEST ON THE EMAIL MESS
Entry Date: February 5, 2016
Things are starting to slowly get back to normal as of the time (11:55 AM) I write this. Two days of email came through the Webmail system, but another day or two are in limbo somewhere. The ISP made huge changes to the system sometime yesterday. This caused dropped links and an expired security certificate for the Webmail site and general responses to links and password uploads that looked a lot like the legitimate ISP Website was hijacked and redirected to an imitation Web site. The ISP was not hijacked. The wholesale changes caused glitches in the system that might result in lost email prior to February 4, 2016. I am going to try to download all the mail from my Toshiba laptop (I usually use this Dell Latitude 32-bit to receive and send email). The Toshiba has not downloaded the mail in weeks after a problem with new configurations for the outbound server being maintained by the software. 'll try my AOL mail first. Since the Dell was doing a good job with the mail, I stopped downloading with the Toshiba, but will try it today to see if the emails of 2/1, 2/2, and 2/3 can be found through using that computer. It will be better to get it from both machines as sometimes the Toshiba is up for days while I complete Webinars for required professional certification credits.
There frequently are some good things that come from such events. I found two prepaid calling cards I thought were lost and both still have lots of time on them and are not expired. One has over $100 worth of calls to be made, and I hadn't seen it for a long time. It was a Sheetz Convenience Store card, but now I think a Mexican company runs it. You are instructed to dial 1 for ENGLISH by a happy sounding Latina's voice.

EMAIL EMERGENCY
Entry Date: February 4, 2016
I intended to get everything caught up today, but my email service has had its Web site hijacked and I can't get the email. Everytime I try, whether through Microsoft Webmail, or directly from the (now bogus) Web site of my old dial-up ISP (I still have email there) I can't get through. I know it is hijacked because the URL in the white strip near the top of the screen has additional words in the URL rather than plain old csonline.net. None of the local links work to what should be other pages on the site. The thing dropped unwanted apps onto my computer, but Malwarebytes got rid of them, and I restored to an earlier date to be safe. So, everyone trying to contact me at the csonline.net email address should switch to this email address temporarily: gjordan741@aol.com. It might take another day to get the old address back on track. Thanks for your patience!

WHEN MSM MET A PRESIDENT
Entry Date: January 29, 2016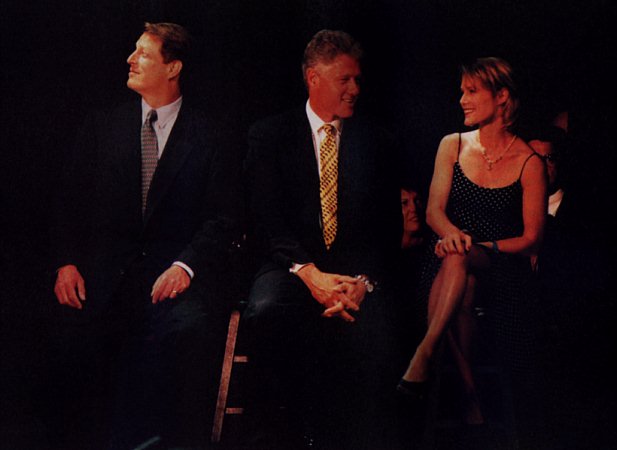 A couple of weeks ago, Steve Stark emailed me to find out if I had a copy of a photograph of Ms. Masterson meeting President Clinton and Vice President Gore at some function back in the early 1990s. I remembered seeing the picture, but didn't have a copy. I tried a couple of Google search descriptions, but came up empty. Well, Steve found it and sent it to me along with another photo with the Getty Images watermark. The Clinton photo was more available back in the 1990s, but harder to find now.

STEVE HITS A SOME NICE HOME RUNS ABOUT MSM AT THE SUNDANCE FILM FESTIVAL!
Entry Date: January 27, 2016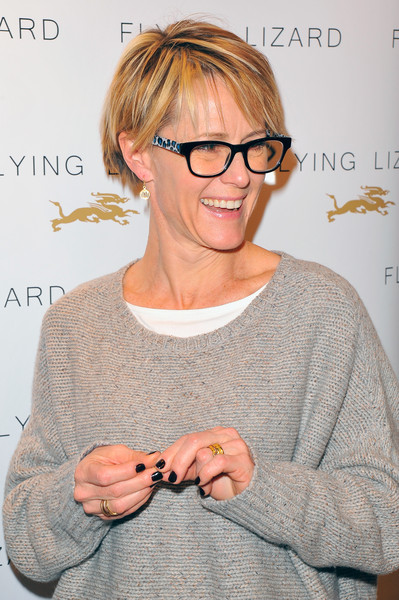 "Everyone thinks I'm only this mild-mannered actress and film director here at Sundance. No one suspects that, whenever she is needed I become.....SUPERMOM!"
Not only is Ms. Masterson a special guest at the Sundance Film Festival, founded by celebrated actor Robert Redford, but the film in which she portrays the single mother of one of the teenagers around whom the story revolves is in the competition to win best USA drama at the festival. I know everyone will be pulling for a win for MSM's film, As You Are. It seems like just yesterday (November) the film was still in post-production. Time stands still for no one. Steve Stark sent five links concerning the festival, and Ms. Masterson's part in it, including an article about the opening dinner. They really lay out some nice spreads at these film festivals, too. One of Steve's links leads to over 12 photos like the one above. Steve also included a link to Variety Magazine's exclusive party guide to the Sundance Festival, as well as several photos from renowned archivists Getty Images. The Salt Lake City Tribune's blog of film reviews from the festival is another link, along with some more photos from an Oklahoma newspaper's online edition.
GETTY IMAGES--MSM AND SCOTT COHEN
SALT LAKE CITY TRIBUNE
MORE GETTY IMAGES OF MSM
OKLAHOMA PICTURES
VARIETY PARTY GUIDE

STEVE STARK FINDS MORE PHOTOS OF MS. MASTERSON ON ZIMBIO
Entry Date: January 27, 2016
Steve sent a link about Zimbio's photo collection of MSM some months ago, and on that same post here in the FYI page, I mentioned that fans can register with Zimbio to receive an email when there are new photos of her available on their site. I hope everyone the world over has signed up to receive an email alert when Zimbio has added new pictures. If any of you have not signed up, follow Steve's link to Zimbio reproduced below and get registered for your free email alerts.
ZIMBIO

STEVE STARK REPORTS THE UPCOMING DATE OF THE RERUN OF MSM'S BLUE BLOODS EPISODE AND ALSO FOUND THE PHOTO WITH THIS POST
Entry Date: January 20, 2016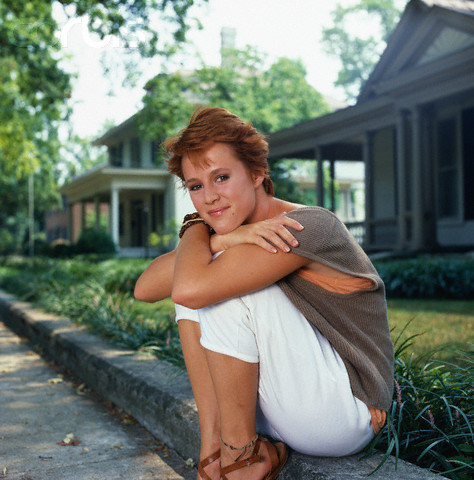 Mary Stuart Masterson in 1985, with no idea of what her life would be like in 2016.
Intrepid MSM reporter Steve Stark found the date of the repeat of MSM's appearance on Blue Bloods, which might not be her last appearance, and also the above photo which dates back to around 1985. The Blue Bloods episode will run on Friday, January 29th at 10:00 PM Eastern time.