FYI ARCHIVES PAGE 27
FROM OCTOBER 24, 2015 TO JANUARY 13, 2016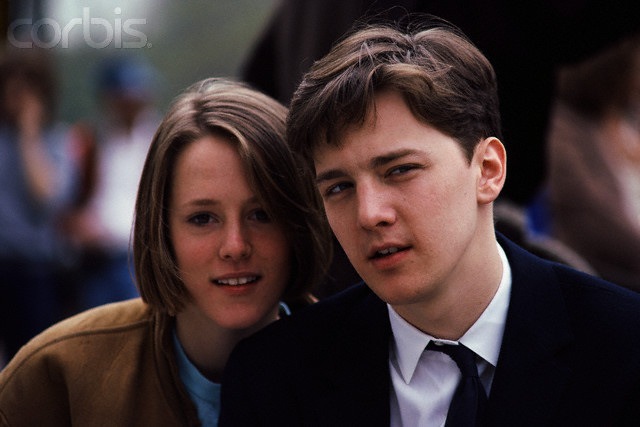 STEVE STARK FINDS AN INSTAGRAM PHOTO POSTED BY JOHN STAMOS SHOWING HIM WITH MSM AND THE LATE DAVID BOWIE ALONG WITH A SCRIPT FROM SKOW
Entry Date: January 13, 2016
Steve was out panning the Web for MSM nuggets and found these two. The photo of Ms. Masterson with John Stamos and the late David Bowie looks like it dates back to the time of MSM's starring in the Broadway musical Nine. The script for SKOW appears to be complete and should be interesting to all that film's fans, and many surf into this site every month, and all those interested in MSM's work. The link "Heroes" takes you to the Bowie Instagram photo as "Heroes" was a song Bowie wrote and recorded in the early 1970s. It was featured in the Pittsburgh-based 2012 film, The Perks of Being a Wallflower.
HEROES
SKOW SCRIPT

FIRST ENTRY OF THE NEW YEAR INCLUDES TWO GOOD LINKS DISCOVERED BY STEVE STARK
Entry Date: January 2, 2016

Thumbnail photo of Title Image for 1991 Saturday Night Live sketch starring MSM.
Steve was spending the last few days of 2015 searching for more Mary Stuart Masterson news and historical material and found two interesting ones. The first is a link to the script for the Saturday Night Live comedy sketch, Lisa Pongrasic: Very Pregnant Undercover Cop. The second is a entire clip from the CBS movie-for-television Black and Blue. This clip is found on the YouTube channel called Best Haircut Channel. This YouTube channel solicits videos of haircuts for uploading to the channel, including haircuts from movies. In Black and Blue, MSM plays a wife on the run from her abusive husband. One of her tactics for hiding from him is to change her appearance by cutting her long hair. The link below will take you to that video.
While Steve was searching out all of this MSM info, I was busy eating spaghetti and meatballs, with garlic toast on the side, because of a craving this head cold gave me. Some put me to sleep, others make me hungry.
LISA PONGRASIC: VERY PREGNANT UNDERCOVER COP
BLACK AND BLUE HAIRSTYLING

HAPPY NEW YEAR!
Entry Date: January 2, 2016


A BLOG ENTRY ABOUT ON THE 2ND DAY OF CHRISTMAS FOUND BY STEVE STARK
Entry Date: December 22, 2015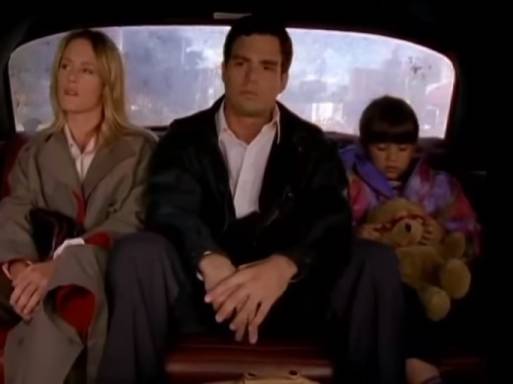 Mary Stuart Masterson, Mark Ruffalo, and Lauren Pratt in the 1997 Lifetime movie-for-television On the 2nd Day of Christmas
Steve sending me the email about this post to the blog titled Bustle, written by a woman who likes to watch Christmas movies this time of year, reminded me of the early days of this site when December meant trying to get an accurate schedule for when Lifetime would show this movie on cable. About 15 years later, the issue was when a DVD would be offered. I think it was maybe three years ago when Claudia Kehl found the DVD. I sent for one right away. Speaking of Christmas movies on TV, if anyone wants to see Mary Louise Parker in as good a death (or near-death) scene as in Fried Green Tomatoes, head over to the Hallmark Movies and Mysteries Web site and put Christmas in Conway in the search engine. Few actresses leave this mortal life on film as well as Ms. Parker, and her scenes with husband Andy Garcia are all just great, especially at the end. If you get the DVD, the Matthew Perryman Jones song On Top of the World won't be playing on it, and that song adds more to the emotional effect of the last scene than what was used on the DVD track. People who missed the song on the DVD went to Jones' site and asked for him to record it on a CD. Instead, he offered the download for free. Music can make the scene, and make a film memorable, as Ms. Masterson knows from choosing a song for Benny & Joon that evidenced what a fine ear she has for what sounds work with a particular scene.
THE 2ND DAY OF CHRISTMAS

MERRY CHRISTMAS TO ALL TAVERN VISITORS!
Entry Date: December 6, 2015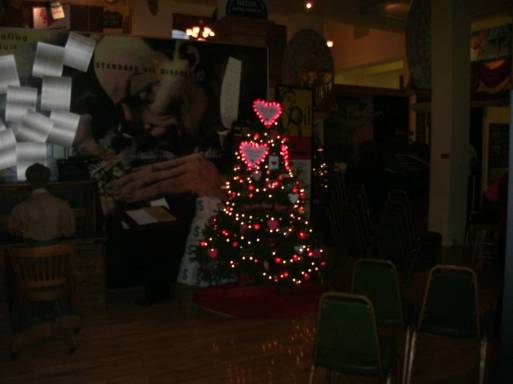 STEVE STARK FINDS SEVERAL GREAT LINKS FOR MSM PHOTOS AND ARTICLES
MSM FILM TO BE PRESENTED AT SUNDANCE FILM FESTIVAL--AND HER PERSONAL PAGE ON THE PLAYBILL WEB SITE!
Entry Date: December 6, 2015
The Tavern has the best reporters searching for news about Mary Stuart Masterson, and Steve Stark is back again with three findings about which he emailed me several times this week while I was panicking about how Christmas was sneaking up on me. Anyway, the links he found are below, and they include some great photos of MSM at different times in her career, including premiers of films like Some Kind of Wonderful, and appearances with Mary Louise Parker for Fried Green Tomatoes. These photos are housed at Getty Images, a premier photo archiving organization since before the Twentieth Century.
MSM'S PLAYBILL DATA PAGE
This page includes links to both Nine and Alice in Wonderland from 1982.
PLAYBILL
The following link is to a page of photos posted by different fans of MSM
TAG PHOTOS
Click on the link below to read about Robert Redford's Sundance Film Festival, which includes this about MSM's latest independent film:
As You Are / U.S.A. (Director: Miles Joris-Peyrafitte, Screenwriters: Miles Joris-Peyrafitte, Madison Harrison) — As You Are is the telling and retelling of a relationship between three teenagers as it traces the course of their friendship through a construction of disparate memories prompted by a police investigation. Cast: Owen Campbell, Charlie Heaton, Amandla Stenberg, John Scurti, Scott Cohen, Mary Stuart Masterson. World Premiere
SUNDANCE
The link below willl bring up a page of images from the Getty Archives.
GETTY IMAGES

CLAUDIA KEHL SENDS A NICE LINK ABOUT A LIVE APPEARANCE BY MSM
Entry Date: December 1, 2015
Hi Guy,
There's a picture in the article of Mary Stuart and Jeremy at the 25 years celebration of Kaatsbaan International Dance Center.
http://www.ruralintelligence.com/index.php/parties_section/parties_articles_parties/artists_and_cura
"The "honored guest," actor and Tivoli resident Mary Stuart Masterson, related what Kaatsbaan's dance academy has done for her children and others who attend the school.
Nice to see her attending more events these days in the region where she lives.
Winter greetings from Switzerland
Claudia
KAATSBAAN ANNIVERSARY

A FINE COLLECTION OF PHOTOS IS FOUND BY STEVE STARK
Entry Date: November 16, 2015
There are many fine photos on this Web site, which is a private archive. The photos are all watermarked, so you will have to pay for them to download them without the watermark. Many of them were rare in past years, particularly of those films MSM made in the pre-Internet years, such as At Close Range and Immediate Family. The photographs are well worth the look, and some might tempt the viewer to purchase them.
ALAMY

MSM IN ANOTHER LIVE APPEARANCE--STEVE STARK REPORTS ABOUT MS. MASTERSON IN BARD COLLEGE WINTER SONGFEST
Entry Date: November 24, 2015
Join Us for a Winter Songfest Holiday Celebration with Grammy Award-Winning Soprano Dawn Upshaw and Actress, Mary Stuart Masterson, and Conservatory Graduate Vocal Arts Program Singers
Bard College Conservatory of Music Presents: Conservatory Sundays
Sunday, December 13 at 3 pm
Sosnoff Theater
Tickets: Suggested donation of $20 (orchestra seating), $15 (parterre and first balcony).
Free for the Bard community with ID.
After Winter Songfest join us for a reception with the artists: $100 donation.
All proceeds benefit the Conservatory's Scholarship Fund.
The links below will take you to a description of the Winter Songfest, while another will provide you with ticket purchasing information and a link to a map of Bard and a seating chart for the Sosnoff Theater. This looks like a great seasonal outing. I have half a mind to try it myself if up for the drive. To any visitors who decide to go, enjoy the show!
WINTERFEST
FISHER CENTER BARD

STEVE STARK DISCOVERS MSM TO BE THE HOSTESS OF THE 25TH ANNIVERSARY GALA FOR THE KAATSBAAN BLACK BOX THEATRE IN TIVOLI, NEW YORK
Entry Date: November 9, 2015
Steve surfed into a nice Web site with extensive coverage of cultural events in the Hudson Valley of New York State and sent word that Ms. Masterson is to be the hostess of the 25th Anniversary celebration for Tivoli, New York's Kaatsbaan Black Box Theatre. MSM and her husband, Jeremy Davidson, have become part of the cultural heart of Upstate New York. Along with Ms. Masterson, Kevin McKenzie, Artistic Director of the American Ballet Theatre will co-host. Using the link to the Kaatsbaan Theatre's Web site from the Rural Intelligence Web site, this is the run down of the 25th anniversary festivities:
Saturday, November 14, 2015
Reception: 4:00 PM
Gala Performance Starts: 5:30 PM
Dinner, Dancing, and Silent Auction Starts: 7:00 PM
Cost per Person: $200 with a $290 package that includes transportation from New York City
Attire: "Swanky, Elegant, and Festive"
Performances will be presented by the American Ballet Theatre, the New York City Ballet, and the famous Martha Graham Dance Company

TAVERN REPORTERS CLAUDIA AND STEVE FIND ALL THE GOOD STUFF ABOUT MSM'S LATEST INDEPENDENT FILM, AS YOU ARE
Entry Date: November 5, 2015
Mary Stu's Tavern has two of the finest news hounds for Mary Stuart Masterson news in Steve Stark and Claudia Kehl. Both reporters sent emails to the Tavern this week about As You Are, an independent film shot in upstate New York that is now in post production. Steve found the addition to MSM's resume page on the Independent Movie Database (IMDB), while Claudia searched out the film's Facebook page and an article in the Albany, New York Times-Herald newspaper's electronic edition, which includes a video with some narrative from the film's young director, Miles Joris-Peyrafitte and scenes shot during the filming which are interesting from a technical viewpoint as well as observing actors and technical people at work. All the links are below, so please enjoy them, and be sure to remember who brought them to you, Claudia and Steve.
Hey, Claudia, I don't need to borrow your mountain climbing ice axe anymore since the apartment complex owners finally sprang for a frost-free refrigerator!
MSM'S IMDB RESUME
ALBANY TIMES-HERALD
AS YOU ARE ON FACEBOOK

TO ANYONE WHO NEVER SAW MSM ON AMAZING STORIES, THE OLD NBC SERIES, STEVE STARK FOUND A WORDPRESS BLOG WITH AN EMBEDDED VIDEO THAT INCLUDES MSM'S COMPLETE EPISODE.
November 2, 2015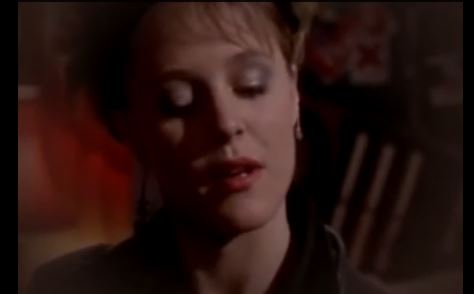 Mary Stuart Masterson in Go to the Head of the Class--Amazing Stories (1989)
There are some other nostalgic video and movie clips on this Word Press blog, so don't limit yourself, but be sure to check out Ms. Masterson as she appeared back in the 1980s.
AMAZING STORIES

HAPPY THANKSGIVING--2015!
Entry Date: November 2, 2105


STEVE FINDS A LINK TO MSM'S APPEARANCE ON SATURDAY NIGHT LIVE!
October 29, 2015
In 1992, the Penguins won their second Stanley Cup, Bill Clinton became a household name, and Mary Stuart Masterson was the Guest Hostess of Saturday Night Live. A guest who took a nephew of his to see Ms. Masterson perform stand-up comedy with her opening monologue, get some idea about her actual future times as pre-natally challenged (Four times--five if twins count for two) by playing "The Very Pregnant Cop," and hold court with the sisters of her sorority, once emailed me about how he could get a copy of the DVD for his nephew just a few years ago. Well, I searched and found there wasn't a DVD of that season of SNL. Now, thanks to Steve Starks, there is a place on the Web where all of those performances can be streamed on video. I would have put this one up yesterday evening, but I took on a computer security audit job which has a few more days to go and then I'm back in retirement again. As I said to Ariane, one of the financial officers at the place where I am temporarily working full time, "I forgot about how this full time job thing is. I can't get anything done!"
THE VERY PREGNANT COP

HAPPY HALLOWEEN!
Entry Date: October 24, 2015